Enriching Spirit. Motivating Action. On Chicago's Far Westside.
It's Time to think about your donations to Third Unitarians auction. Events are very special donations. Also if you have local businesses that you patronize, you can ask them to contribute to the auction. Letters for members and vendors are on the Church website. The deadline is

January 31

. If you have any questions, please contact Debby Donovan.




This Sunday - January 14th



9:45am Childcare provided

10:00am Forum: Randel Josserand, the Chief of Schools for Chicago Public Schools in Austin and Belmont Cragin, will speak about plans for the future of the schools in his district. Josserand became friends with Linda Brown, whose father, Rev. Oliver Brown was a lead plaintiff in Brown versus Board of Education, a critical case often cited by Dr. Martin Luther King. Josserand co-authored articles about the Supreme Court case. More about Josserand in the 2016 Atlantic magazine article on Austin High School: https://www.theatlantic.com/education/archive/2016/04/reviving-a-hollowed-out-high-school/477354/

11:00am Rev. Martin Luther King Sunday: A Special Celebration of Life Service – Rev. Colleen Vahey convening. The service will feature Ms. Brenetta Howell Barrett, outstanding community advocate and member of Third Unitarian, sharing lessons from the civil rights movement. Ms. Barrett is President and CEO of Pathfinders Prevention Education Fund, and founder of African American Women for Access and Reproductive Education. She served as a member of former IL Governor Dan Walker's cabinet, Co-Founder of Chicago's Westside NAACP branch, former Vice-President of the Chicago Committee to Defend the Bill of Rights, and former Mayor Harold Washington's Commissioner of Consumer Services.

12:00 noon Austin Scholarship Luncheon to benefit the Austin Scholarship Program. One program founder, Dr. Earl Williams, and two past scholarship recipients, will speak about their commitment to working with the program to support the college education of Austin community youth. Luncheon donation: $6 a person, $3 per child, and $15 per family.

---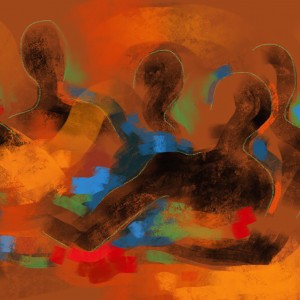 We look forward to Beloved Conversations in 2018. Beloved Conversations is an experiential curriculum that provides space to re-form the brokenness of racism into new patterns of thought and behavior, ushering in social and spiritual healing. New insights and ways of being are learned through deep conversation, listening, and honest sharing. Learn more here.
Participants will gather for a:
Retreat: Friday, March 2, evening; and Saturday, March 3, 9 am – 5 pm

Eight 2-hour sessions - to be scheduled in March, April, May - times TBD by the group.
Suggested donation is $50/person for materials - Suggested donation is $50/person for materials - pay more or less as your life circumstances allow. All are welcome! To register, or ask questions, please contact Mena Boulanger, davidmena@comcast.net, or Rev. Colleen, Rev.ColleenUU@gmail.com, by Sunday, January 28th. Thank you!
---

Meetings and Events
HELP with COFFEE HOUR! We are looking for people to help provide hospitality after services. Please sign up with Martha Glynn to do Coffee Hour. Reply to this email or contact the office at 773-626-9385 or email the office at
thirdunitarianchurch@gmail.com
. More information will be provided on how easy it can be to serve your fellow members!
LAST CHANCE - Sign up with Karen Alanis after Sunday Service, via email
kalanis@msn.com
, or phone 708-660-1577 for the annual CRS MLK Faith in Action Assembly on the MLK Holiday, Monday, January 15th, 8:30am-12:00pm at Old St. Patrick's Church. This year, the Governor candidates are invited to attend to state their positions on CRS proposed reforms. Bus transportation will arrive at TUC at 7:30am – a $10 donation toward the bus rental is suggested.
Karen Alanis would like to form a Green Team
to encourage the management of waste from coffee hour – recycling and compost. Contact her with your ideas and offer of assistance.
Monday, January 29th, Community of Congregations Winter Meeting
at Oak Park Temple, 1235 Harlem Ave. Oak Park Dinner - 6:30pm; Program - 7:30 pm; short business meeting - 8:30pm
Join us in lifting up our collective moral voice with an emphasis on the treatment of our undocumented citizens! Our keynote speaker will be Mony Ruiz-Velasco, Executive Director of PASO, an immigrant rights organization that serves Chicago and the western suburbs.
RSVP to Katie Avalos
:
oprfcoc@gmail.com
Suggested donation, $15 - pay more or less as your life circumstances allow. All are welcome!
---
Caring Committee Update

Jerry Parker has been at Wynscape Nursing and Rehab for a month. Over the holidays, Jerry recognized all his visitors and was genuinely happy to see them. Jerry still needs maximum assistance from staff for all his daily activities. As for Jerry's message to you, he said, "Tell everyone I love them." Send cards to Jerry at Susan Parker's home address at 149 N. Lombard, Oak Park, IL, 60302. If you would like to visit Jerry, email Susan at sparkerlcsw@gmail.com with your availability.

Laurel Lambert is home and recovering from several health issues. Please send cards and messages of support to Laurel and Joe at: llambertschmidt@yahoo.com, or 203 Parkview Rd., Riverside, IL 60546.

---




















Did you forget to complete the UUANI Action of the Week? Never fear - most Sundays a laptop will be available at coffee to members who would like to complete the Action of the Week. Semi-expert technical support will also be available!

Do it now for TUC! ACTION OF THE WEEK: At forum, Martha Glynn testified to the severe impact of CHIP program funding cuts on Austin area children. She asked that we Phone Gov. Bruce Rauner's office this week! Use the script below as a guide in making your recorded statement. More information about CHIP at:
http://www.modernhealthcare.com/article/20171204/NEWS/171209963
Call Gov. Rauner: (217) 782-0244
Call Script:
I'm calling to encourage Governor Rauner to join the bipartisan group of governors pressuring Congress to pass a clean CHIP funding reauthorization bill. I also urge the governor to advocate for renewal of the Community Health Centers Fund. Both programs provide critical healthcare access to some of the most vulnerable residents of our state.
Then call your Senators and tell them to renew CHIP….
Durbin: D.C: 202.224.2152 or Chicago: 312.353.4952
Duckworth: D.C. (202) 224-2854 or Chicago: (312) 886-3506
Call Script:
Hi, my name is [NAME] and I'm a constituent from [town/zip]. I'm calling to urge Sen. [__] to advocate for a bipartisan approach to the immediate renewal of CHIP funding and oppose the House-passed funding bill, HR 3922. Millions of children rely on this funding for insurance, and its reauthorization should not be used to score partisan victories like massive cuts to the ACA Prevention and Public Health Fund. Thank you!

UU Advocacy Network of Illinois (UUANI):
Protecting Lives: A Matter of Worth and Dignity. Background checks for gun purchases can save lives, but a background check is only as good as the records in the database. The current National Instant Criminal Background Check System (NICS) database is incomplete because many states have not provided records about people prohibited from owning a firearm under current law.

There is rare bipartisan support for a bill to fix NICS to ensure more accurate and complete background checks – but it needs to be considered separately from a bill that would force states with strong concealed carry laws to honor permits from states with weak or non-existent concealed carry laws. While the House is likely to pass the two bills together as early as today, there is strong bipartisan support in the Senate for separating them.

Click here to urge your Members of Congress to support the bill (HB4477/S.2135) to fix the National Instant Criminal Background Check System separately from concealed carry legislation.

---

---
























Want to know more about Kathy Jean's Book Club? Contact her at 708-788-1985 or jeans.katherine@gmail.com.


There is a recycling container in the Concourse for recycling your printer ink cartridges. We are partnering with Funding Factory and will receive cash back for each cartridge we recycle with them. Thank you for participating!!!

---


TUC can now earn a donation from your shopping experience on Amazon.
Click the picture below.

---

*Policy: Items require a TUC member, staff or minister sponsor (contact)

named or implied with the entry.

---



Forward this message to a friend


Third Unitarian Church
301 N Mayfield
Chicago, IL 60644
773-626-9385

Rev. Colleen Vahey's Office Hours:
Tuesday and Thursday
from 10:00am - 1:00pm

TUC Office hours: Mon, Tues, Thur, Fri
from 8:00am - 10:00am