@ AirBnB picnic at
Six Flags Discovery Kingdom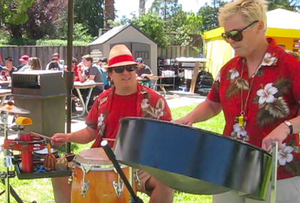 Recent Performances


(in May & June)

:
AirBnB Picnic

Luncheon Performance at
SF State University

Wedding Reception
in Pacifica

25th Wedding Anniversary
party in West Sacramento

Caribbean-themed Employee Appreciation Luncheon at
Carl Zeiss Meditec, Inc.

Cocktail Reception after a Tech Awards Ceremony at the
Hyatt Regency-Santa Clara
(Sponsored by

Scarlett Entertainment

)

San Francisco Zoo performances over Memorial Weekend

Open House Showing in Millbrea
for realtor,

Debbie Sharp



Graduation party
in Livermore

Steel Drum History Presentation and Concert for
San Bruno AARP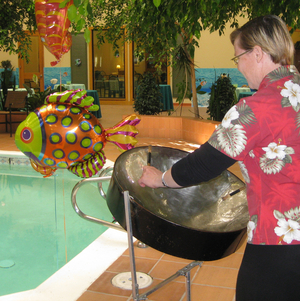 (Steel Jam's music is GREAT for pool parties! Our rendition of "Under the Sea" is always a BIG hit
when played poolside!)


Steel Jam at the Coliseum for the Oakland A's
Dinner on the Diamond: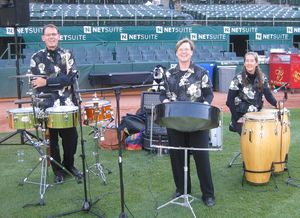 Other June Bookings:
Bay Cruise with Big Brothers and Big Sisters/Marin County
(June 25, Tiburon/Belvedere)


Sponsored by the Tiburon Rotary Society.
Fun Run employee event at Oracle
(June 22, Redwood Shores)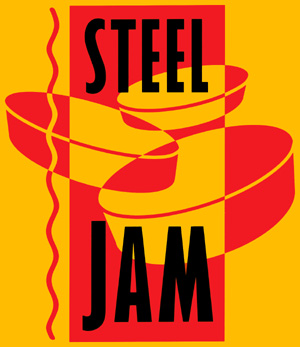 Steel Jam mixes it up with the crowd and passes out instruments at the
Hyatt Regency reception: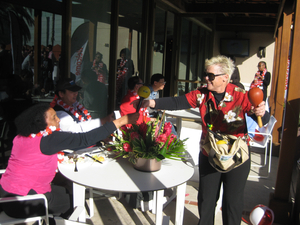 @ the Hyatt Regency-Santa Clara post Tech Awards Reception: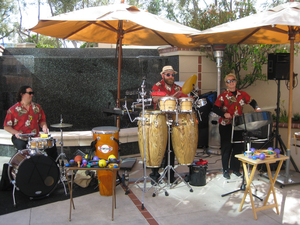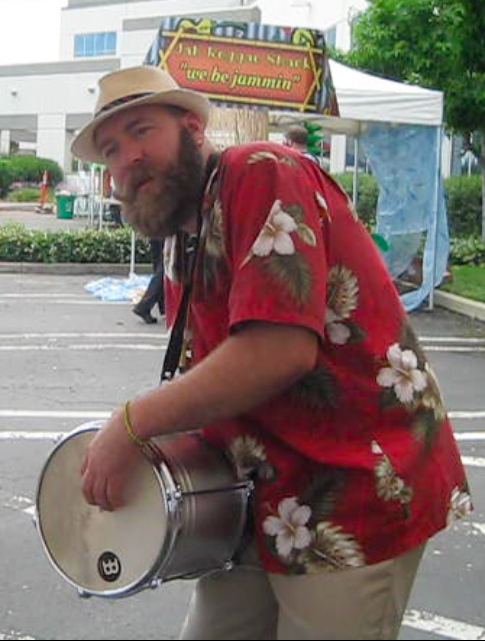 @ Carl Zeiss Meditec Inc.'s Employee Appreciation Luncheon. (Steel Jam's Jesse Weber playing the Cuíca.)

Steel Jam performs:

The San Francisco Zoo
THIS Sat., June 17, 12-3 PM

THIS Sun., June 18, 12-3 PM
Come out to see the animals and listen to Steel Jam's tropical sounds at The The Depot Grill (adjacent to the zoo's new Tarantula Exhibit--which is FANTASTIC!!).
Check the Zoo's website for admission info.
Bring the kids!
(We'll have instruments for them to play.)


Watch vi
deo of kids playing along with us
at the SF Zoo.
Marsh Manor Shopping Plaza
Thurs., June 22
(6-8 PM)

Come on out and listen to Steel Jam
as part of Marsh Manor's
"Live Music on the Patio!" series.
(Florence St. @ Marsh Rd., Redwood City.)

It's always a F*U*N evening
at Marsh Manor!
More info about Marsh Manor HERE
.
_____________________________________________
Oakland Zoo's
"Walk in the Wild"
Annual Fundraiser

Saturday, June 24, 5-8 PM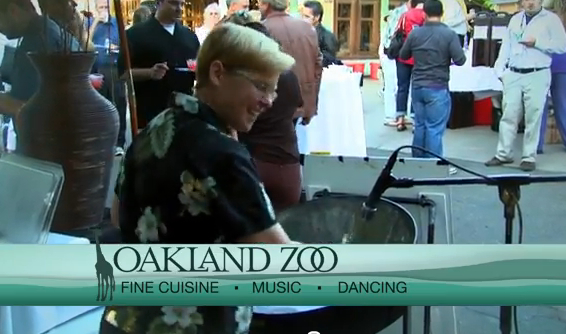 "Walk in the Wild" brings together amazing vendors from around the Bay Area. Bakeries, breweries, caterers, restaurants, and wineries gather to support the Oakland Zoo's largest annual fundraiser. Guests stroll through the Zoo, listen to Steel Jam and other great bands, enjoy delicious cuisine and libations,
and dance under the stars.
Tickts are $150 for Oakland Zoo members;
$175 non-members; Patron Party ticket is $400.
(Due to alcohol service, adults only.
No one under 21 please.)
Reserve tickets now; this event always sells out!

_____________________________________________
July 4th Celebration:
Bel Marin Keys Yacht Club
and Community Center
11-3 PM


(4 Montego Key in Novato)
Hooray!!!

Summer has arrived!!

Contact Steel Jam for F*U*N steel drum music for picnics, receptions, fairs, festivals and barbeque parties!

Choose 1, 2, 3, 4 or 5 musicians.
Hope we can perform for you soon!
Call (415) 823-4601 or email.

Mary Spalding
Steel Jam has folks dancing to
"Shut Up & Dance With Me" and "Uptown Funk"
at the YELP invitation-only party for their
"super yelpers":
Watch the Video

: