Greetings Friend of the Center,
We, at the L. Russ Bush Center for Faith and Culture, have been diligently generating ideas and making plans this summer as we seek to assist others to engage culture and defend the faith. One of our newest initiatives at the Center is our quarterly e-newsletter, the Faith and Culture Update. The purpose of the Update is to inform on current religious and cultural issues, as well as provide information relevant to engaging culture as salt and light. Each issue of the Update will include a feature article, book reviews, and book recommendations written by the Center's director and fellows as well as invited guests. Each issue will also include links to websites and blogs relating to faith and culture.
This issue will give you a sneak peek regarding what is to come in subsequent issues of the Update as well as information about our upcoming events at the Center for fall 2010.
Director,

L. Russ Bush Center for Faith & Culture

Southeastern Baptist Theological Seminary
Theology Engaging Culture, by Bruce Little
This article was first published in Outlook magazine in Spring 2007.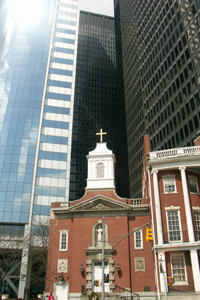 I remember being challenged in my own understanding of the place of theology in the Christian life when I read David Wells' book, No Place for Truth, published in 1993. Since that time, my commitment to the primacy of theology as essential to all Christian activity has continued to mature. It seems to me that unless theology stands as primary in the church, the risk remains that much done in the name of Christ will not be done in the nature of Christ.
If theology and practice are in any way split apart, our lives will lose the authenticity essential to our calling. Living authentically as light and salt in a place of spiritual darkness and decay requires Continue reading this article on our website...
Book Recommendations
Website Recommendations

Be Thinking - This website is aimed at putting the best Christian thinking and resources into its readers' hands. Site includes hundreds of articles and audio files and organized by level of difficulty.
Mars Hill Audio - Mars Hill Audio is committed to assisting Christians who desire to move from thoughtless consumption of contemporary culture to a vantage point of thoughtful engagement.
October Issue Sneak Peek
Feature Article -

Exploring the Life and Influence of Francis Schaeffer

by Dr. Bruce Little

, Professor of Philosophy, Director of the L. Russ Bush Center for Faith and Culture, Southeastern Baptist Theological Seminary


Featured Book Review by Dr. Bruce Ashford

, Dean of the College at Southeastern Baptist Theological Seminary, Fellow, L. Russ Bush Center for Faith & Culture, Associate Professor of Philosophy & Intercultural Studies, Southeastern Baptist Theological Seminary



More Book and Website Recommendations