Momentous things are happening at the L. Russ Bush Center for Faith and Culture. September 14, 2010 marked a landmark event in the history of both the Center for Faith and Culture and Southeastern Baptist Theological Seminary. In chapel on that day the Center was entrusted with the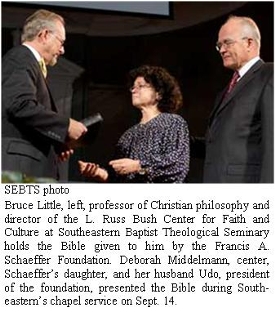 voluminous personal papers of Francis A. Schaeffer by Udo and Deborah Middelmann of the Francis A. Schaeffer Foundation. The papers are to be housed in the library of Southeastern Seminary.Much work is yet to be done to archive and digitized the papers, but we at the Center are very grateful for the privilege and responsibility to be the guardians of such a collection. The feature article in this issue of the Faith and Culture Update highlights the life and work of Francis Schaeffer.
Also of note in the life of the Center was the inception of the new C.S. Lewis Society at Wake Forest that will be under the Center's direction. The beginning of the new society was announced on October 22 at the Center's Forum night lecture, "'We Were Made for Heaven:' An Introduction to C. S. Lewis" presented by Dr. Michael Travers. Please look forward to more details regarding the society's future activities.
Bruce A. Little, PhD

Professor of Philosophy

Director, L. Russ Bush Center for Faith & Culture

Southeastern Baptist Theological Seminary
Francis Schaeffer, by Bruce Little
This article first appeared in The Gospel and Our Culture, Cambridge CB3 OPP, England.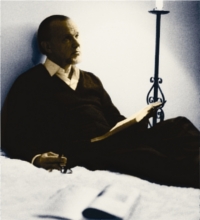 Francis A. Schaeffer (1912-1984) spent most of his adult life with his wife Edith and their four children in Switzerland where they founded L'Abri Fellowship, the story of which can be found in Edith Schaeffer's wonderful book, The Tapestry. Over the years, hundreds of people came to L'Abri where many found Christ as Schaeffer listened carefully to their questions and helped them to see how historic Christianity answered those questions. Consequently, Schaeffer eventually earned the reputation of Continue reading this article on our website...
Francis Schaeffer: A Mind and Heart for God

Francis Schaeffer: A Mind and Heart for God contains chapters based on lectures given by the speakers at the Center's 2008 conference, "Francis Schaeffer: A Mind and Heart for God: Engaging the Culture for Christ."
Buy it from the publisher, P & R Publishing or Amazon.com.
Book Review and Recommendations
Culture Matters: A Call for Consensus on Christian Cultural Engagement. T. M. Moore. Grand Rapids: Brazos, 2007, ISBN 978-1-58743-187-6, 172 pp., paperback, $16.99
T. M. Moore has given us a fine little volume, Culture Matters, in which he argues that Christians should engage culture in a way that reflects God's reign and that Christians should therefore overcome their cultural passivity and find a broad consensus for cultural involvement. Moore is dean of the Centurions Program of the Wilberforce Forum, principle of The Fellowship of Ailbe, author or editor of twenty books, and author of numerous other essays, papers, articles, and poems. Continue reading this book review on our website...
Review by, Bruce Ashford, PhD, Dean of the College at Southeastern Baptist Theological Seminary and Associate Professor of Philosophy & Intercultural Studies, Senior Fellow, L. Russ Bush Center for Faith & Culture
The Many Faces of Evil: Theological Systems and the Problems of Evil. Revised and Expanded Edition. John S. Feinberg. Wheaton, Ill.: Crossway, 2004, ISBN 1-58134-567-4, 544 pp., paperback, $35.00
This volume is a comprehensive discussion of a theological issue that fairly treats opposing positions, adequately defends theistic claims and provides a solid foundational tool for apologetic scholarship.
Moral Darwinism: How We Became Hedonists. Benjamin Wiker. Downers Grove: InterVarsity, 2002, ISBN 0830826661, 321 pp., paperback, $25.00

Ben Wiker's Moral Darwinism is a plausible account of the philosophical, scientific and moral lineage that runs from Epicurus to Darwin.
Recommendations by, Mark Liederbach, PhD, Vice President for Student Services, Dean of Students and Associate Professor of Christian Ethics, Southeastern Baptist Theological Seminary, Senior Fellow, L. Russ Bush Center for Faith & Culture

The Center for Science and Culture at The Discovery Institute
www.discovery.org/csc
The Center for Science and Culture, housed at The Discovery Institute in Seattle, WA, addresses current issues at the intersection of faith and science.
Probe Ministries
www.probe.org
Probe Ministries seeks to present the gospel by integrating faith and learning. In addition to the radio ministry, the website provides "Resources" such as "Redeeming Culture," which is a list of topical studies on current issues at the nexus of faith and culture.
"Provocations," a Journal from the Trinity Forum
www.ttf.org/index/journal/
"Provocations," the journal of the Trinity Forum, seeks to "provoke reflection on faith's implications" for all of life from a "broadly Christian perspective."
Website Recommendations by, Michael Travers, PhD, Professor of English, Southeastern Baptist Theological Seminary, Senior Fellow, L. Russ Bush Center for Faith & Culture
"'A Far-Off Country:' Longing for Heaven in C. S. Lewis's The Voyage of the Dawn Treader,"

by Dr. Michael Travers



Book Review,

by Dr. Mark Liederbach



More Book and Website Recommendations