"'A Far-Off Country': Longing for Heaven in C. S. Lewis's The Voyage of the 'Dawn Treader'"

by Michael E. Travers, Ph.D., Professor of English,The College at Southeastern, a school of Southeastern Baptist Theological Seminary, Senior Fellow, L. Russ Bush Center for Faith & Culture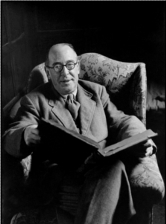 The plots of at least three of the Narnia tales—The Horse and His Boy, The Voyage of the "Dawn Treader," and The Silver Chair—unfold in large measure in the form of a journey. In each case, the journey is motivated, consciously or unconsciously, by a desire to see Aslan. In The Horse and His Boy, Shasta and his companions flee Tashbaan and travel north (notice the geographical direction and its importance for C. S. Lewis[i]), ultimately meeting Aslan. In The Silver Chair, Eustace, Jill and Puddleglum, attempting to follow Aslan's directions, travel north (again) to find and free Prince Rilian from captivity in the Underland. In The Voyage of the "Dawn Treader," Edmund, Lucy, King Caspian and the brave mouse Reepicheep travel toward the "utter East" and Aslan's country. In all three stories, the narrative line takes the shape of a long journey. In all three stories, the journey gives expression to a spiritual longing that drives the characters along; for Lewis, this longing—like all longings in the end—is for...Continue reading this article on our website.
---
[i]C. S. Lewis, Surprised by Joy: The Shape of My Early Life (San Diego: Harcourt Brace, nd), 73.
______________________________________________________
God at Work: Your Christian Vocation in All of Life, Gene Edward Veith, Jr., Wheaton, IL: Crossway, 2002, ISBN # 1-58134-403-1, 176 pp., paperback, $14.99.

God at Work provides a treatment of the Christian's various callings—family, church, workplace, and community. Author Gene Veith shows how Christians may, through these callings, infuse their ordinary lives with divinely bestowed meaning and purpose, and in so doing influence our culture for Christ.

Where in the World is the Church? A Christian View of Culture and Your Role in It, Michael S. Horton, Phillipsburg, NJ: P&R, 2002, ISBN # 0-87552-565-2, 210 pp., paperback, $14.99.

In this book, Michael Horton builds a Christian view of culture and seeks to show Christians their role in it. He gives theological treatments of the arts, the sciences, work, and leisure. Theologians and pastors will benefit from learning about these disciplines; Christians in the arts, sciences, and other vocations, will learn to anchor themselves securely in Christian theology.
______________________________________________________

Book Review

Christian Apologetics Past and Present: A Primary Source Reader (Volume 1, to 1500), William Edgar and K. Scott Oliphint, Wheaton, IL: Crossway Books, 2009, ISBN-13 978-1-58134-906-1, 498 pp., hardback, $39.00.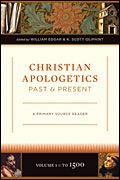 Reviewed by Mark Liederbach, Ph.D., Vice President for Student Services, Dean of Students and Associate Professor of Christian Ethics, Southeastern Baptist Theological Seminary, Senior Fellow, L. Russ Bush Center for Faith & Culture

William Edgar and Scott Oliphint (both Professors of Apologetics at Westminster Theological Seminary) have assembled a collection of writings from sixteen different sources in Church history. In Part I "The Early Church: The Struggle for Vindication" the selections chosen represent primary source texts from the Bible, Aristides, Justin Martyr, Athenagoras, Irenaeus, Tertullian, Origen, Athanasius, John Chrysostom, and Augustine. In Part II "The Middle Ages: The Church Becomes Established" the selections include Boethius, Peter Abelard, Anselm, Thomas Aquinas, Raymond Lull, and Girolamo Savonarola.

As the book of Ecclesiastes reminds us "there is nothing new under the sun." Therefore, knowing the challenges to faith that arose in the past as well as the arguments and methods of argumentation used to countermand them is a vital part of...Continue reading this on our website.
______________________________________________________
Afterall.net: www.afterall.net
This site provides an excellent collection of full length articles addressing a number of issues such as apologetics, ethics, epistemology, logic, and origins. In addition, one will find numerous resource links to other helpful websites. Another attractive feature of this site is its generous offering of thoughtful reviews of films.

Trinity Forum: www.ttf.org
The Trinity Forum is a leadership academy that works to cultivate networks of leaders whose integrity and vision will help renew culture and promote human freedom and flourishing within the context of faith. The site provides a list of seminars, discussion, retreats, and lectures as well as culture related articles in the Provocations online journal.

TrueLife: www.truelife.org
This site offers a number of brief videos featuring a wide range of well-recognized Christian scholars answering often-asked questions of Christianity. In addition one will find a wide range of cultural issues addressed from a Christian perspective. One feature that makes this a unique resource is its evangelical church finder for people looking for a church in their area. The approach and content of this website makes it one of the most outstanding practical apologetic sites available.
In This Issue
__________________________
Upcoming Events at the Center
A Musical Evening with Dr. Jeremy Begbie
"The Sound of Freedom: Music of Liberation"

Friday, February 11

7:00 pm

Wake Forest Baptist Church

Admission is FREE
Student Art Exhibit

March 22 - 24

CFC Seminar Room

Free Admission

Student Concert

Friday, March 25

Location TBD

Free Admission
Topic: Francis Schaeffer

Speaker: Dr. Bruce Little

Friday, April 8

7:00 pm

CFC Seminar Room

Admission is FREE