From left: Cody Meinhardt, Program Director; Kelly Shinn, Program Associate; Cass Cronan, Executive Director; Shelby Schneebeck, Program Intern.
---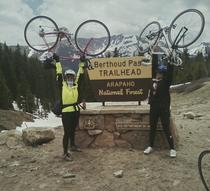 Ride the Rockies!
From June 11-17, our amazing Day Trips into Nature program leader, Beth Lindroos, decided to "Ride the Rockies" for EarthLinks. Her team raised over $1,500 for EarthLinks!
Check out this update from Beth on our website.
---
July 19: YMCA of the Rockies Art & Craft Fair, Estes Park
July 28-31: Denver County Fair, Denver
September 15: Annual Imagine Fundraiser, Denver
October 22: Broadmoor Community Church Alternative Gift Fair, Colorado Springs
October 29: Light of the World Seniors Craft Fair, Littleton
From the Desk of Julie Schwab, OP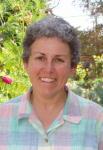 Spring brought lots of changes at EarthLinks. The plants in our garden announced themselves early with energy for life and growth. Our compost bins that steamed all winter were ready with nutritious possibilities to create a lush, vivacious garden. Each week we exclaimed to each other (and to the plants and bees and worms) how much the garden was changing and growing with or without our tending.

Another change that spring brought to EarthLinks is a change in staff. I have had the incredible privilege to work at EarthLinks for 3 years and ended my time there May 31st. I belong to a community of women, Dominicans of Sinsinawa, who have asked me to relocate to Wisconsin and serve on our leadership team (executive committee). This was a difficult decision for me because there is no other place on the planet like EarthLinks—where people reach out to each other and to the planet creating a healing environment for all. I will profoundly miss working at EarthLinks and will continue being connected because I am already on the Board of Directors.

The participants, staff, volunteers, and garden at EarthLinks taught me about community and how each of us belongs to the whole and to each other. In these complex times of growing polarities in our society, EarthLinks offers a way of being in the world that we would all do well to emulate.

The changes in staff have already brought a vivacious energy to EarthLinks. Cass, Cody and Mary Nelle bring the wisdom of continuity, while Shelby and Kelly (summer staff) bring new energy and a wealth of gifts to share. They invite you to stop by and visit and take a stroll in the garden!

I encourage you to continue to support this amazing organization in any way you can. Our world is a better place because EarthLinks is in our midst, cultivating life and community along with people who have known despair, profound poverty and isolation. We all need an EarthLinks in our life—a place where we are reminded that we belong to each other and to a planet that needs us.

Thank you, to each of you, for your support over these years and for your support into the future.

Gratefully,
Julie Schwab