Herzliya, Israel and New Delhi, India, January 11, 2012 – eyeSight Mobile Technologies, a developer of touch-free interfaces for digital devices, and India's leading handset manufacturer, Micromax Informatics, have launched the A85 SUPERFONE integrated with Gesture Recognition Technology developed by eyeSight.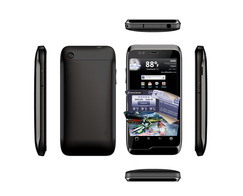 The Android-based A85 SUPERFONE device substantially enriches user experience by means of eyeSight's innovative technology which allows users to control their phones without touching the device. Users can command the new smartphone with simple hand gestures and carry out a variety of tasks such as answering calls, scrolling between pages on an eBook application, music player, photo gallery and games.
"The agreement with Micromax will allow us to reach out to Micromax's huge consumer base of in the Asian market which is also one of the fastest growing," said Gideon Shmuel, eyeSight's CEO. "Following our successful entry into the Chinese and South Korean markets, users from India can now also enjoy a completely new user experience controlling their smartphone by applying simple and intuitive hand gestures."
"Indian consumers have a great appetite for innovative technology adoption and this inspired us to come up with a product which is leaps ahead of the current generation of smartphones," said Rahul Sharma, executive director, Micromax Informatics. "We think that the new SUPERFONE category of phones will help existing feature phone users to make an easy transition to eyeSight's latest technology innovation of gesture control integrated into Micromax's products."


Powered by a 1.0 GHz Dual Core NVIDIA Tegra 2 processor and Android 2.2 Froyo (upgradable to Ginger Bread), users can work on various applications at the same time, such as browse the Internet, check mail, blog, share photographs and update their status on social networking sites at lightning fast speed. For gaming enthusiasts, A85 offers console quality gaming. In addition, users get to download more than 2 lakh applications available with the Google Android platform. The A85 comes with a 3.8" capacitive touchscreen powered by a NVIDIA Cortex A9 and 1.0 GHz Dual Core processor which can be used in parallel thus providing more power and speed to the device.


A85 sells for the attractive price of MOP INR 15290/- and is available at all leading outlets across India. For more information, please visit www.micromaxsuperfone.com.