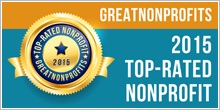 A Message from Founder, Cynthia Brian
When it comes to the people I coach and mentor, I am like a protective mother hen. But today, I'm more like a proud rooster as Be the Star You Are!® has something to crow about!
Not only were we honored for the sixth consecutive year as a TOP NON PROFIT by GuideStar and Great Non Profits, but our talented youth volunteers are making headlines, winning awards, and being accepted into top universities across the country. As a charity, I delight in making a positive difference in the world, and it is extra satisfying for me to know that the volunteers who are the engines that make the non profit go are thriving because of the skills they acquire as part of the Be the Star You Are!® volunteer squad. The teens who are participating as hosts and reporters on our international teen radio, Express Yourself!™ broadcasting on Tuesdays at Noon PT on Voice America Kids are shining in the spotlight. Here's a sampling of why we are crowing:
Social Responsibility Reporter and Host, Asya Gonzalez of Colorado was named one of FIVE finalists from across the country to be selected as Top 5 Young Entrepreneurs of 2015 for her company, StinkyFeetGurlz! She will be flown to Washington, DC in July to receive an award and win either a $5,000 or $15,000 scholarship. You can read more here: http://www.nfib.com/article/nfib-announces-its-top-young-entrepreneurs-of-2015-68895/
Besides winning several awards and monetary grants for the charity she founded, Angels of God Clothing Closet, The Gift of Giving Reporter and Host, Katelyn Darrow of New Jersey, was featured on the Steve Harvey Show. Read more here:http://steveharveytv.com/harveys-hero-katelyn/

And the Express Yourself!™ hosts and reporters are being accepted to top universities around the country. Be the Star You Are!® has four teens on their way to, attending, or graduated from Harvard-Ryan Sim, Henna Hundal, Caie Kelley, and Jennifer Tao. (Listen to Henna & Asya interviewed on Starstyle®-Be the Star You Are!®) Katelyn Darrow is deciding between USC and NYU. Jacqueline Tao is at Stanford, Courtney Cheng, Alex Pawlakos, and Vivien Lee are attending my Alma Mater, Cal Berkeley. Hosts Rachel Glass is at the University of Oregon where she is President of National Broadcasting Society, Steven Zhou is at Pepperdine where he is InterClub Council President, and Youngjoo Ann is active at Smith. Jennifer Lee, only a high school sophomore, has been winning the top California award for musicians since 6th grade! Both Rachel and Courtney were chosen this week to part of the press attending Comic Con in San Diego where they'll interview the celebs for Express Yourself!™ and Voice America. Wow! What a STAR line-up!
And Express Yourself!™ has many more young reporters in training ages ten and up in the lower grades who are also bound for greatness. Express Yourself!™ is truly a safe environment where teens talk and the world listens. Congratulations to the great young people who have made Express Yourself!™ a top rated program for young adults.
Teens making a difference and shining brightly are definitely something to crow about!
Congratulations to all of my STAR Teens!
If you are a teen interested in auditioning for our STAR radio team or you want to volunteer, email me, Cynthia Brian at Cynthia@Star-Style.com.
Looking forward to greeting you at the Moraga Faire this Saturday, May 9th in Rheem between 11-4pm. Going to be great fun for all, especially moms.
Happy Mother's Day to all of their great moms and all of you women who are encouraging and inspiring.
Starsmiles,
Cynthia Brian
Founder/Executive Director
READ AT PRESS PASS:
Read More: http://www.digitaljournal.com/pr/2536936
P.S. Please note that our street address has moved to 1660 School St. #101B, Moraga, Ca. 94556. 925-377-STAR!
Listen to Express Yourself!™ on the Voice America Kids Network every Tuesday at NOON PT at http://www.voiceamerica.com/show/2014/express-yourself
Archives, photos, information, and links are available at http://www.ExpressYourselfTeenRadio.com.
Tune in LIVE Wednesdays 4-5pm PT to StarStyle®-Be the Star You Are!® radio broadcasts with Cynthia Brian & Heather Brittany
To learn more about Be the Star You Are!® 501 c3 visit http://www.BetheStarYouAre.org