An Article by Karen Kitchel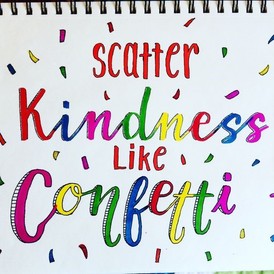 If you asked most people if they want to scatter kindness, I believe you would hear a resounding "yes!" If you need some ideas on how to begin, here are a few simple ways to start scattering kindness.
Interrupt the ordinary

Think about the people who help you get life done (mail delivery person, garbage collector, etc.) Interrupt them on an ordinary day with a cold bottle of water or candy bar and a "thanks for what you do."
Love from afar

Send a little treat or trinket with the name of your state to a faraway friend or distant relative with a post-it note that says you were just thinking about them.
Popsicle scattering
While at the grocery store, pick up a box or two of popsicles and drop them off at a local shelter. All you have to say is "enjoy!"
Pennies for wishes
Save up your pennies and spread them out near a fountain where kids will find them, and they can make wishes.
Take the sting out of sorrow

Add to your calendar the birthday and anniversary dates of friends who have recently passed away. Then do something to remember the loved ones left behind on these difficult yet special days.
A line to say to make someone's day
"That color sure looks good on you!"
Magazines for the homeless
If you enjoy reading, gather your used magazines or ask your doctor or dentist's office to save some for you, and take them to a homeless shelter.
Kindness cards
Make up a few note cards to keep in your purse or car. Randomly drop them on an empty park bench, a counter or windshield. They can say things like: "You are appreciated" - "Always remember how special you are" - "There is not another person in this universe just like you" - "You are better than butter!"
About the author:
Karen Kitchel is passionate about scattering kindness. As President of the Cheerful Givers nonprofit organization, she helped to bring birthday gifts to more than one million less fortunate children. Prior to that, she helped create a corporate university at BI Worldwide. Currently she serves meals to the homeless, is a job coach, teacher, writer and mentor. She can be reached at karenkitchel@comcast.net.