The sky is still dark, gray, hazy, and thick with smoke. Not many people are outside. Many wear face
masks. But we are the lucky ones. We still are alive and we have our homes and businesses.
Paradise was lost last week.
California is once again rampaged by roaring wildfires, both north, and south. We mourn the loss of lives and property while saluting and sending gratitude to the first responders, many of whom had their homes burn in the inferno.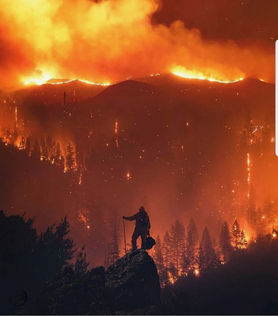 Our volunteers, Juan Puente Jr., Joven Hundal, and Siri Phaneendra are once again spearheading Operation Disaster Relief with a focus on helping victims of the California blazes. Make a DONATION through PAYPAL GIVING FUND and PAYPAL with 100% going to BTSYA with NO FEES: https://www.paypal.com/fundraiser/charity/1504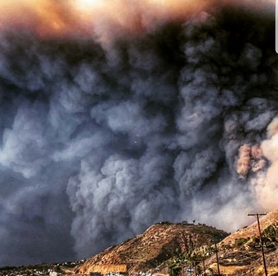 November 27th is Giving Tuesday. Facebook and PayPal will start matching donations at 8:00am ET (5:00am PT) on Tuesday, November 27, 2018. The matching offer will expire when $7 million in donations is reached or at 11:59pm PT on November 27.
Our Facebook fundraiser is located at https://www.facebook.com/donate/998063473731749/10160958040405328/
We have made $1000 our target, but we need to think BIGGER so that Be the Star You Are!® is prepared to help immediately with future disasters. Donations can be matched 250K per nonprofit and up to 20K per donor. We'd love to hit the limit!
If you can help, please do so as the people who receive the benefits will be very grateful. We encourage YOU to create a fundraiser of your friends and fans with Be the Star You Are!® as the benefactor. You'll find us at https://www.facebook.com/BTSYAcharity/
In addition, proceeds from sales of books purchased through our website at http://www.CynthiaBrian.com/online-store will benefit Operation Disaster Relief to help the victims of the California wildfires. We are also providing FREE shipping through December 8th, and all orders will come with extra goodies & autographs. Buy your holiday gifts and help Californians who have suffered losses.
On behalf of all of the volunteers at Be the Star You Are!®, I extend my sincerest gratitude to YOU, our supporters, for helping us to be a TOP RATED non-profit that has earned the Guidestar Gold Seal.
Since our founding in 1999, we have had no paid employees. BTSYA is a 100% volunteer organization with all donations benefitting outreach programs.
As we head into our 20thyear of service, we want you to know how valuable you are to our family of those who dare to care. Without you, we couldn't survive nor accomplish the success with our outreach programs.
We express our sorrow and sadness to those who are suffering and pray that recovery will be swift.
Tap into thankfulness.
Have a blessed and Happy Thanksgiving.
Founder/Executive Director
Be the Star You Are!® 501 c3 charity
PO Box 376
Moraga, California 94556
925-377-STAR
PS: Congratulations to the teen hosts and reporters who are celebrating SEVEN years of broadcasting Express Yourself!™ on the Voice America Kids Network! That is 364 unique programs. WOW! It's the #1 YA show! Help the teens to continue to broadcast with your tax-deductible contribution.