Fifty years ago was the famous or perhaps infamous "Summer of Love" in San Francisco where over 100,000 young people migrated from around the world essentially launching the global hippie explosion of a counterculture revolution. Maybe you were there or maybe you are the child of a flower child and completely exhausted from hearing about the good 'ole days of sex, drugs, and rock 'n roll. The nostalgia surrounding that complex time period is being showcased in multiple museums and exhibits around the San Francisco Bay Area. If you want to take a stroll down memory lane for a flashback of the 60's, make sure to check out the various events.
School is out, Father's Day is here, graduations, birthdays, weddings, camping trips, water sports, barbeques, and multiple outdoor activities highlight the summer season. Whatever you do, be safe, smart, and enjoy your family and friends as they are precious.
The Moraga Faire booth was a huge success. Again, our gratitude to sponsors Michael VerBrugge Construction and Realtor Elena Hood as well as authors Brooks Olbrys and Diana Zimmerman. Teen event coordinator, Chelsea Pelchat, did a fantastic job of organizing the day and the BTSYA volunteers were stupendous. Thank you all.
Be on the lookout for a summer event to be announced.
Speaking of events, the 20th anniversary of Be the Star You Are!® 501 c3 will be September 9, 2019. We want to celebrate in style and are searching for a dedicated and experienced volunteer who wants to chair and coordinate a 20th anniversary party. If that is YOU, shoot me an email, Cynthia@BetheStarYouAre.org and let's talk.
If you'd like to be on a committee, email me as well.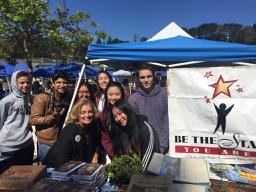 Make sure to check out our new creative community at http://www.BTSYA.com. Web volunteer, Tim Barger, who helped design our website.
Since online shopping has become the norm for so many people, please scroll to the end of this newsletter to make your purchases through one of our partners who will donate a percentage of your total to Be the Star You Are!® All of your favorite stores and brands are represented so that you can buy what you wish while increasing literacy and positive media.
During the summer, make sure to read books and read to your children. "To be a leader, you must be a reader. Read, lead, succeed." Check out this great article in the NY Times on how to raise a reader.
Happy June, Happy End-of School, Happy Father's Day, Happy Vacation.
Make this YOUR summer of love.
My virtual door is always open.
Sending summer love,
Cynthia Brian
Founder/Executive Director
Be the Star You Are!® 501 c3
http://www.BetheStarYouAre.org
Cynthia@BetheStarYouAre.org
PO Box 376
Moraga, California 94556
925-377-STAR