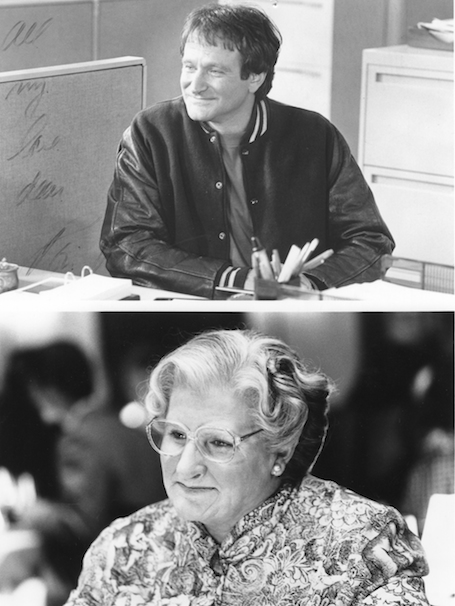 "No matter what people tell you, words and ideas can change the world." Robin Williams
A Message from Cynthia Brian
He made us laugh. He made us cry. He made us look inside ourselves.
The death of actor and comedian Robin Williams sent a shock wave throughout the world. This past week wherever I went the conversation turned to Robin. A question that consistently arose went something like this, "How could someone who brought so much joy and laughter to the masses feel so alone and empty?" Although there is no ready answer, what is clear is that no matter who we are or how much fame and fortune we achieve, we are all human, plagued with insecurities and demons.
I had the great pleasure of working as an actor with Robin Williams on a few films, including Mrs. Doubtfire and Jack. I also coached many of the children who were cast in his films. Robin was amazing with the kids. He was one of them. They adored him. As for the adult actors and crew, we felt that we were getting paid to be at a first rate comedy show. Robin was a terrific improviser and when the director would call "cut", he'd keep us all in stitches as he continued a dialogue and antics of his own creation.
The world has lost not just a phenomenal entertainer, but a friend and advocate for the disenfranchised. In the film, Jack, Robin portrays a ten-year old boy with a disease that ages him four times the rate of normal people. His graduation speech inspires me as much today as it did when we shot the film in 1996.
"In the end none of us have very long on this earth. Life is fleeting. And if you're ever distressed, cast your eyes to the summer skies, when the stars are strung across the velvety night, and a shooting star streaks through the blackness turning night into day. Make a wish. Think of me. Make your life spectacular. I know I did."
Thanks Robin for the laughter, tears, and entertainment during your sojourn on this planet. We really LOVED you and you were never alone. You have shown us how important it is to live in the moment and be the star you were born to be.
On the photo Robin autographed for me on Mrs. Doubtfire, appropriately in character, he penned, "All my love, dear! Robin".
All our love to you, dear Robin. We'll look for the shooting star streaking across the night sky and we will remember your spectacular life. Your words and ideas have changed the world. We will miss you.
Nano, nano.
Cynthia Brian
Founder/Executive Director
PS: Read the chapter, The Gift of Opportunity, in the book Be the Star You Are!®, 99 Gifts for Living, Loving, Laughing, and Learning to Make a Difference about working on the movie, Jack. For a $25 donation, you can have this autographed book shipped to anyone.
PPS: Listen to Heather Brittany and I on Starstyle®-Be the Star You Are!® salute Robin and discuss what it was like to work with him.