Message from Founder, Cynthia Brian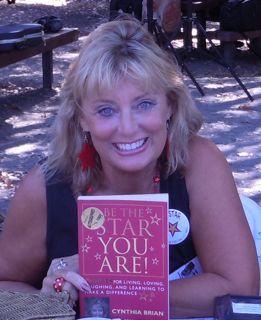 Of all the forces that make for a better world, none is so powerful as hope. Hope keeps dreams alive. Hope is everything. Recently I received a letter from an incarcerated individual who had read my book, Be the Star You Are!® 99 Gifts for Living, Loving, Laughing, and Learning to Make a Difference. Because of the true stories of portrayed in the book, he said he was filled with hope for a better tomorrow when he is released. "But sadly". he wrote, "many of the other young people in prison with me are hopeless and helpless as we have no library of encouraging books. I would like to start one. Would you please consider sending copies of Be the Star You Are!® 99 Gifts for Living, Loving, Laughing, and Learning to Make a Difference?"
After I read his heart-felt letter I thought it wise to consult our volunteers to see how Be the Star You Are!® could respond. Our mission is to empower women, families, and youth through improved literacy, increased positive media, and sustainable tools for living. Unanimously the volunteers agreed that we would create a new outreach program to address this lack of empowerment and life skill books in places of incarceration. The program has been aptly named "Possibilities for Prisoners Project". Our goal is to raise a start-up fund of $10,000 to collect, organize, and ship appropriate resources to decrease despair, increase hope, and encourage positive transformation. Following St. Francis of Assisi guidelines, we will offer light in the darkness and joy from the sadness.
We hope you will support this important campaign to give hope and strength to those who seek a life without crime. Donate at http://www.bethestaryouare.org/donate.htm
All donations are tax deductible.
It's harvest time and the crop that will yield everlasting fruit is HOPE.
Help us give the gift of hope.
"Remember, Red, hope is a good thing, maybe the best of things. And no good thing ever dies." From the movie "The Shawshank Redemption"
Our Trick or Treat for Literacy Campaign Starts October 1.
Thanks for contributing to a harvest of hope,
Cynthia Brian
Founder/Executive Director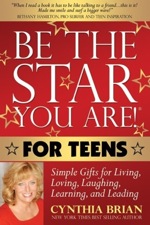 PO Box 376
Moraga, Ca. 94556
925-377-STAR
P.S. The holidays are around the corner. For a complete list of Outreach Programs you may wish to support.
Ideas on how to HELP.
To purchase copies of Be the Star You Are!® or Be the Star You Are!® for TEENS for yourself or for gifts, go to our STORE. Case prices available.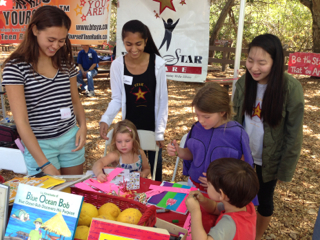 On September 27, volunteers of Be the Star You Are!® including teen writers, radio reporters, concert directors, and videographers provided activities for the community to enhance creativity. People of all ages participated in the Once Upon a Time…story while children made bookmarks at the Pear and Wine Festival.
Lots of freebies were offered to the festival attendees and a great time was enjoyed by all. Thanks to our Pear and Wine Festival sponsors The Lamorinda Weekly and Napa Valley Wealth Management.
Read the Story on our Creative Writing Page.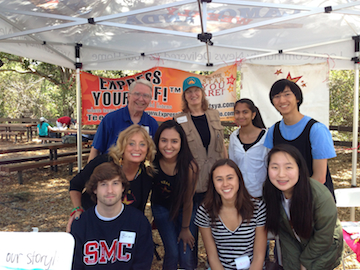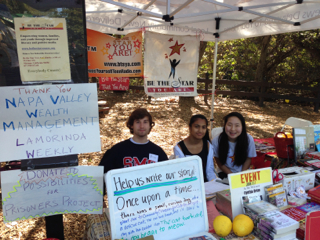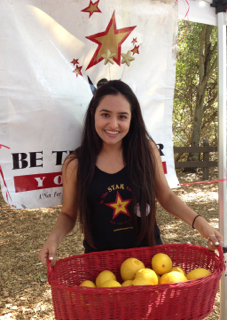 SHOP and GIVE
If you love to shop online, you'll love the ways you can be donating to Be the Star You Are!® without spending a penny more, and sometimes saving a lot. The next time you want to buy ANYTHING, click on one of our links and you'll
be supporting BTSYA while getting the best value for yourself!
1. AmazonSmile donates .5% of purchases when you click here.
2. Discounted books at Amazon
3. Buy or Sell on EBAY
4. Use GoodSearch to search the web & buy from your favorite stores,. Choose Be the Star You Are as your charity to support. You can log in with Facebook, too!
5. Shop at over 1300 stores on IGIVE
Radio Flyer
Tune in every Tuesday at NOON PT on the Voice America Kids Network to listen to our talented teens interview awesome guests from around the world.
Links, stories, photos and archives. Twenty seven volunteers have now been trained as hosts and reporters.

Live every Wednesday LIVE from 4-5pm on the Empowerment Channel of Voice America, hosts Cynthia Brian and Heather Brittany bring you uplifting talk with T42, Health Matters, and interviews with authors and experts. Links, stories, photos, and archives.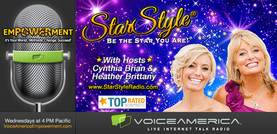 With a donation to Be the Star You Are!®, you may become a guest on our radio programs. Find out how by emailing Cynthia@BetheStarYouAre.org,.
Get inspired, motivated, amused, and informed. Check us out!
LEND US YOUR EARS!