It is not our intention to send this newsletter to you if you do not want it. Just click on the "UnSubscribe" button at the bottom of the page and you will be instantly removed.
Jingle All the Way - Miracle Moment®
"Christmas waves a magic wand over this world, and behold, everything is softer and more beautiful." Norman Vincent Peale
Holiday Cheers from Founder & Executive Director, Cynthia Brian
The celebration of Hannukah has already begun and Christmas is on its way. This is the time of year when everyone feels a bit more generous and cheerful, as long as the stress of preparing for the holidays isn't dragging you down.
It's been a busy month here at Be the Star You Are!® since our November newsletter. We continue to help with Operation Disaster Relief, shipping and/or delivering necessities and goods to hurricane and fire victims. Hopefully soon the multiple fires blazing in California will be under control. Kudos to our firefighters and first responders for all they do to save lives and property. Thanks to your generosity, we provided over $9,000 of supplies to those in need.
Our Letters to Santa on December 2 was a huge success in collaboration with 5 A Rent A Space. Children of all ages took their photo with Jolly St. Nick and our BTSYA volunteers helped kids write their wish list letters and create color holiday crafts. Everyone enjoyed plenty of treats and festive merriment.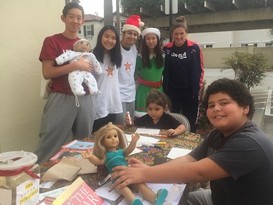 We've celebrated two big milestones. On November 21, our young adult radio show, Express Yourself! feted six years of weekly broadcasting and on December 8tth, our lifestyle radio program, Starstyle-Be the Star You Are!® boasted nineteen years of live weekly shows with fifteen of those on the World Talk Radio/Voice America Network. Over 2500 interviews have been enjoyed with authors, experts, sports figures, film stars, celebrities, and other news worthy individuals over the years. We are very proud of these accomplishments. Check out the programs at http://www.BetheStarYouAreRadio.com

This past week, my 7th book, Growing with the Goddess Gardener, hit the bookshelves after nine months of tedious delays. Birthing a book is much like birthing a child as the real work begins now. Sales benefit BTSYA when you buy directly from http://www.CynthiaBrian.com/online-store. Prices are cheaper and you'll get extra treats.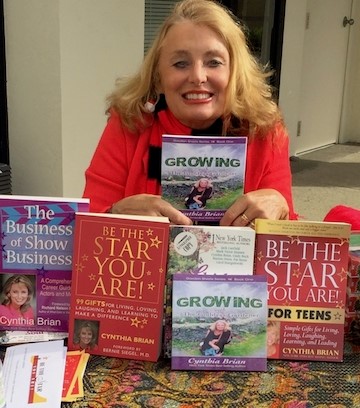 There is still time for plenty of on-line shopping and we hope that you'll use our links to many of our partner sites where over 1800 retailers offer a percentage to Be the Star You Are!® charity, including Amazon through Amazon Smile (https://smile.amazon.com/ch/94-3333882). A complete list is in this newsletter.
As 2017 comes to an end, please consider making a tax-deductible contribution to Be the Star You Are!® charity either on line at our site at www.BetheStarYouAre.org or by check to BTSYA, PO Box 376, Moraga, Ca. 94556. Paypal Giving Fund will add 1% to your donations through December 31 through PayPal's Holiday Campaign Donate page and the PayPal app http://www.paypal.com/fundraiser/charity/1504.
Since we want you to get back to the festivities of this joyous December, we are keeping the news to a minimum. We hope that you will continue to support Be the Star You Are!® with your dollars, time, and expertise. Be the Star You Are!® is still 100% ALL volunteers and each of us works diligently to offer hope and heart to those less fortunate.
On behalf of all of us, we send you our love, gratitude, and inspiration. We are looking forward to 2018 as we embark on 19 years of service.
As you gather with friends and family, remember the reason for the season and that the best gift you can give one another is the gift of YOU.
Wishing you a very happy Hannukah and Merry Christmas. May sleigh bells ring and shower you with blessings.
Cynthia Brian
Founder/Executive Director
Be the Star You Are!® 501 c3 charity
PO Box 376
Moraga, California 94556
http://www.BetheStarYouAre.org
Info@BetheStarYouAre.org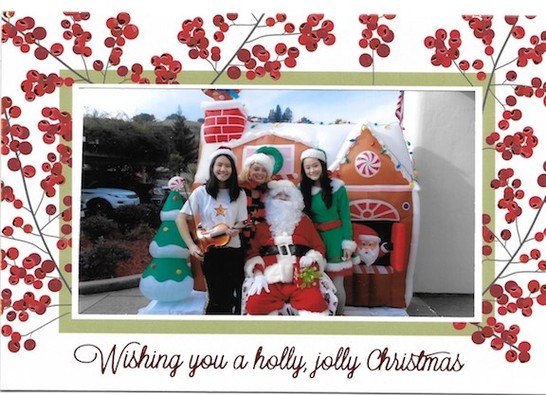 Tune in to StarStyle®-Be the Star You Are!® radio for insights and conversations on positive living on Wednesdays 4-5pm PT LIVE on the Voice America Network, the Empowerment Channel. Be encouraged and inspired. https://www.voiceamerica.com/show/2206/be-the-star-you-are
Express Yourself! is broadcast Tuesdays at NOON PT on Voice America Kids Network with BTSYA young hosts and reporters interviewing authors and special guests who inspire. https://www.voiceamerica.com/show/2014/express-yourself
Photos, descriptions, links and more for both shows at http://www.StarStyleRadio.com