SEPTEMBER 2011
What's Inside
LUMOS! Incongruity Puzzle
President's Message:
Adventures. Academics. Awards.
What is the Luminari Award?
Beyond the Box: Special Edition
On the Road with Lani Lazzari
LUMOS! Hemingway Challenge
What's Next: TEEN Writer! 2012

Exciting News!
LUMINARI Award
Call 412.877.1888 or visit Luminari.org
to find out how your school can participate!

---
Light the Way... Congratulates the winner who submitted this inspirational quote:

Jason Sullivan who submitted:
"Commitment leads to action. Action brings your dreams closer." — Marcia Wieder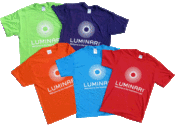 Have an inspiring quote for Light the Way? Submit your original or famous quote today and you'll be entered to win a Luminari T-shirt (in one of five brilliant colors.) Click on the T-shirts to see a larger view.

---




Read the Luminari BLOG >>

explore inspiring stories, candid observations, must read articles, and even random thoughts. It's perfect to kick-start some thoughtful conversation!
---

Lani Lazzari Thinks Beyond the Box




Lani is the creator and founder of Simple Sugars and you probably know her from our LUMOS! feature a few months back. We caught up with Lani while on the Smoothest Road Trip Ever — her cross-country trip to tell her story in hopes of inspiring thousands of girls to follow their passion and realize their dreams. Here's how she thinks beyond the box…

---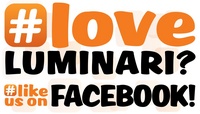 ---

Review Luminari on
Great Nonprofits

Do you believe in our mission?
Are you inspired by our programs and workshops?
Have you participated in one of our programs; and are you willing to share your experience?
Write a review about us now!


---

Our Supporters

WE THANK OUR SPONSORS:
Brown Brothers Harriman
PNC
UPMC

WE ARE GRATEFUL TO ALL OF OUR SUPPORTERS:
Grable Foundation
Richard King Mellon Foundation
The Pittsburgh Foundation
The President's Discretionary Fund,
of the Pittsburgh Foundation
Desisto, Jones, Schneeberger &
Associates, P.C.
Luminari Board of Directors (100%)
Individuals like YOU who support a greater degree of vibrancy and prosperity in the Pittsburgh region!
---
If you believe in our mission to broaden minds and inspire innovations in the Pittsburgh region, then help us grow! We believe that every dollar makes a difference.
LUMOS! Incongruity Puzzle:

Can you spot the differences between the two photos below? For the answers, visit us on
Facebook!
(Jeff Lamb, pictured below front left, demonstrates Tai Chi with the 2011 Ambassadors in June. Jeff studied extensively in Taiwan and teaches Mandarin Chinese at Shady Side Academy Senior School.)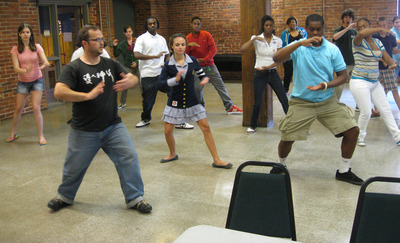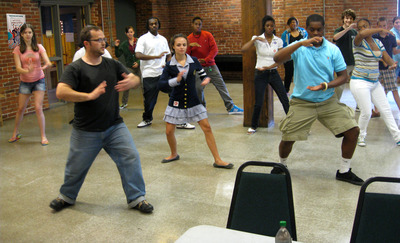 ---
President's Message:
Adventures. Academics. Awards.
by Hilda Pang Fu, Founder, Luminari
I'm always a little envious of those of you who get to start back to school in the fall and experience the many adventures and learning opportunities that come with each new school year. So, I decided to challenge the Luminari Team to come up with a school-themed project – and the exciting result is a scholarship opportunity we're calling the Luminari Award!
One student from each participating school will receive a Luminari Award, which includes a full merit-based scholarship to the 2012 I Want to be an Ambassador! camp held in Pittsburgh and Washington, D.C., next June.
The Luminari Award is designed to recognize exceptional students – and we believe that means more than simply getting good grades. Exceptional students have open minds and an unquenchable thirst for learning in all aspects of their lives, not just academics. Exceptional students seek out new perspectives and diverse experiences well beyond the classroom walls, and they display praiseworthy personal qualities such as compassion, determination, empathy, and leadership.
But for every exceptional student, there must also be an exceptional school – nurturing, encouraging, and going that extra mile to offer support. For that reason the Luminari Award also has a component to honor the dynamic and dedicated teachers and administrators who strive to challenge students with meaningful curriculum and an exciting school environment.
Visit our website for full details and applications for the Luminari Award.
We're eager to hear from you! And to those of you starting a new school year – as a teacher, administrator or a student – we wish you a year filled with inspiring and mind-broadening experiences!

---
The Luminari Award is an exciting merit-based scholarship for area students who will be in grades 7 through 11 during the 2011-2012 academic school year. Through the application process, Luminari will select up to eight area schools to participate in the award competition. Award winners from each school will receive a scholarship for an all-expenses-paid admission to Luminari's I Want to be an Ambassador! camp, valued at more than $1,200.
To qualify, schools must commit to opening the competition to all eligible students; and gather at least six successfully completed applications from students in their district. Luminari Award winners will be announced in mid-February 2012.
Don't miss this opportunity to recognize your outstanding students while honoring the dedicated educators and administrators who motivate and inspire their students . For complete details about the Luminari Award and guideline information, contact Jacqueline McWilliams by September 30, 2011 at 412.877.1888 or at jaq.mcw@gmail.com.

---
The "Beyond the Box" column features outside-of-the-box thinkers and problem solvers who make the Pittsburgh region a more vibrant and prosperous place to live, work and play.
---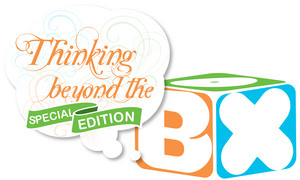 On the Road with Lani Lazzari

Occupation:
President and CEO, Simple Sugars
I've lived in Pittsburgh for:
17 years (aka my whole life)
I'm usually awake by:
5:30 or 6, way too early.
My first thought in the morning:
It's way too early.
My final thought before bed:
I don't think I have any - I'm always too exhausted to think
by that point.
Languages spoken:
English and some Spanish, but not nearly fluently.
I'm currently reading:
King Lear and my AP Government book.
My guilty pleasure TV viewing:
Chopped, Modern Family, and the Big Bang Theory. Also, the Ellen
DeGeneres show, but I have no guilt about that.
My signature drink:
Nonfat iced caramel latte from Starbucks.
My favorite hobby:
Rowing and watching hockey.
Dinner for breakfast or breakfast for dinner:
Dinner for breakfast (especially leftover Chinese food).
The quality I most value in myself:
My independence.
My biggest pet peeve:
When people get peanut butter in the jelly.
My most significant lesson learned:
To have confidence in myself.
I'm most inspired by:
My mom.
People will be surprised that:
I am inspired by rap music.
The last great traveling I did:
Right now! Driving across the US!
I became involved with Luminari because:
I was a part of the business round table discussion at Luminari's
I Want to be an Ambassador! camp this summer.

Thanks for sharing with us, Lani!

Read more of our conversation with Lani now on our Blog!

---
LUMOS! Hemingway Challenge:

Ernest Hemingway was dared to write a story using only 10 words. He did it in six. "For sale; baby shoes, never worn." Match your skills against those of a literary icon. Working with a limited amount of words can sharpen your creative skills and challenge your mind.
There are two words listed below; your goal is to use them to write a six-word story. Make every attempt to be CREATIVE and ORIGINAL, then share your story with us on Facebook!
---
What's Next
TEEN Writer! 2012 - as we plan for the next series of workshops and classes for aspiring young writers, we'll also check in on some of our 2011 writers for an update and writing samples.