MARCH 2011

What's Inside
Mathematics = Diplomacy
Ripples of Diplomacy
Beyond the Box with Bill Peduto
Spring Cleaning
What's Next: Teen Writer! Essays

Look What's New!
We are thrilled to introduce our new LUMOS! column titled "Beyond the Box" featuring the out-of-the-box thinkers and problem solvers who serve, contribute and support our region to become a more vibrant and prosperous place to live, work and create.
---
Light the Way...
Have an inspiring quote for Luminari?
Submit your quote for "Light the Way..." and you'll be entered to win a Luminari T-shirt (in one of five brilliant colors).
Submit your original or famous quote today!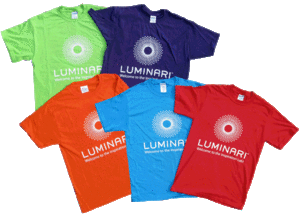 Click on the T-shirts to see larger view.
---
Ripple Effect: Diplomacy Week
Pictured below, Dominic shares his experiences from the 2010 I Want to be an Ambassador! camp with eighth graders as he prepares them for their "Diplomacy Week" activities ahead.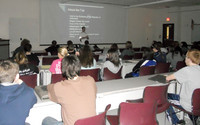 Dominic said "I could see in many of their eyes how excited they were to be a part of Diplomacy Week, and how much fun they would have learning the skills that I would teach them."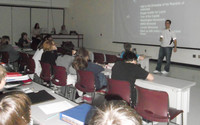 ---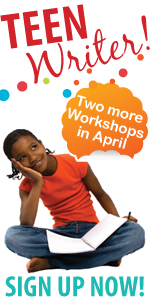 FANTASTIC FICTION WRITING:
Sweating the Details
Saturday, April 9, 2011; 9 am – 3 pm
THE PLOT THICKENS:
Making Stories Make Sense
Saturday, April 30, 2011; 9 am – 3 pm
---
Hot Shots!
2011 is off to a great start!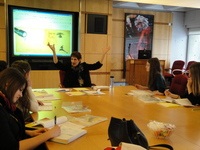 Move beyond your usual comfort zone and experience a workshop environment common among professional writers. Small classes and an engaging instructor make this new writing series lots of fun, dynamic and interactive for teens looking to improve their writing abilities or beginners who want to become more effective writers.
Read the Luminari BLOG >> featuring: "What We're Reading," Submissions from the Luminari community and our daily inspirations.
---
What's Your Story?
---
Our Supporters
The Grable Foundation
An Anonymous private family foundation
The H. Glenn Sample, Jr. MD Memorial Fund, part of the PNC Charitable Trusts
The President's Discretionary Fund of the Pittsburgh Foundation
Desisto, Jones, Schneeberger & Associates, P.C.
Luminari Board of Directors (100%)
Individuals like YOU who support a greater degree of vibrancy and prosperity of the Pittsburgh region!
---

Mathematics = Diplomacy
by Rick Tony, Director, "I Want to be an Ambassador!"
What can mathematics teach us about diplomacy?
Two brilliant 20th century thinkers, John von Neumann and John Nash, developed a new field of mathematics called game theory to examine trust, cooperation, forgiveness, retaliation, and empathy. Their brainchild has since been applied to fields as diverse as biology, politics, and athletics. Having taught game theory for 10 years, I am eager to explore these ideas in June with the "I Want to be an Ambassador!" campers, and one lesson in particular called the Tragedy of the Commons:
Imagine a town with a central-grass commons area where each resident may graze one cow. As long as everyone honors the "one-cow-per-person" limit, the grass will continually be replenished. Nowadays we call this sustainable harvesting. There is very little incentive, however, for an individual to obey the limit. Each resident may rightly reason that grazing one extra cow will not significantly reduce the sustainability of the entire commons and having two cows would be twice as productive as one. However, if every resident thinks that way, the commons will soon be overgrazed and worthless. Now imagine a group of teens taking on this scenario. Could they all agree to obey the limit or would the extra-cow "payoff" prove too strong? Nash and von Neumann quantified the Tragedy of the Commons into a game that is easy to play but difficult to "solve." Players must negotiate, cooperate, and sympathize with their peers in order to mutually succeed. Sounds like diplomacy to me!

Ripples of Diplomacy
by Pilar Brown, team member, Luminari
Dominic's story is a wonderful example of how a young person extends the positive effects of an inspirational experience to his peers. And one that demonstrates how education and inspiration are not always funded by school budgets, but rather with initiative, teamwork and partnership.
For his senior project, Dominic, a 2010 I Want to be an Ambassador! alum, is inspiring and educating over 250 eighth graders in the vital art of diplomacy through presentations he developed after completing Luminari's pilot program last summer. Having garnered the support of a teacher/mentor, Dominic started to perpetuate the "ripple effect" by organizing a "Diplomacy Week" for his home school district by teaching some of the skills and lessons he learned at our I Want to be an Ambassador! camp. He will be teaching three lessons in April: one on how our nonverbal communication skills affect our perceptions of others; another on becoming globally aware of what is outside our comfort zone; and then using Google Earth, he will demonstrate how to plan one's perfect tour of Washington, D.C.
In May, he will lead a special tour of our nation's capital for 25 lucky eighth graders with a special visit to the Embassy of Indonesia! Good luck Dominic and your fellow Diplomacy Week participants!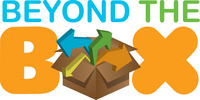 Up Close with Councilman BILL PEDUTO

Occupation:
Member of Council, City of Pittsburgh
Languages spoken:
English, Pittsburghese.
I'm currently reading:
"Getting to Yes: Negotiating Agreement Without Giving In."
My favorite Pittsburgh neighborhood is:
All of them (I'm a Politician, what did you expect?)
My top 3 food picks in Pittsburgh are:
Transylvanian Goulash, Jozsa's Corner;
Burmese Fried Rice, Spice Island Tea House;
Italian Ox Tail Soup, my Mom's Kitchen.
My favorite local indulgence is:
Left-on-green preference (but, you have to wave and says
thanks).
My guilty pleasure TV viewing:
"The Simpsons" – every day.
Style icon:
Carey Grant when in public;
Homer Simpson when at home.
I'm most inspired by:
Creative, positive people who smile.
My favorite discovery:
Fire – I am happy someone discovered it. It has been very
useful to me.
You would be surprised to learn that I:
Recently have been the executive director of a
documentary; the co-developer of the first Mobile-App
for local government; and the judge of a pudding wrestling
tournament. What I learned - NEVER wear a suede jacket
to a pudding wrestling tournament.
I like Luminari because:
It helps to tap the creative energy that we all have and
connects like-minded people with each other.

Councilman Peduto is currently serving his second term as a member of Pittsburgh City Council. Thanks for sharing with us, Bill!
Read the entire interview now on our new BLOG!

Spring Cleaning
by Hilda Pang Fu, Founder, Luminari
As the weather turns warmer, many of us attend to that old tradition of "Spring cleaning." And while I don't necessarily enjoy the labor of cleaning, I'm always charmed by the discovery of some wonderful item found buried beneath the clutter, or hidden in the cushions of a couch.
A theatre playbill... a snapshot with old friends... a souvenir from an enjoyable family trip – those mementos spark my imagination, and I find myself planning new outings, more get-togethers, and unique activities.
This season, as you tackle the task of cleaning your home, why not also take some time to do a little mental Spring cleaning?! Shake off thoughts of work tasks and grocery lists and see what treasures you discover hidden beneath all of that mental clutter. Is there a short story idea you've been mulling over? A hobby you dream of pursuing? A hidden talent you'd like to refine and share with the world?
Spring is the time for new growth – so nurture your creative aspirations because these are the things that feed the soul, and even shine a light that can inspire others. And if one of those creative ideas can be turned into a class to offer through Luminari, we'd love to hear from you. Let's welcome Spring together!

What's Next
Read stories and essays from our 2011 Teen Writers.