JULY 2011
What's Inside
President's Message:
Superpowers Discovered!
Through the Eyes of the Campers ...
Reader Survey
What's Next: Diplomacy Week

Exciting News!
The Official launch of our Blog:
"What's your inspiration?"
Read the Luminari BLOG >> explore inspiring stories, candid observations, must read articles, and even random thoughts. It's perfect to kick-start some thoughtful conversation!
---
Light the Way...
"Be yourself; everyone else is already taken."
— Oscar Wilde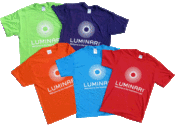 Have an inspiring quote for Light the Way? Submit your original or famous quote today and you'll be entered to win a Luminari T-shirt (in one of five brilliant colors.) Click on the T-shirts to see a larger view.
---
Hot Shots!
I Want to be an Ambassador! 2011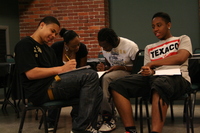 ---
Review Luminari on Great Nonprofits

Did you know Luminari has a profile page on the Great Nonprofits Web site?
Do you believe in our mission?
Are you inspired by our programs and workshops?
Have you participated in one of our programs; and are you willing to share your experience?
Write a review about us now!
---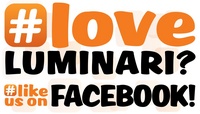 ---
Our Supporters
WE THANK OUR SPONSORS:
Brown Brothers Harriman
PNC
UPMC

WE ARE GRATEFUL TO ALL OF OUR SUPPORTERS:
Grable Foundation
Richard King Mellon Foundation
The Pittsburgh Foundation
The President's Discretionary Fund,
of the Pittsburgh Foundation
Desisto, Jones, Schneeberger & Associates, P.C.
Luminari Board of Directors (100%)
Individuals like YOU who support a greater degree of vibrancy and prosperity of the Pittsburgh region!
---
If you believe in our mission to broaden minds and inspire innovations in the Pittsburgh region, then help us grow! We believe that every dollar makes a difference.
---
President's Message: Superpowers Discovered!
by Hilda Pang Fu, Founder, Luminari
Every summer, we see a bunch of new movies arrive in the theatres, which always include some blockbuster about superheroes: Spiderman, Superman, Wonder Woman . . . This summer, we have the Green Lantern and Captain America.
My favorite moment in superhero movies is when the normal, everyday people discover they have super powers. They look astonished and eager but they also look a little bit nervous, because, to quote Spiderman's Uncle Ben, "With great power comes great responsibility."
The most exciting part of this year's I Want to be an Ambassador! camp has been watching our teenage participants as they discovered their own "super powers."
It took confidence to step out of their comfort zones and get to know a diverse group of their peers. It took great intelligence to participate in the panel discussions with the business leaders and experts who visited us throughout the week. It took an open mind to learn Chinese from a teacher who absolutely refused to speak any English to them! It took the willingness to risk looking a little bit silly as they learned how to eat with chopsticks. It took great maturity and composure to meet with members of the U.S. State Department -- and to interact with ambassadors from the embassies of Singapore and Brazil in Washington, D.C.
Confidence, composure, an open mind . . . the willingness to meet new people and do new things . . . These are the "superpowers" of an Ambassador!
Our camp participants have shown that they are ready to accept the great responsibility that comes with great power. They have shown that they are ready to take action, and are capable of making a difference because they understand our world really needs all the superheroes it can get.
---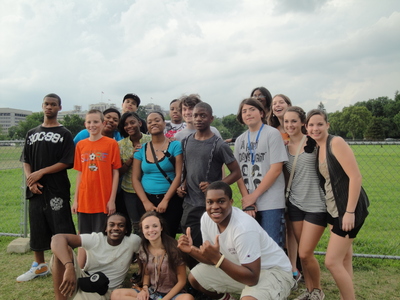 Through the Eyes of the Campers...
"A quotation at the right moment is like bread in a famine." ~Talmud

With exhilarating memories of the 2011 I Want to be an Ambassador! camp still fresh in our heads, we thought we'd share with you some direct quotes from our Ambassador campers. We hope their impressions inspire you to broaden your mind to new experiences and find diplomatic solutions to the challenges in your own community.

"I found it fascinating and shocking that only 1 in 100 people in this world have a college education."

"Thanks to this camp, I will be sure to listen and engage in different cultures in the future. I see now how we can all be ambassadors and solve problems around us."

"The religion discussion made me think a lot! I enjoyed seeing people react and interact on this topic."

"I plan to use what I learned in the future to improve something in this world, however small. It all helps!"

"I really think the conflict resolution exercise was an interesting and helpful strategy. I can see how I really will use these skills in my everyday life."

"I liked the active listening exercise. I learned the difference between listening and listening intently."

"The acting exercises and non-verbal communication skills really broadened my mind. I want to learn how to control my face in tough situations!"

"The business roundtable discussion gave me a good perspective on my future and inspired me to follow my dreams."

"All of the sessions really broadened my thoughts and made me want to learn more about cultures and conflicts around the world."

"I really loved talking to the Brazilian Ambassador and visiting the US State Department in Washington, D.C. I loved meeting important people!"

"I learned that you can change a situation just with words!"

"I never would have thought I'd have been friends with some of these other students, from different backgrounds, and different ages. But all it took was us coming together for the week and just getting to know each other."

---

We here at LUMINARI would love your feedback. We will be making some exciting changes in the coming months, but we want to hear from you first. If you have a minute, please fill out our reader survey!

Many thanks,


The Luminari Team





Click here to take the LUMINARI Reader Survey



---
What's Next
Preparing for Diplomacy Week in the 2011-2012 school year!