New President to Head the Lawyers' Committee for Cultural Heritage Preservation (LCCHP)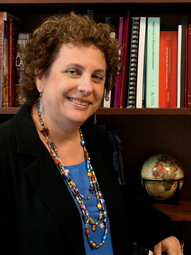 The Lawyers' Committee for Cultural Heritage Preservation (LCCHP) has elected Diane Edelman as the next president of the nonprofit organization, which has been working since 2004 to foster the stewardship of cultural resources through legal advocacy and education.
"Diane Edelman will serve with distinction, energy, and enthusiasm as she takes LCCHP into the next phase of its important work to preserve cultural heritage," said Dr. Patty Gerstenblith, the organization's outgoing president. "I am thrilled to turn over LCCHP's leadership to her."
Edelman is also looking forward to the opportunity her new role presents to raise awareness about cultural heritage and the threats facing it. "I am delighted and honored to become the second president of the Lawyers' Committee, following cofounder and first president Patty Gerstenblith. With the help of an excellent Board of Directors, Patty shaped LCCHP into a strong and effective organization. I am excited to continue her work to preserve cultural heritage with our dedicated Board, staff, and members."
Edelman brings with her over two decades of experience and degrees in both Near Eastern Studies and the law. She is Assistant Dean for International Programs and a Professor of Legal Writing at Villanova University of Law in Pennsylvania, where she has taught for the past 18 years. She directs the law school's summer program in Rome, Italy, where she also teaches International Art and Cultural Heritage Law. In addition to her academic positions, she is the faculty advisor to Villanova Law student externs at the Philadelphia Volunteer Lawyers for the Arts, as well as the Barnes Foundation. This background, coupled with her passion for preservation, made her a natural choice to lead the organization.
Edelman's interest in cultural heritage dates back to her studies at Brooklyn Law School, when the Elicofon case was decided and caught her attention. She is particularly interested in curriculum development in this growing area of the law.
Edelman succeeds Gerstenblith, who cofounded LCCHP and helped it grow into a thriving organization of over five hundred members, including lawyers, law students, and others interested in cultural heritage preservation. "It has been an honor to serve as LCCHP's first president," said Gerstenblith. "I want to thank the Board of Directors and the organization's membership for their wonderful commitment and support over the past six years."