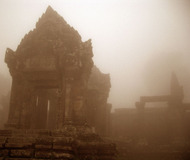 We, the undersigned institutions, are greatly concerned by the escalating conflict between the Southeast Asian nations of Cambodia and Thailand over the ancient temple of
Preah Vihear
. The sacred Hindu shrine is now a battlefield; the descendants and heirs of its builders are among those whom the fighting has killed, injured, and displaced. Without question, continued clashes will lead to increased casualties and will further jeopardize Preah Vihear.
Preah Vihear was a crowning achievement of the Khmer Empire, which ruled Southeast Asia from the 9th to 15th centuries and preceded the modern Cambodian state. The site has been the subject of a border dispute between Cambodia and Thailand since French Indochina collapsed in 1954. In 1962, the
International Court of Justice
awarded Preah Vihear to Cambodia, and Thailand relinquished the temple in 1963. In 2008, at Cambodia's request, the
United Nations Educational, Scientific, and Cultural Organization (UNESCO)
recognized Preah Vihear as a
World Heritage Site
of "outstanding universal value." Cambodian-Thai relations rapidly deteriorated in the wake of the listing, which was intended to protect the temple. In the last few years, these political tensions have repeatedly sparked armed clashes, with Preah Vihear at the frontline. The most recent fighting — and fiercest to date — erupted on 4 February 2011 and has taken lives, wounded dozens, forced thousands to flee their homes, and damaged the temple.
The preservation of Preah Vihear, a World Heritage Site, is not only Cambodia's responsibility, but also that of the international community. We commend Cambodia and Thailand for agreeing to a ceasefire on 7 February 2011 and trust that they will continue to honor it. We also urge both nations to fulfill their obligations as States Parties to the
1954 Hague Convention for the Protection of Cultural Property in the Event of Armed Conflict
, as well as the
1972 Convention Concerning the Protection of the World Cultural and Natural Heritage
. Lastly, we petition the World Heritage Committee to place Preah Vihear on its
List of World Heritage in Danger
and call on UNESCO to fully investigate the damage that the recent conflict has inflicted on the site.
It is imperative that every measure be taken to protect the Cambodian and Thai people, as well as their cultural heritage, which should be a unifying force and not a dividing one.