Shalom LimmudBoston Community:

Tomorrow, #GivingTuesday, offers you an opportunity to strengthen LimmudBoston, just days before our 8th annual conference weekend. Help sustain us, so that we can continue to showcase Jewish lifelong learning for the entire community.
Please donate at Friends-of-LimmudBoston levels! Pillar, Prophet, Scholar & Learner level Friends receive tickets to BOTH Saturday's Havdalah concert and Sunday's learning fest.

Share the simchah! Invite your friends to come with you to LimmudBoston! Make LimmudBoston registration the "in" early Chanukah gift.
CLICK TO DONATE HERE

LimmudBoston inspires and motivates people of all traditions, ages, interests, and levels of knowledge. There is something for everyone! Please become a "Friend of LimmudBoston." If you have not yet purchased tickets for this year's conference and concert, please do so today! If you have already purchased a ticket, please consider adding a donation in order to be listed as a Friend!

Prophets ($360) receive FOUR conference tickets, FOUR concert tickets;
Scholars ($180) receive TWO conference tickets, TWO concert tickets;
Learners ($118) receive ONE conference ticket, ONE concert ticket;
Student Friends ($72) can be listed online.
Here's what's happening this weekend:
Saturday, December 2, 6pm:
Light Up The Night Havdalah Concert with Julie Silver & Friends
Sunday, December 3, 9am- 5:30pm:
LimmudBoston 2017 Conference

Remember, "Friends of LimmudBoston" receive tickets to both events!! Please respond at the level that is right for you.

Thank you for everything! See you this weekend!

Julie Wolkoff Steffi Aronson Karp
Chair of the Board President

PS Find fun at the Silent Auction:
BID EARLY ~ BUY IT NOW PRICING AVAILABLE
VOLUNTEERS STILL NEEDED!
Like Limmuds all over the world LimmudBoston depends on participants to volunteer to help make both Saturday's concert and Sunday's conference run smoothly. We need YOU! VOLUNTEER HERE!
~~~~~~~~~~~~~~~~~~~~~~~~~~~~~
Please Share LimmudBoston News With Your Friends! Invite Your Friends to Join You at LimmudBoston!
Share this mailing! Post this flyer!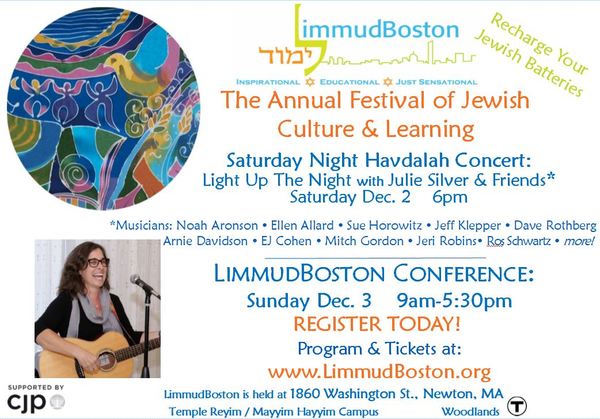 ____________________________________________________________________________
---
---
LimmudBoston.org
PO Box 36
Waban, Massachusetts 02468
US


Read the VerticalResponse marketing policy.