July 15, 2016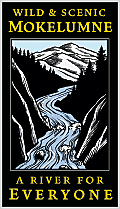 Support the effort to protect and preserve the Mokelumne River:
Have you signed our endorsement list?
Go online!
E-news from the Mokelumne River Wild & Scenic Campaign
Amador County general plan puts Mokelumne River and other local streams at risk
Amador County Draft General Plan update describes the importance of the Mokelumne River, then throws it under the bus

Amador County is updating its general plan. The plan defines where and how development will and won't occur in the county for decades to come, what areas will be protected and more. On

Tuesday night, July 19, at 7 pm, the Amador County Planning Commission will review the draft plan and related environmental document.

Both fail all who love our county and its rivers and streams. We need your help to make sure our county's long-term plan protects our rivers!

The draft general plan acknowledges the important of the Mokelumne River for

wildlife

,

local residents, visitors

, recreation, tourism and

economic development.

But then it

supports more dams and opposes state or federal designations that would protect local rivers.

This not only wrong-headed – it's not legal. Policies in a general plan have to be consistent, not at odds with one another.

Please tell Amador County's officials that they should protect our rivers as they exist today, not pave the way for more and larger dams!

Come and speak up at the

public hearing in Jackson on Tuesday night!

If you can't attend in person,

please send an e-mail

urging the county to amend the draft plan to drop opposition to permanent protection for the Mokelumne River. Please send your e-mail no later than 10 am on Tuesday, July 19.

Either way, please be sure to tell the Amador County Planning Commission the following:

-- You live in or visit Amador County

-- You visit, use and enjoy the Mokelumne River and other local rivers

-- The draft general plan's Vision Statement, Open Space Element and Economic Element describe the importance of our rivers, including the Mokelumne River, for recreation, tourism, and economic development as well as sources of water and power

.

--Those elements include specific policies to protect the county's rivers for people, wildlife and business.

--But the draft plan's Conservation Element encourages more dams and hydro projects on local rivers. It also rejects state or federal river protection as incompatible with water supply needs even though the Amador Water Agency projects water surpluses for many decades to come.

-- The county has supported a $250,000 state Mokelumne wild and scenic river study to determine whether wild and scenic protection could adversely affect future water supply. The general plan jumps to a conclusion without any evidence, before the study has even begun.

-- The county should protect the Mokelumne and other local rivers and streams for all of the reasons detailed in the Vision Statement, Open Space Element and Economic Development Elements.

-- Please strike the river-destroying policies from the general plan and update the water supply and demand information in the plan with the latest Urban Water Management Plan data from the Amador Water Agency.

O.A.R.S

.

founder George Wendt, a special friend of the Mokelumne River, died surrounded by his family last Saturday, July 9.

George was a generous, kind, humble man who brought the joy of rivers to thousands of people around the world. He was a pillar of his community, loving father and husband, successful international businessman, innovative conservation leader, supporter of nonprofit organizations, including our own, and dear friend to all who knew him.

Our hearts go out to George's sons Clavey and Tyler as well as everyone who knew or worked with George. Our world is a better place because he joined us in it. Outdoor magazine obituary

Calaveras Enterprise obituary

Share what you love about the outdoors and why!

We're looking for Amador and Calaveras County residents ages 18-45 to participate in discussion groups on Saturday, July 23 in Jackson. Your participation will help us plan future efforts to protect and restore the Mokelumne River.

For your time, you'll get a

Save the Moke logo Kleen Kanteen pint-size stainless cup

plus refreshements during the discussion. For more information or to sign up,

see our website.

Be sure to tell your friends!

P.S. This activity is designed for those of you who are not yet Foothill Conservancy members.
Together, we will protect the Moke for good!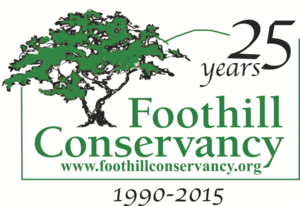 Foothill Conservancy
35 Court St., Ste. 1
Jackson, CA 95642
E-mail us

209-223-3508