Tinsel: Ah, the linear foreign body obstruction. During the holidays, ribbon, string, yarn, and tinsel pose a large threat to our feline patients (and less commonly, our canine patients). While tinsel isn't "poisonous," a dangerous linear foreign body can result when ingested. A linear foreign body occurs when a cat swallows something "stringy" which wraps around the base of the tongue or anchors itself in the stomach, rendering it unable to pass through the intestines. Due to normal peristalsis, the linear foreign body can slowly saw through the tissue, resulting in an intestinal perforation and potential sepsis. Clinical signs include pawing at the mouth (initially), anorexia, lethargy, vomiting, abdominal pain, hypo- or hyperthermia, and generalized malaise. Clinicopathologic findings may include hemoconcentration, hypoproteinemia, hypoglycemia or hyperglycemia (from "stress of death"), and pre-renal azotemia. Treatment includes stabilization, intravenous (IV) fluid therapy, antibiotic therapy, surgery, and supportive care. When in doubt, the anchored string should not be cut prior to surgery, as it can "unwind" the loops of intestine, making it harder to find the multiple perforations that may be present.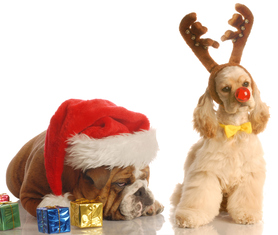 Holiday Ornaments: While most holiday ornaments are safe and just pose a glass hazard (when broken or chewed, causing oral injury), there are some old-fashioned ornaments to be aware of. Old-fashioned ornaments or "bubble lights" may contain methylene chloride; when ingested, this chemical can result in depression, aspiration pneumonia and ocular, dermal, or gastrointestinal (GI) irritation.
Liquid Potpourri: Enjoying the smells of cinnamon, nutmeg or pine for the holidays may seem inviting—but if you're partial to heating your scented oils in a simmer pot, know that they can cause serious harm to your feline patients. Even a few licks of these cationic detergents and essential oils can result in severe chemical burns in the mouth, fever, dyspnea, tremors, and rarely hepatotoxicity. Cats are much more sensitive to liquid potpourri than dogs based on their lack of glucuronyl transferase enzyme and the fact that many essential oils contain phenol or phenolic compounds. Often a dermal exposure becomes an oral toxicosis in cats, due to their prolific self-grooming. Treatment includes flushing the mouth, bathing (if dermal exposure has occurred), fluid therapy, GI protectants (e.g., H2 blockers, sucalfate), analgesics (e.g., buprenorphine), and supportive care. The use of steroids or NSAIDs is not typically recommended.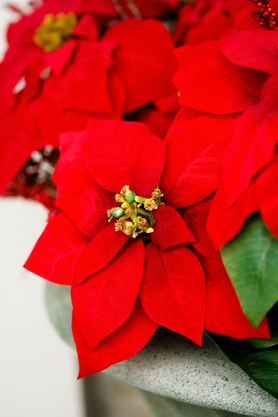 Plants: Though they have a bad rap, poinsettia plants are only mildly toxic. Don't propagate the myth that they are poisonous – instead, there are far more dangerous plants to worry about when it comes to poisoning of our patients! Far more worrisome are holiday bouquets containing lilies (e.g., Lilium spp., Hemerocallis spp.), holly or mistletoe. Even bouquets brought into the house by holiday guests should be thoroughly inspected, as lilies are the #1 flower often used by florists. Just one or two bites from a lily can result in severe acute kidney failure in cats – even the pollen or water in the vase is thought to be poisonous! When in doubt, don't bring these bouquets into a cat-loving household!
Other yuletide plants such as holly berries and mistletoe can also be toxic to our patients. When Christmas or English holly is ingested, it can result in severe GI upset thanks to the spiny leaves and the potentially toxic substances (e.g., saponins, methylxanthines, and cyanogens). If ingested, clinical signs include lip-smacking, drooling, and head shaking (due to the mechanical injury from the spiny leaves). As for mistletoe, it can also be toxic if ingested. Thankfully, American mistletoe is less toxic than the European varieties of it. Mild signs of GI irritation are seen, although if ingested in large amounts, collapse, hypotension, ataxia, seizures and death have also been reported.
Recently, florists have started to use Japanese yew to make wreaths – the flesh of the berry is NOT toxic, but the seed inside is, as it contains taxines. If ingested, this Taxus species can result in dizziness, tachyarrhythmias, bradyarrhythmias, hypotension, mydriasis, coma, and death. As horses are very susceptible to yew poisoning, make sure not to have this around the barn or pasture!
Alcohol: Most sources of alcohol poisoning are not from pet owners giving alcoholic drinks to their pets; rather, it's typically from dessert sources. Rum-soaked fruitcake or unbaked dough that contains yeast can result in alcohol poisoning and other problems. When unbaked bread dough is ingested, the dough can expand in the warm, moist environment of the stomach (acting as an "artificial oven") and can result in gastric dilatation, which can then progress to gastric-dilitation volvulus (GDV). Clinical signs include vomiting, non-productive retching, a distended stomach, tachycardia, weakness, and collapse. Secondly, the yeast is metabolized to carbon dioxide and alcohol, resulting in clinical signs of alcohol poisoning. Alcohol toxicosis can result in severe hypoglycemia, hypothermia, respiratory depression, and hypotension. Treatment includes cold water lavage (to stop yeast metabolism and get the unbaked bread dough out), treatment for bloat or GDV, fluid therapy, dextrose supplementation, and blood glucose monitoring, as needed.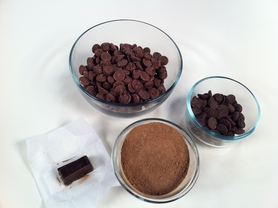 Holiday Foods: With the holiday season comes a delightful variety of baked goods, chocolate confections and other rich, fattening foods. In fact, our #1 call is due to theobromine/caffeine toxicosis during the holiday season. Sources of chocolate are commonly found under the Christmas tree: chocolate-covered macadamia nuts, chocolate-covered espresso beans, chocolate-covered raisins, chocolate, etc. This may induce a dual toxicosis with caffeine from expresso beans (e.g., causing hypertension, tachycardia, agitation, seizures, etc.), macadamia nuts (e.g., causing weakness, ataxia, tremors, hyperthermia, pancreatitis, etc.), or raisins (e.g., acute renal failure).
Foods that can present problems:
Foods containing grapes, raisins and currants (such as fruit cakes) can result in kidney failure in dogs. Treatment includes decontamination, baseline blood work monitoring, IV fluid therapy, monitoring of urine output, and supportive care.
Chocolate and cocoa contain theobromine. Toxicosis can be seen when theobromine levels exceed 20 mg/kg (e.g., agitation, GI signs), and more severe clinical signs can be seen at > 40-60 mg/kg, respectively (e.g., cardiotoxicity: tachycardia, arrhythmias; neurotoxicity: tremors, seizures, etc.). Treatment includes decontamination, multiple doses of charcoal, anti-emetic therapy, aggressive IV fluids, sedation/anxiolytics, beta-blockers, and supportive care.
Many sugarless gums and candies contain xylitol, a sweetener which is toxic to dogs. Xylitol toxicosis results in clinical signs of hypoglycemia and potential acute hepatic necrosis when toxic doses are ingested (> 0.1 g/kg and > 0.5 g/kg, respectively). Treatment includes decontamination (with emesis induction), blood glucose monitoring, dextrose supplementation, IV fluid therapy, and possible hepatoprotectants.
Leftover, fatty meat scraps can produce severe GI signs or pancreatitis leading to abdominal pain, vomiting and bloody diarrhea. Treatment includes anti-emetics, IV fluid therapy, and supportive care.
When it comes to the holidays, the best thing a pet owner can do is to become educated on common household toxins and pet-proof their home accordingly. If you think your patient has been poisoned, contact Pet Poison Helpline at 800-213-6680 with any questions or concerns.