We're busy getting ready for the season... Please check out our event calendar to the right, and also consider attending our next event, NEXT WEEK!
What do Chita Rivera, Anne Margaret,
Joel Grey, and Nell Carter
have in common?

The Stars:
The obvious answer is they are all Broadway stars. But they have something else in common as well. Our own Palm Beach resident, Avery Sommers, starred alongside all of them, and you can see her take the stage to support Artists for a Cause in a performance made possible by Krezter Pianos.

Also performing is local rising star Kevin Paul who was just accepted into the Bachelor of Fine Arts program for Musical Theatre at Carnegie Mellon University. Kevin trains as an actor, singer, dancer and guitarist and was recently a finalist and scholarship winner in "Catch a Rising Star" Junior Achievement of the Palm Beaches.

The Event:
"Students & Stars!" is a remarkable program designed to bring out the best in both the student and the experienced professional. It provides a rare opportunity for a gifted performer from the non-profit Artists for a Cause network to be coached by a professional in their respective genre. The audience will hear the talented young Kevin Paul, be enthralled with the voice of Avery Sommers, and then enjoy the two of them as they perform together.

The Art Raffle:
Artist, Jameson Donoian has developed a wonderful curriculum via Artists for a Cause for children at the Boys and Girls Clubs, and has had such success that staff, students, and parents have made positive comments about the impact. At "Students and Stars!" he'll be speaking briefly, displaying some student work, and raffling a unique piece of art inspired by the event.

The Venue:
The Harriet Himmel Theatre in CityPlace
600 S. Rosemary Ave., West Palm Beach

The Call Time:
July 15, 2014, 7:00pm

The Cause:
"Students & Stars!" is a new fundraiser for Artists for a Cause, a Stuart-based, national nonprofit organization that helps visual and performing artists to use their talents for community improvement.

Tickets Please:
Purchase tickets in advance by calling 866.449.2489. Tickets are also available at the door and are $10 for adults and $5 for children.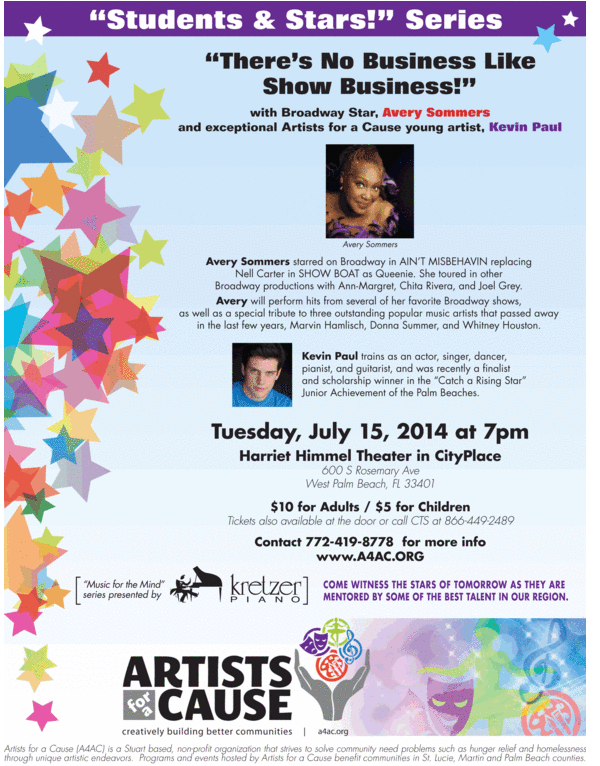 ---
Thereaputic Arts Program
We have a new performance scheduled that anyone can enjoy and any visual artist can participate in!

It will be held on July 24th from 6 - 8pm
The Gardens Port Saint Lucie
1699 SE Lyngate Drive
Port St. Lucie, FL 34952



Sarah Bartal will entertain residents of the assisted living facility on harp for their annual event, Art at the Gardens. This family fun night will also feature a group of local artists showing their work. The event is for the benifit of the residents and family members of The Gardens Port St. Lucie but is now open to the public for anyone who wishes to attend.





A life-long musician, Sarah Bartal's love affair with music began with piano lessons at the age of four and the flute at age ten, but during her high-school years she discovered her passion for the harp. In addition to teaching, Sarah also directs the adult choir at Port St. Lucie Bible Church and collaborates with the Treasure Coast Classical Singers under the direction of Mr. Doug Jewett. Sarah recently completed her master's degree in choral conducting at Florida Atlantic University under the direction of Dr. Patricia Fleitas.



Visual Artists Opportunity:
If you are interested in displaying art for sale at this event, please be in touch. There is a limited space for the first few who respond. You must transport, set up, and have easel(s). You may keep all proceeds, unless of course you choose to make a small donation to a charity.
---
Beatles Night is Back!
After rave reviews, the McCartney Mania band is back to support another cause! March 7th, at the Mariner Sands Gala, residents will be treated to cocktail, dinner, and high-energy dance music.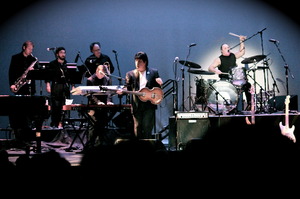 ---
A nice "note" from a dedicated A4AC Student 7/2014
"All of your support throughout my final year of highschool had so much to do with me being at the place I am now, doing what I love, and exactly what I want. I am beyong greatful for that. Thank you for the life-changing encouragment".
It's feedback like this that makes all of our work worthwhile!
Upcoming A4AC Events
Benefit Concert for SafeSpace


November 12th, 7pm



Dance for Food


November 9th, 16th and 23rd

Benefit Concert for
Helping People Suceed
January 29th, 7pm



Sailfish Point Foundation Gala


T.B.D.



Classical for Schools


T.B.D.

Therapeutic Art Class for Kids
Boys and Girls Club at Hobe Sound Every Wednesday, 2:30 P.M



Boys and Girls Club at Palm City


Every Friday, 4:00 P.M

Therapeutic Arts Outreach:
A4AC Pine School Club,
"Share Arts" Program
Every Thursday 3:00 pm at the R.E.A.C.H. facility



Hope For Freedom Benefit Performance


T.B.D.



Singing with the Stars


February 7th, 7PM



Mariner Sands Charity Week Benefit

Concert 1 The Music of Andrew Lloyd Webber with Terry Barber, featuring outstanding A4AC Young Artists.
March 6th, 5:00pm

Mariner Sands Charity Week Gala
"Beatles NIght" featuringThe McCartney Mania Band
March 7th, 6:00pm




Mariner Sands Charity Week Benefit

Concert 2 Staring Lorrianna Colozzo
March 27th, 5:00pm



Elisabeth Lahti Concert Series: Alex Meixner Band


April 11th, 2-3pm
---
Connect with Us!
Support Us!
About Us

Artists for a Cause is a nonprofit organization that helps visual and performing artists to use their talents for community improvement. Artists are not asked to give up their livelihood, or to work without some remuneration; art is not just for art's sake. Some programs help artists and charities get the most out of their collaboration, while others produce results directly, by feeding the poor, healing the sick, or solving other problems through unique artistic solutions.
---
Artists for a Cause Merchandise Available

Printed on 100% cotton, these t-shirts are available in sizes ranging from small to 3XL at our office location. $10 a piece.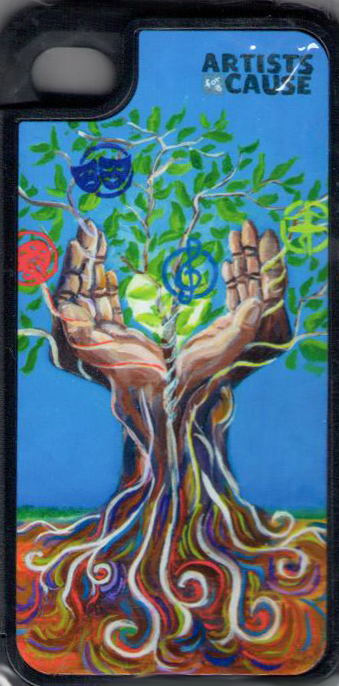 Designed by South Fork High School A4AC Club member Rebecca Peng, phone cases available in many styles, $20.

Through your purchase of A4AC merchandise, you will be helping our programs to continue to make a difference in our community. Get yours today!
---
A Huge Thank You
to A4AC for Participating in
Charity Week at Mariner Sands!
"A sincere thank you to you and your kids for helping us help the needy of Martin County. Artists for a Cause helped us raise almost $20,000 more than we did last year. And, I think we can do even better next year" said board member Bob Kung. "Your kids should know that while Mariner Sands Charity Week does support our internal Chapel and Foundation (for employees), the funds from the Concerts all went to feeding, clothing and sheltering the less fortunate outside our gates. They should be very proud!" he added.
Next season we have even more planned, with two benefit concerts, a salon series in a private home where up-and-coming talent will connect with industry professionals, and themed entertainment for the Charity Week gala.