Executive Director, Terry Barber, would like to thank Elisabeth "Betty" Lahti for her generous donation to support Artists for a Cause (A4AC). Terry and Betty have become close friends and share a common belief that their gifts were meant to be shared for the betterment of the community, a philosophy that prompted Terry to found Artists for a Cause after the loss of his mother to cancer. Betty has a history of supporting charities which provide either children's services or arts opportunities. Since every A4AC program helps children with arts education opportunities, mentoring opportunities and seeks to promote health via expression through the arts, she recognizes that the organization's mission and her own philanthropic goals are aligned. Artists for a Cause helps hundreds of visual and performing artists each year to use their talent for community improvement, stimulating culture and meeting the critical needs of communities.

Upon presentation of the check, a group of staff, volunteers and student artists arrived to thank Betty for her important support of the cause they care so much about. She said only "This is what I do." In the last few years alone, this strong woman who all but refuses to expend resources on herself, has been instrumental in the creation of both a library and a Boys & Girls Clubs branch in Indiantown, Florida. Both new buildings proudly display her name.

Elisabeth Lahti was raised by parents who were very active in their own communities, passing down some strong values which Betty has in turn passed on to her three children, all of whom have their own foundations. Though women had not even been given the right to vote yet, her mother, an author and educator, Bernice Rowland Illick, graduated from Syracuse University in 1912 and was awarded distinctions such as "Phi Beta Capa" and "Outstanding Woman of the Class." She was an English and Art History professor, published writer and avid classical music enthusiast. Graduating the same year from Syracuse, her father, Rev. J. Theron Illick, passed on both a love of discovery and a special concern for all God's creatures, big and small.

Elisabeth received her degree in social work also from Syracuse University and has utilized that training throughout her life both in careers and in her work on several nonprofit boards throughout the country. Raised for many years in China, Elisabeth's frugal nature can be seen in her everyday choices, as she wastes nothing, pinching pennies, which add up to monumental, life-changing support for others.

This is the second time Elisabeth Lahti has awarded Artists for a Cause with a major gift. We encourage you to visit www.a4ac.org not only to see what we are doing to make one of our most discerning heroes proud, but also to see how you can get involved using art as a solution for community improvement.
---
"Students & Stars!"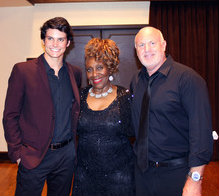 The inaugural "Students and Stars!" event took place at the Harriet Himmel Theater at CityPlace, West Palm Beach July 15. The audience was treated to the unstoppable talent of seasoned professional, Avery Sommers, who shared the Broadway stage with Chita Rivera, Anne Margaret and Joel Grey, as well as to an award-winning new talent, Kevin Paul, who has been recognized by and accepted into many of the country's best musical theater programs. The two delighted an enthusiastic crowd with solo numbers and a few duets, accompanied on piano by Phil Hinton.

"Students & Stars!" was Avery's first A4AC event. She reported that she enjoyed herself, the crowd and is looking forward to more opportunities to use her talent for community improvement, in keeping with the A4AC mission. Avery said she was not only impressed with Kevin's talent, but also with his enthusiasm and sincerity. Kevin Paul has been a regular with A4AC as president of the club at the Pine School and as pioneer of the "Share Arts" program. We will miss him, but know that he is headed where he needs to be. Kevin has accepted a position in the musical theater program at Carnegie Mellon and will begin training there this fall.

We had a wonderful team of volunteers including Lorraine and Jim Nehls, Jorden Locaio, Shanda Hunt and Lisa Colletti as well as the entire Firefly Group staff! Thank you for your time and commitment to our success! Additionally, we want to give thanks for Pam Benoit's leadership. Pam, an assertive volunteer who chaired the event, organized the work of artists, volunteers and Firefly staff, addressed the audience sharing further information about the work of A4AC. We want to thank Pam for her attention to detail and wonderful skillset that was so much a part of the success of this event.

And we want to report an additional, unexpected success! A board member from a private foundation that attended the event was compelled to invite A4AC to apply for support. We'll report back, likely in October, after the board meets to make their decisions.

Let's not forget that the event was made possible by Kathi Kretzer of Kretzer Pianos as part of the "Music for the Mind" series. Thank you, Kretzer Piano!

---
Therapeutic Arts Series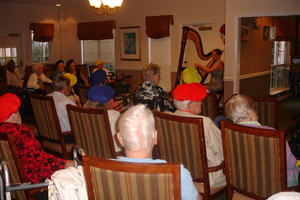 On July 24, A4AC sent harpist, Sarah Bartal, and visual artist, Jameson Donoian, to enhance the "Art at the Gardens" annual event at The Gardens of Port Saint Lucie. Residents, family members and the public were invited. The activities director, Saber Dhif reported, "The event was a huge success with residents. Sarah and Jameson are both very talented and the residents enjoyed the harp as well as the paintings and the sculptures." She expressed their interest in working with A4AC on future projects which bring the arts to her residents. This outreach fits under the umbrella of our "Therapeutic Arts" program which completes approximately 100 services per year.

Sarah said, "I had a lovely experience. I truly enjoyed sharing my music with the residents and the very attentive staff." Director of Community Relations for the facility Anne Branen said, "Thank you for working with us to enrich our residents lives and give them opportunities they would not have otherwise."
---
A "Notable" Donation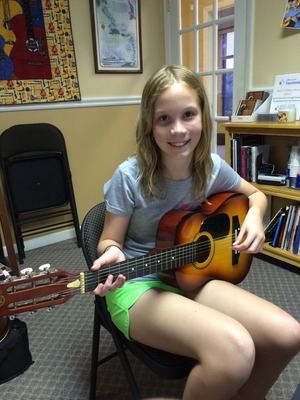 Thank you to Bob Swinton for passing this photo along of a young student from Bach's Children Music School (an A4AC registered charity partner) playing a guitar donated by Michaela Girouard. The A4AC "Elisabeth Lahti Donated Instrument and Dance Shoe Closet" Program strives to connect children in need of support with the supplies necessary for their success.
Elisabeth Lahti has a history of supporting children's services and the arts, so we thought this program a good one to name after one of our biggest supporters.
A4AC in the News
---

Upcoming A4AC Events




Music Therapy

for the Elderly


September 12, 2:00 pm





Benefit Concert for SafeSpace


November 22th, 3:00 pm



Dance for Food


November 9th, 16th and 23rd

Benefit Concert for
Helping People Suceed
January 29th, 7:00 pm



Sailfish Point Foundation Gala


T.B.D.



Classical for Schools


T.B.D.

Therapeutic Art Class for Kids
Boys and Girls Club at Hobe Sound Every Wednesday, 2:30 P.M



Boys and Girls Club at Palm City


Every Friday, 4:00 P.M

Therapeutic Arts Outreach:
A4AC Pine School Club,
"Share Arts" Program
Every Thursday 3:00 pm at the R.E.A.C.H. facility



Hope For Freedom Benefit Performance


T.B.D.



Singing with the Stars


February 7th, 7PM



Mariner Sands Charity Week Benefit

Concert 1 The Music of Andrew Lloyd Webber with Terry Barber, featuring outstanding A4AC Young Artists.
March 6th, 5:00pm

Mariner Sands Charity Week Gala
"Beatles NIght" featuringThe McCartney Mania Band
March 7th, 6:00pm




Mariner Sands Charity Week Benefit

Concert 2 Staring Lorrianna Colozzo
March 27th, 5:00pm



Elisabeth Lahti Concert Series: Alex Meixner Band


April 11th, 2-3pm

---
Connect with Us!
Support Us!
About Us


Artists for a Cause is a nonprofit organization that helps visual and performing artists to use their talents for community improvement. Artists are not asked to give up their livelihood, or to work without some remuneration; art is not just for art's sake. Some programs help artists and charities get the most out of their collaboration, while others produce results directly, by feeding the poor, healing the sick, or solving other problems through unique artistic solutions.
---
Artists for a Cause Merchandise Available

Printed on 100% cotton, these t-shirts are available in sizes ranging from small to 3XL at our office location. $10 a piece.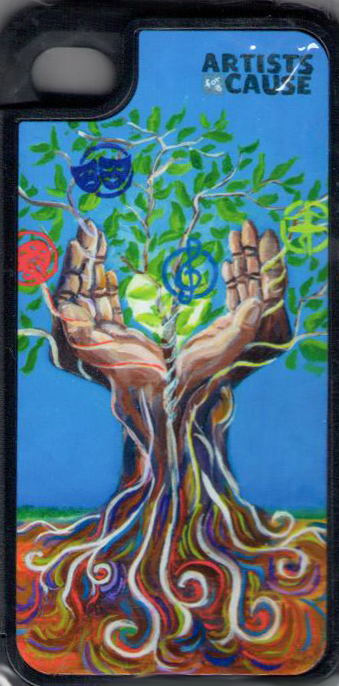 Designed by South Fork High School A4AC Club member Rebecca Peng, phone cases available in many styles, $20.

Through your purchase of A4AC merchandise, you will be helping our programs to continue to make a difference in our community. Get yours today!
---