Dear G21 family member,

As an important member of the G21 community, each month we will keep you informed of the key projects and activities of the G21 Alliance. G21 is the formal alliance of government, business and community organisations, working together to improve people's lives in the G21 region.
FEATURE ARTICLES
G21 TO LOBBY PRIME MINISTER DURING CANBERRA DELEGATION
G21 UPGRADES GREAT OCEAN ROAD PRIORITY
BUSINESS OPTIMISM STRONG IN GEELONG
NEW LOOKOUTS FOR GREAT OCEAN ROAD'S TWELVE APOSTLES
BAY WEST UPDATE
WORKSAFE SHIFT TO GEELONG FIRST STAGE COMPLETE
JOBS FOCUS AT RECORD AVALON AIRSHOW
MARKET TESTING FOR APOLLO BAY HARBOUR DEVELOPMENT
LOCALISED TARGETS JOBS, AND DISADVANTAGE
GRANT BOOSTS QUICKSTEP CARBON FIBRE MANUFACTURE
SOUTH AUSTRALIA STUDIES G21
REGULAR SNAPSHOTS FEATURES
RDA BSW COMMITTEE UPDATE
ITEMS OF REGIONAL INTEREST
LATEST NEWS FROM G21 PILLARS
KEY ECONOMIC INDICATORS
MEDIA ARTICLES OF INTEREST
G21 MEMBERSHIP
FEATURE ARTICLES
G21 TO LOBBY PRIME MINISTER DURING CANBERRA DELEGATION

G21 board members will meet Prime Minister Malcolm Turnbull and Opposition Leader Bill Shorten during a delegation to Canberra from March 21 to 23.

They will seek support for priorities including Great Ocean Road maintenance and management, a commitment to a Geelong convention and exhibition centre and stage one development of a Waterfront Geelong - Safe Harbour Precinct.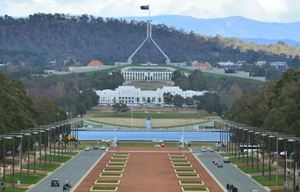 A 15-strong G21 delegation will include chairman Bill Mithen and CEO Elaine Carbines and mayors and chief executives of the region's five municipalities.

"We take a united voice and strong purpose," Ms Carbines said.

"We greatly value this opportunity to meet with the parliamentarians and their advisers and while we don't expect to walk away with commitments, we do expect to leave strong understanding of the projects which matter most to our region."

The Canberra mission follows a unanimous G21 decision to elevate Great Ocean Road maintenance and management to priority project status.

The heritage-listed road supports a $2.1 billion regional tourism industry but need for further infrastructure investment and future management gained urgency during 2016 as more than 120 land slips resulted in extended road closures.

A complete list of G21 priority projects is available on the G21 website – www.g21.com.au
G21-Geelong Region Alliance has listed Great Ocean Road maintenance and upgrading among its priority projects and called for consideration of streamlining its management.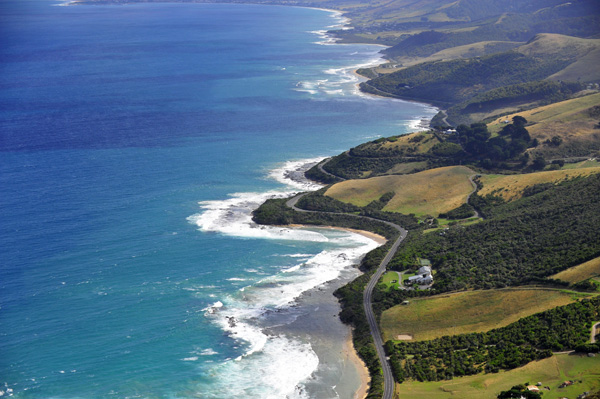 Board members unanimously backed the call, emphasising the importance and urgency of securing the future of the heritage-listed, internationally renowned attraction which underpins the region's $2.1 billion tourism industry.

"We need federal and state government commitment to ongoing long- term funding. Private and public tourism amenities are needed to further enhance its economic potential and raising it to priority status will help ensure that governments are kept sharply aware of the need," G21 CEO Elaine Carbines said.

Federal and state governments have committed a total of $153 million to the road since 2013 but maintenance issues were highlighted during 2016 as more than 120 land slips resulted in extended road closures.

At least 13 authorities play a part in managing the road, including municipalities, Great Ocean Road Coastal Committee, VicRoads, Parks Victoria and the Department of Environment, Land, Water and Planning.
Ms Carbines called on the State Government to consider streamlining its management.

"There is a need to simplify and better coordinate management arrangements, possibly through an over-sighting body covering the length of the road," Ms Carbines said.

G21 supports existing projects including building Torquay's profile as a Great Ocean Road Gateway, developing of a Fort Queenscliff tourism precinct, developing of Apollo Bay Harbour and developing adventure trails across the region.

The G21 board has also endorsed a Shipwreck Coast Master Plan calling for $340 million in infrastructure improvements along 28km of the Great Ocean Road from Princetown to the Bay of Islands, including the Twelve Apostles and Port Campbell.
ALMOST half of businesses participating in a Geelong Business Trends Survey expect to hire more staff in 2017, and 79 per cent expect their sales to increase.

Seventy-seven per cent of operators anticipate a rise in profits during the current financial year.

Geelong Chamber of Commerce chief executive officer Bernadette Uzelac has welcomed the indicators that show confidence in Geelong's economy continues to go from strength to strength, with optimism high for future growth in a number of key industries.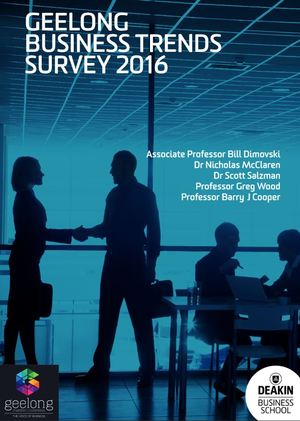 The third annual survey is a joint initiative by the chamber and Deakin Business School.

"What's pleasing is that several of Geelong's key industries, including manufacturing, are very optimistic about the future direction of the region's economy," Ms Uzelac said.

"There's been a slight overall rise from the previous year in the overall confidence of businesses, with 46 per cent of businesses expecting to hire more staff in the next 12 months.

"Our manufacturing sector, which has been the backbone of Geelong's economy for more than a century, is reinventing itself from its 'traditional' base into new niche areas that will drive our economy forward.

Deakin University Vice-Chancellor Professor Jane den Hollander said it was pleasing the results in the Business Trends Survey indicated the local business community was as optimistic for Geelong's future as Deakin.

"We are very positive about the future of Geelong, which is strategically progressing towards a smart city where wealth is created through education and jobs for the industries of the future," Prof den Hollander said.

"We are seeing this come to fruition through the Geelong Innovation Precinct at our Waurn Ponds campus. In five years the precinct has led directly to the creation of over 1000 jobs through industry partnerships and co-location opportunities"

Eighty-nine per cent of people surveyed reported an increase or no change in the numbers of employees in 2016 with 46 per cent saying they expected to take on more staff in the future.

View the Deakin Business Trends Survey here.
THREE new lookouts will be built in the Great Ocean Road's Twelve Apostles area as part of a $6.8 million Victorian Government project.

New vantage points will be installed on the limestone cliff at the Twelve Apostles, The Saddle and the Blow Hole in the Loch Ard Gorge area.

A new pedestrian bridge will also span Campbells Creek in Port Campbell, improving access to the Port Campbell National Park.

G21 supports development of key infrastructure along the Great Ocean Road, enticing visitors to stay longer and spend more.

The G21 board has endorsed a Shipwreck Coast Master Plan calling for $340 million in infrastructure improvement along 28km of the Great Ocean Road from Princetown to the Bay of Islands, including the 12 Apostles and Port Campbell.
G21 has welcomed Infrastructure Victoria release of a discussion paper on potential siting of the state's second container port.

The paper puts estimated cost of a port at Bay West, between Geelong and Werribee, at $6.42 billion and at Hastings on Western Port Bay at $12.88 billion.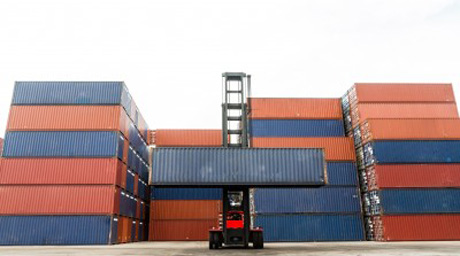 In September 2016 G21 joined other key organisations including the City of Greater Geelong, City of Wyndham, Geelong Chamber of Commerce, Committee for Geelong, Avalon Airport and Geelong Manufacturing Council in presenting a regional response to discussion points on the issue, supporting Bay West.

G21 will again contribute as part of a joint submission to the existing Infrastructure Victoria consultation.
Factors raised as part of the initial regional response included:
Capacity for increased use of the nearby Port of Geelong for bulk trade;

Potential for development of a 'dry port' intermodal road and rail freight hub at Avalon or 'inland port' options to the west of Port Phillip Bay;

Provision of significant employment in construction and operation, with access to skilled workers;

Existing insight into the impact of Port Phillip Channel deepening, against the unknown impacts of potential dredging or blasting in Western Port; and,

Existing and future Melbourne supply chains weighted to the city's west and north.

Infrastructure Victoria is gathering evidence and is committed to preparing advice on when Victoria should invest in a second container port, and the best location.
MORE than 150 WorkSafe employees are now working in Geelong and more than 50 have bought houses in the region after the first stage of the authority's shift to the city from Melbourne.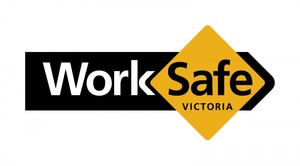 Victorian Finance Minister Robin Scott visited staff on March 2 to hear about their transitions and inspect progress building the new $120 million 14-storey WorkSafe headquarters on Malop St.

Planners expect work to be complete by June 2018, providing for transfer of a full staff of 700.

Employee Alicia Crabtree said her family's shift to the Surf Coast had realised a great opportunity.

"For a lot of people it's a holiday destination but we get to enjoy those holiday perks every day," she said.

Concrete has been poured for the second level of the new headquarters above the historic Dalgety and Co. building, as well as three car parking levels.
Geelong and the G21 region once again proved capable of hosting hugely-successful major world-class events with a record attendance at this year's Australian International Airshow at Avalon Airport.

The 2017 Australian International Airshow smashed its 2015 attendance by an impressive 40,000, with 210,664 people turning out to watch the world's best aircraft take to the skies.

The Airshow – which ran from Tuesday 28 February to Sunday 5 March – is one of the biggest items on Victoria's action-packed major events calendar.

For the three-day trade period, more than 33,000 international delegates from 45 countries were in town to see Victoria's world-class expertise in aviation, aerospace and defence, and to witness first-hand the arrival of the Joint Strike Fighter.

The state's $8 billion defence sector includes more than 300 companies and employs about 7000 people. G21 is proud to part of the Geelong Defence Alliance seeking sector manufacturing opportunities for the region.
MARKET evaluation of potential development of Apollo Bay Harbour is underway after awarding of a contract by Colac Otway Shire.

Essential Economics will aim to complete its assessment by June 30, in consultation with Apollo Bay Harbour Project Control Group.

The shire council formed the group, including representatives from Apollo Bay community and government agencies, to oversee market testing and future expression of interest processes.

Development of Apollo Bay Harbour is part of the Great Ocean Road G21 priority project.

Mayor Chris Potter said the market testing would give the private sector opportunity to outline potential development in the precinct, within existing planning scheme controls.

Community members have indicated they want a publicly accessible aquatic and wellbeing centre and public infrastructure work including installation of boardwalks, improvements to car parks, public toilets and interpretive signs, but no accommodation or hotels.


LOCALISED TARGETS JOBS, AND DISADVANTAGE

GEELONG'S startup business procurement network Localised formally launched recently with rallying calls from key partners aiming to help tackle disadvantage.



Representatives of WorkSafe, Avalon Airport, Deakin University and Corio Waste Management joined Localised founder James Baird pointing to the ability of the new platform to establish connections between local suppliers and local businesses seeking their services.

Employment created as a result will target entrenched joblessness and disadvantage in partnership with GROW, the G21 Region Opportunities for Work program.

Research commissioned by GROW has found that less than half of $17 billion of business procurement in the G21 region each year goes to local suppliers. Connecting employers with local suppliers and workers is a central objective of GROW and Localised.

Localised went live late in 2016. About 150 people attended its formal launch at Geelong Library on February 22.

GROW director Anne O'Brien commended businesses championing pursuit of social as well as business objectives.

"We believe addressing disadvantage is everybody's business," she said.

Find more information about Localised at localised.com.au and GROW at grow.g21.com.au

GROW is an initiative G21 and Give Where You Live Foundation.
Geelong-based Quickstep Automotive Pty Ltd and Deakin University have received a Federal Government Co-operative Research Centre grant of $1.4m to deliver a made-to-order materials-and-process solution for lightweight carbon fibre car seats.

Corangamite MP Sarah Henderson announced the grant on February 20.

The government will also invest $250,000 through the Advanced Manufacturing Industry Growth Centre to allow Quickstep to develop a low cost carbon composite fender for the European automotive market with the potential to generate export revenue of $25m.

The funding for the carbon fibre seats has been made available under Round Two of the Government's Cooperative Research Centre Projects (CRC-P) initiative, which supports short-term industry-led collaborations to solve industry problems and deliver tangible outcomes.

This work supports the National Innovation and Science Agenda pillar to foster industry-research collaboration.

With 26 staff already employed in production and R&D, Quickstep also manufactures hi-tech glass fibre components for the Thales Australia Hawkei armoured vehicle.
Uncovering the secrets of G21's success was the objective of a delegation of government executives from South Australia in Geelong on February 21.

The delegation included representatives of the SA Department of State Development and the CEOs of three key municipal councils.

G21 CEO Elaine Carbines said the group was interested in the G21 model and the fact that its strength comes from community involvement and support.

The strong fabric of G21's model remained the envy of regions across Australia.

The delegation was also briefed on the GROW (G21 Region Opportunities for Work) project to tackle place-based disadvantage stemming from joblessness, and improve the economic and social prosperity of the region.

GROW is a joint initiative between Give Where You Live Foundation and G21, with the support of local businesses and organisations.
REGULAR SNAPSHOTS FEATURES
During March the Regional Development Australia (RDA) Barwon South West (BSW) Committee made a submission to the Australian Government's Foreign Policy White Paper.

The RDA BSW believes there is an opportunity to strengthen both policy and regulations to ensure better outcomes for regional Australia.

RDA BSW supports foreign policy that promotes stronger relationships with Asia, the simplification of governance systems and regulatory requirements that protect the region's safe food reputation, options to maximise the international education growth, and migration policy that supports population growth and workforce issues in regional Australia.

The RDA BSW submission includes the following key points:
Australia's international activities and policy relating to foreign investment and trade, including the development of future FTAs (Free Trade Agreement) needs to be targeted and prioritised to support industries with the greatest growth potential.

Simplification of systems that protect our safe food reputation is required.

Businesses, particularly Small to Medium Enterprises, require assistance to overcome challenges exporting to Asia due to difficulties in navigating Asia's business and regulatory environment.

o assist local and state governments build and grow sister city partnerships, promote benefits of FTAs and improve access of exporters, particularly in the regions, to countries where Australia has an FTA.

Support the development of Avalon as an international airport and freight hub, including the attraction of international carriers.

Further investigate partnership programs between government, businesses and tertiary institutions to maximise work integrated learning opportunities for international students, particularly in regions.

Reconsider immigration policy to give a higher priority and points to those who will migrate to regional areas, excluding those cities that are considered regional for migration purposes such as Adelaide, Canberra and Perth.

Use migration policy as a lever to address skilled and unskilled labour shortages in regional Australia.
People seeking more information on the White Paper can call Meg Bullen on 03 5215 6018.
Click here to visit the RDA Committee website
Click here to follow RDA Committee on Twitter
BACK TO BACK THEATRE CREATIVE WORKSHOPS

Geelong's acclaimed Back to Back Theatre will run creative workshops on many themes during a Come and Make Performance, CAMP, program on March 25-26.

CAMP is billed as "an intensive weekend of delightfully ruthless creative investigations for community members with and without a disability".

Workshop themes will range from instant dance and performance to infinity space junk and animal or ghost.

Each workshop results in a performance and participants can secure bookings for single sessions, one day or weekend.

More information is available here: http://backtobacktheatre.com/community/camp/

TASTY CENTRAL GEELONG

Tastes of Central Geelong is on its way and businesses need to showcase their fine work during the festival of food, flavours and fun.

Central Geelong Marketing is calling on operators of cafes, restaurants and other interested businesses to register activities, special offers or events for the festival, which will run from July 7 until July 30.

People can complete online forms at www.centralgeelong.com.au/members/tastes-eoi

GROWING STAFF, PROFITS AND CUSTOMER BASE

Central Geelong business operators can learn about the importance of nurturing corporate social responsibility during a free information session led by chiefs from law firm Harwood Andrews.

The session from 9.30am on March 28 will offer insight into how good practices become good business, and how socially responsible businesses are attracting talented staff, loyal customer bases and gaining increasing profits.

The event will be at Tourism Greater Geelong and The Bellarine headquarters at 48 Brougham St and people should visit www.csrbusinesses.eventbrite.com.au to register before March 24.

STRENGTH FOR LIFE

Experts will outline the importance and benefits of body strength, stability and flexibility training at a forum in Belmont.

Physiotherapist John Furness and exercise physiologist James Koniw will offer practical advice on developing and maintaining strength conditioning and its role in injury prevention during the session at Kardinia Health on March 22.

Places for the forum are limited and people should phone 5202 9333 or email community.forums@kardiniahealth.com.au to register by March 21.

POWERCOR GEELONG BUISNESS EXCELLENCE AWARDS
Nominations are now open for the 2017 Powercor Geelong Business
Excellence Awards, recognising and acknowledging excellence in the
region's businesses.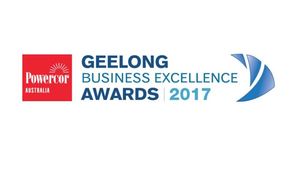 Is this your business' year to shine? Would you like to nominate a
business you believe deserves recognition for its achievement?
Find out how to nominate by clicking here.

You can also register to attend an Awards information expo to hear
first-hand about the awards process by clicking here.
SURF COAST TREK
The Surf Coast Trek 2017 - a 40km trek along the Surf Coast Walk,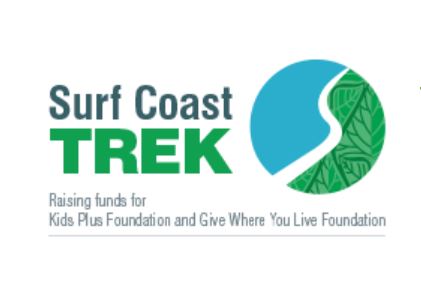 starting in Airey's Inlet and finishing in Torquay - will be held on
29 April.
The Trek helps raise much needed funds for two of the region's most
valued community organisations - Kids Plus Foundation and Give Where
You Live Foundation.
G21 will be participating by entering Team G21, whose members are
Elaine Carbines, Janice Lane, Ray Ingwersen, Liz Dando and Nada
Malinac.
You can support Team G21 with sponsorship by clicking here. Thank you in advance for your generosity.
Find out more about the Trek, and how you too can become involved, at
www.surfcoasttrek.com.au
Latest news from the G21 Pillars
Each of the eight G21 Pillars meets on a regular basis to discuss regional issues and progress regional projects. Click on the below links for the most recent Pillar activity report.

G21 Arts & Culture Pillar
G21 Economic Development Pillar
G21 Education & Training Pillar
G21 Environment Pillar
G21 Health & Wellbeing Pillar
G21 Planning & Services Pillar
G21 Sport & Recreation Pillar
G21 Transport Pillar
Click here to view the full list of G21 Pillar Projects

Key Economic Indicators released

Enterprise Geelong has released the January Key Economic Indicators which monitors the region's economy. The key points are:
| | | | |
| --- | --- | --- | --- |
| Economic Indicator | Data | Movement | Status |
| Unemployment rate | 6.3% | +0.4pts | ↓ |
| Average weekly job advertisements | 83 | +59.6% | ↑ |
| New monthly online job advertisements | 1,335 | +30.6% | ↑ |
| Monthly domestic building activity | $51.5m | +27.1% | ↓ |
| Monthly new dwelling building approvals | 153 | +17.0% | ↓ |
| Monthly non-domestic building activity | $13.2m | -37.1% | ↓ |
| Quarterly mediam house price | $450,000 | +5.9% | ↑ |
Media articles of interest to the G21 region

G21 tracks articles within the region that discuss G21 and the region's Priority Projects.

Click here to view G21's Articles of Interest Jan-Feb 2017.

G21 Membership
Membership of G21 is open to eligible businesses, organisations and government bodies associated with the G21 region. Details about eligibility for membership, annual fees and an application form may be viewed by clicking here.
This email has been designed to provide you, a valued member of the broader G21 Family, with a snapshot of the key projects and activities of the G21 Alliance over the past month. You have been included in the distribution list of this G21 Snapshots email, because you have an important role in improving people's lives in the G21 region as a Federal or State parliamentarian, Councillor, Regional Management Forum member, senior manager with regional Councils, senior manager with Regional Development Victoria, G21 Member, G21 Pillar participant, G21 Board member or member of the media (a list of over 700 individuals or organisations). If there are other people in your organisation or network that you think should be aware of this email please feel free to pass it on to them.
If you want further information or wish to bring something to our attention, please contact either of us at the numbers or addresses given below or refer to the G21 website at www.G21.com.au.






Bill Mithen
G21 Chairperson
chair@g21.com.au





Elaine Carbines
Chief Executive Officer
0437 202 300
ecarbines@G21.com.au