Friends of the G21 region,

e-News provides you with a sense of the important issues, activities and proposed projects within the G21 region.
GROW initiative results resonate
The G21 Region Opportunities for Work, GROW, initiative has changed the life of young mum Danelle 'Nelle' Vanos and is formally on the way to helping many others.

Heartfelt testimony from Ms Vanos, 24, was among touchpoints at a first GROW report card event attended by about 60 partners and supporters.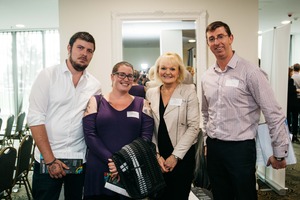 The report card revealed that GROW has recorded 9 per cent growth and led to at least 56 new on-the-ground jobs and a further 90 indirect jobs, since being established by Give Where You Live Foundation and G21-Geelong Region Alliance to tackle place-based disadvantage.

Leaders hope the story will continue to flourish as more organisations become signatories to the GROW compact and commit to buy and employ locally where practical, generating economic waves and social outcomes.

Ms Vanos, pictured above with partner Anthony Burr, left, G21 chief executive officer Elaine Carbines and Adrian Hart of Chilwell Consulting, is among people to have found work via GROW.

She said learning in her role as a procurement officer at Barwon Water, and the mentoring she received, had helped shift her life direction and alleviate her depression and anxiety.

"It opened me up … I faced my fears. Now I don't have those fears," she said.

The GROW initiative's growth of 9 per cent equates to $23.8 million in localised procurement.

Project research suggests that moving just 7 per cent of G21 region expenditure from non-local to local suppliers might generate 2500 jobs, including 500 for GROW-targeted communities, and inject $1 billion into the regional economy.

Partners warmly applauded tabling of the first report card.

G21 chief executive officer Elaine Carbines compered the event. Give Where You Live Foundation chief executive officer Bill Mithen outlined the project's growth and urged compact signatories to keep their GROW action plans moving.

Mr Mithen said 46 of 58 signatories did not yet have action plans but that the plans needed to be formulated and maintained as active documents to be measured against.

He emphasised that GROW was needed as an initiative that 'didn't wait for government' to address entrenched place-based disadvantage.

While Geelong's overall unemployment rate appeared to compare favourably with that of the state, some areas such as Norlane were alarmingly three times higher.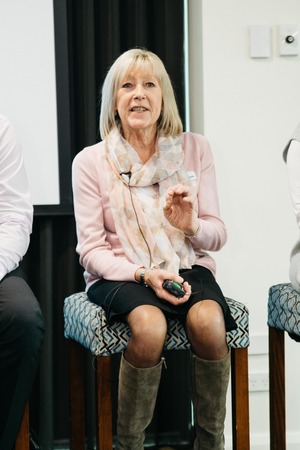 The report card event also included launch of a GROW online dashboard, by Regional Development Victoria Barwon South West regional director Unni Menon. The dashboard charts the initiative's latest trends and updates.

Mr Menon hailed GROW's 'unbelievable and inspirational' progress and said any business would be proud of its growth figures.

A panel of compact signatories also outlined their positive experiences. Speakers were: Brendan Windmeyer, Programmed service manager; Chris Jones, executive director campus services Deakin University; Leah Gatty, co-ordinator Colac jobs; Mat Dickens, Corio Waste Management Services chief executive; Mary Maqueda, pictured, Karingal Kommercial; Olivia Maclean, Baptcare general manager of mission.

Business leaders and organisations can learn more about GROW's profound mission by clicking here, emailing liz@givewhereyoulive.com.au or phoning 5229 4364.


One voice on City Deal

FOCUS on a potentially transformative Federal Government 'City Deal' for Geelong region has intensified following a successful working group meeting, and key stakeholders have spoken with one voice.

Member for Corangamite Sarah Henderson convened the recent workshop and later joined G21 chair Bill Mithen and Geelong Chamber of Commerce chief executive officer Bernadette Uzelac in emphasizing that both Geelong and Great Ocean Road investment are integral to a deal bid. Read their statements here.

A City Deal with its large-scale, long-term investment would bring immense potential to shape the region, unlock possibilities and ignite investment.

The Federal Government has already signed deals with Townsville and Launceston, focusing on funding for projects including establishment of a rail corridor, new football stadium, job and skills growth and city transformations.

Mr Mithen said G21 region aspirations had already been discussed with Prime Minister Malcolm Turnbull, Assistant Minister for Cities Angus Taylor, Ms Henderson and Victorian Parliamentary Secretary Daniel Mulino.

He said with the tourism magnet of the Great Ocean Road strategically central to the region's transitioning economy it could demand funding alongside major Geelong projects including a new convention centre, Geelong Waterfront Safe Harbour, Simonds Stadium Stage 5 or Geelong Performing Arts Centre upgrade.

The City Deal bid has evolved from a Smart Cities funding bid launched in April 2016.

Premier Daniel Andrews provided momentum in December 2016 with a letter to Mr Turnbull urging consideration of a Geelong and Great Ocean Road deal focusing on the visitor economy.

G21 chief executive officer Elaine Carbines said hard work lay ahead in ensuring that the region's City Deal bid is well-argued, realistic and economically sound.


Budget hits, budget misses

THIS month's State and Federal Budgets delivered mixed results for G21 region but did include significant priority project wins for rail, road and Geelong city centre.

The major disappointment for G21 and advocates was lack of a specific State Government allocation for the $4.7 million Geelong Secondary Schools and Community Digital Learning Hub, which would eliminate poor internet coverage compromising learning in classrooms across the region, but campaigning continues!

The State allocated $16.4 million state-wide on improving digital connectivity for students in rural and regional Victoria and $67.9 million for better information technology support but appears to have overlooked the hub project which was stamped as number one objective by Barwon Region Partnership.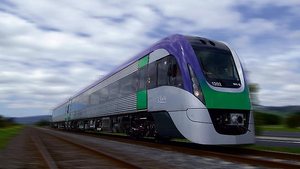 The State Budget also disappointed with none of forecast funding for a Geelong Convention and Exhibition Centre – due to tabling of its business case being well overdue.

It did provide welcome allocations for other G21 priority projects including $15 million for central Geelong revitalization, funding for establishment of a taskforce and team to simplify management of the Great Ocean Road and for duplication of the rail line between South Geelong and Waurn Ponds.

Allocations for rail projects including $100 million for upgrading of the Warrnambool line and reserving of land for a line to Torquay now seem dependent on pending Federal Government payment of $1.46 billion to Victoria under the asset recycling initiative following sale of the Port of Melbourne.

The Waurn Ponds line duplication has been long championed by G21 as a key element of the regional rail connections priority project.

The Federal Budget contained $100 million for the duplication, a centrepiece allocation in an otherwise lean big ticket Budget for the region.

To read more G21 region State Budget details click here.

To read more G21 region Federal Budget details click here.


Membership of G21 is open to eligible businesses, organisations and government bodies associated with the G21 region. Details about eligibility for membership, annual fees and an application form may be viewed by clicking here.