Friends of the G21 region,

e-News provides you with a sense of the important issues, activities and proposed projects within the G21 region.
What an election!
The recent federal election is one most Australian's just want to forget, as the campaign seemed like it was never going to end.

Sadly for our region, significant shovel-ready and region-building G21 Priority Projects were ignored by the parties during eight weeks of campaigning.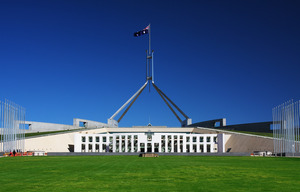 Region-wide benefits would have come from a commitment to upgrade Geelong's much-loved GPAC.

An investment in the Royal Geelong Yacht Club's Geelong Waterfront Safe Harbour Precinct development would have guaranteed future harbour festivals and events worth millions of dollars annually to the local economy.

None of the parties committed to securing access to high-speed learning platforms through the Geelong Secondary Schools and Community Digital Learning Hub for education of secondary students across the region.

Many local schools can't offer more than a few students at a time access to on-line learning. A $4.7m commitment would have provided access to entire schools, at speeds much superior to the NBN.

The G21 region is enthusiastically adopting the GROW (G21 Opportunities for Work) initiative to address pockets of disadvantage. GROW promotes the use of local suppliers, products and services to keep expenditure within the region, helping to create new local jobs, especially in pockets of greatest disadvantage.
Disappointingly, the Coalition didn't match Labor's $2m campaigning co
mmitment to GROW. Liberal MP for Corangamite Sarah
Henderson did however commit to 'fi
ght hard' for funding under the proposed Try, Test & Learn Fund.
G21 is keen to work side-by-side with Sarah to make sure that, or similar, funding happens for GROW.

The Coalition did announce a $20m Jobs & Investment Package for Corangamite and Geelong. The announcement didn't specify recipients, but set down eligibility criteria, including the need for matching funding.

Hopefully, GROW and the other already-mentioned shovel-ready infrastructure projects in the region will be eligible.

G21 watches with interest.
G21 Forum to be 'best ever'
Renowned journalist, author and former ABC presenter Kerry O'Brien, Premier Daniel Andrews and Opposition Leader Matthew Guy will be key-note speakers at this year's G21 Stakeholder Forum.

The fifth annual forum will be held on Friday 19 August at the RACV Torquay Resort.

The G21 forums have now firmly established themselves as must-attend events.

Once again, the focus this year will be on providing content that is both relevant to the region and topical.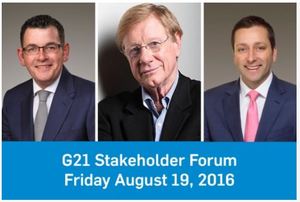 Half way through the Andrews Government's term, the Premier and Opposition Leader have been invited to outline their vision for the region in the context of the state election, which is due in 2018.

G21 has also invited key leaders in government and business to tell us of the exciting work of their organisations within our region.

We are particularly pleased to have leading women in local business sharing their wisdom and experience in a panel discussion, which is a new forum feature this year.

The limited tickets are already selling fast, so people are advised to book now to avoid disappointment.

McCo Group Managing Director Leigh McClusky will MC the event, with key speakers this year including:
The G21 Stakeholder Forum is proudly sponsored by platinum partner: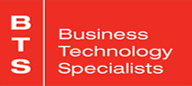 Business Technology Specialists - www.teambts.com.au

Our other important sponsors include: Regional Development Australia, Western Distributor Project, Gforce, VicSuper, WorkSafe, Evologic and TAC.

When: Friday 19 August 2016, 10am to 5pm
Where: RACV Torquay Resort - 1 Great Ocean Road, Torquay
Cost: G21 members - $145 Non-members - $195
(includes entry to forum, morning tea, lunch, afternoon tea and
post-forum drinks and canapés).
Bookings: Click here to book

Membership of G21 is open to eligible businesses, organisations and government bodies associated with the G21 region. Details about eligibility for membership, annual fees and an application form may be viewed by clicking here.