Friends of the G21 region,

e-News provides you with a sense of the important issues, activities and proposed projects within the G21 region.
Budgets and election dominate
The looming federal election and recent state and federal budgets are dominating G21's thoughts.

G21 on election watch

With the election looming G21 will now ramp up its campaign for commitments from all major parties, and their candidates, against the 11 priority projects across the region identified as needing federal funding.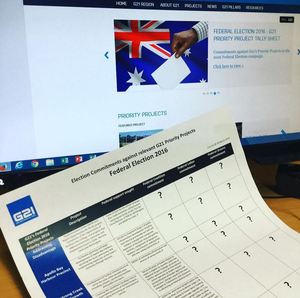 Advocacy to candidates, ministers and shadow ministers has been underway for months. This has included the scoping of project needs, face-to-face briefings, visits to Canberra and a targeted social media campaign.

The social media campaign aimed at politicians uses all of G21's social media platforms, including Twitter and Facebook, and is already attracting community interest.

As a G21 'family' member we urge you to support our campaign by 'liking', 'sharing' or forwarding our social media messages. Subscribe to G21's social media on the home page of our website - www.G21.com.au

A tally sheet of major party commitments against identified G21 priority projects for the region is also available on the G21 website and will be updated as new commitments are made.
The tally sheet will also be circulated to G21 members, supporters and followers throughout the election campaign to help people make voting choices.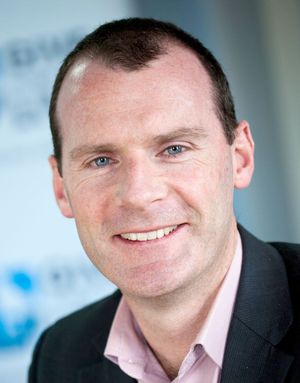 New G21 Chair
The G21 Board of Directors has recently elected Give Where You Live Foundation CEO B
ill Mithen (pictured) as its chairperson.

He replaces the former City of Greater Geelong mayor, Darryn Lyons.
Bill has been an elected member on the G21 board since November 2014.

Tangible benefits in State Budget

The G21 region benefited in real and tangible ways from the state budget.

It was pleasing to see confirmation of previously announced funding for the much needed Western Distributor to help alleviate traffic chaos for commuters to Melbourne across the Westgate Bridge.

Confirmation of funds for other major transport infrastructure projects include construction of a Drysdale Bypass and planning for an extension of the Geelong Ring Road across the Bellarine Peninsula.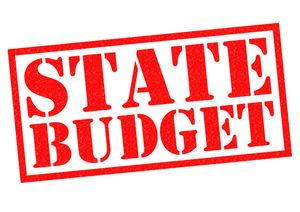 New funds were allocated for overtaking lanes on the Midland Highway at Meredith. Funds were also allocated for planning an upgrade of the Midland Highway to Bannockburn and for planning the duplication of Barwon Heads Road. These are all part of G21 Priority Projects.

G21 welcomes $6m for planning for a rail track duplication between South Geelong and Waurn Ponds stations, and for planning a new service to Armstrong Creek. Both are G21 Priority Projects.

G21 has long advocated for increased passenger services through Geelong to Colac and Warrnambool. We welcome funds for this, but wait to see the detail as to the frequency and timing of services.

A much needed new Tech School at The Gordon TAFE will bolster the delivery of critical employment skills in a range of practical fields. This will help ensure training of skilled young tradespeople to meet the demand of a growing G21 regional economy.

The announcement of more than $35m across the region to either refurbish or upgrade schools is a welcome refresh which will help ensure our schools keep pace with contemporary education expectations.

The government's confirmation of funding for a school to serve the fast-growing Armstrong Creek urban growth area is welcome. This is part of a G21 priority project.

A new $11.47m police station to replace the outdated Colac facility, and an upgrade of the Geelong police station, are both welcome announcements. Our police deserve to have facilities which allow them to effectively support our community.

Pleasingly the budget also provided $7m for project costs at GPAC as part of the revitalisation of Geelong's cultural precinct.

A $5.5m allocation will help implement the early stages of the Central Geelong Action Plan, including work on outdoor spaces and street scapes, as part of a longer-term project.

Federal Budget's true nature yet to be revealed

The true nature of the federal budget for the G21 region is unlikely to be known for some time.

Budget papers revealed few new specific project commitments for our region. As always, the true complexion of the budget will reveal itself over coming days and weeks.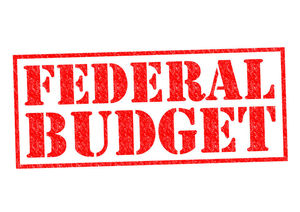 That will be particularly so this year, with the unusual situation where the budget has been delivered so close to an expected election.

The budget appears to contain funding for as yet unspecified local initiatives nationally. We look forward to the G21 region being part of any such future funding announcements.

Looking at the budget more broadly, G21 welcomes the announcement that small-to-medium business will receive tax relief.

The G21 region is going through a transition towards a new breed of innovative small-to-medium sized business. The budget will encourage business to help drive this transition, through tax relief and also through innovation incentives for start-ups.

The new Youth Jobs PaTH program aimed at getting young people interned into jobs seems to have synergies with the G21 and Give Where You Live Foundation GROW (G21 Region Opportunities for Work) program. We'd like to see more detail about how that program might complement the work of GROW.

The budget also emphasised the importance of the nation's defence manufacturing industry. In that regard the G21 region is positioned with the skills and proven manufacturing base to play a key role.

We await the crucial announcement of short-listed contenders to build the LAND 400 world class armoured combat vehicle.

Proposed funding of $30.6m was announced for regional road works or planning, including for the Great Ocean Road, the Forrest-Apollo Bay Road, the Midland Highway and Grubb Road in Ocean Grove.

Although this is welcome, the funding appears to be conditional upon matching state government funding, or the state agreeing to part of the $1.5 billion previously allocated to the now abandoned East West Link going to those projects.

G21 calls on the federal and state governments to work these matters out so we can get on and make things happen.

Membership of G21 is open to eligible businesses, organisations and government bodies associated with the G21 region. Details about eligibility for membership, annual fees and an application form may be viewed by clicking here.