Friends of the G21 region,

e-News provides you with a sense of the important issues, activities and proposed projects within the G21 region.
Carbon fibre leads future funding
Geelong's new era leading the world in carbon fibre production has received a $5 million boost as part of $10 million funding targeting advanced manufacturing in the region.

Deakin University-based LeMond Composites and Carbon Revolution Operations received $2.5 million apiece among allocations from the Federal Government Advanced Manufacturing Growth Fund.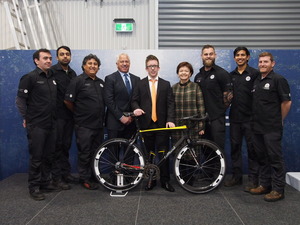 The money aims to support regions affected by closures of automotive manufacturing plants, enabling companies to innovate, diversify, pursue new markets and create jobs.

Geelong region recipients were:
LeMond Composites $2.5m to support commissioning of Australia's first commercial carbon fibre manufacturing plant, under licence from Deakin University;

Carbon Revolution Operations $2.5m supporting major expansion at its Waurn Ponds site and as a global leader in carbon fibre wheel development and manufacture;

Flat Glass Industries $2.5m to embed an advanced manufacturing platform into its existing Geelong plant for manufacture of new value-added products;

Boundary Bend Olives $812,000 for Australia's largest olive farmer and olive oil producer, with a base at Lara, to develop use of waste by-products to produce high-value extracts for cosmetics; and,

Air Radiators, $1.85m for development of a new range of heat exchangers for high horsepower diesel engines.
Member for Corangamite Sarah Henderson hailed 'incredible advanced manufacturing success stories' from G21 region as she announced the funding on October 17, 2017.

"The Advanced Manufacturing Growth Fund will help transition Australia's manufacturing sector from traditional, heavy industry processes to knowledge-based manufacturing of higher-value products," Ms Henderson said.

G21-Geelong Region Alliance has championed Deakin University carbon fibre technology and manufacturing as part of the Geelong Economic Futures blueprint.

Deakin vice-chancellor Professor Jane den Hollander has said that the university's incubation of carbon fibre technology was a huge global success story with transformative potential for Geelong.

Visit http://lemond.cc/ to view LeMond Composites clip of the Deakin University announcement.

Caption: LeMond Composites founder Greg LeMond, fourth from left, Deakin University carbon fibre researcher Maxime Maghe and university vice-chanceller Prof Jane den Hollander are pictured with Carbon Nexus team members in June after announcement of their partnership. Picture: Deakin University.

Great Ocean Road announcements welcome

Our prized and invaluable Great Ocean Road has been the focus of successive significant announcements during recent weeks.

Federal and State Government confirmation of $50m in road and amenity upgrades followed State Government allocation of $5 million to implement early work on the Shipwreck Coast Master Plan and $75,000 State funding for completion of a tourism parking and traffic strategy.

With Great Ocean Road investment and management a G21-Geelong Region Alliance Priority Project, the allocations are welcome.

The $50m upgrades, from a previous funding announcement, will include bridge strengthening, road resurfacing, intersection and pedestrian improvements and bus stop installation.

Work scheduled to start early in 2018 will target 100 improvements during the next five years.

Early work on the Shipwreck Coast Master Plan will include initiatives to improve and better manage traffic flow and pedestrian safety, and comprehensive planning for improved arrival experience at the Twelve Apostles.

G21 supports implementation of the Shipwreck Coast Master Plan as part of the Great Ocean Road Priority Project.

Federal Government Building Better Regions funding will contribute to a parking and traffic strategy, with the $75,000 to be matched by Colac Otway Shire.

New CEO for Golden Plains

A significant changing of the guard is on the way at Golden Plains Shire, with retiring CEO Rod Nicholls to be replaced by Eric Braslis.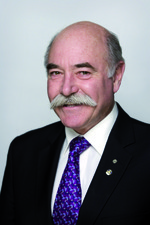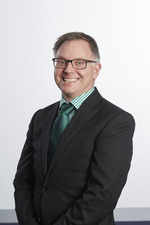 Mr Nicholls, pictured left, will retire in December after having worked 47 years in local government including 23 as Golden Plains' first and only CEO.

He is also G21's longest-serving board member.

Mr Braslis, right, will join Golden Plains from Gannawarra Shire, where he has been CEO since July 2015.

He has previously worked as Ballarat City Council general manager of city infrastructure and director of growth and development. He was Stonnington City Council director of planning and environment and Hobsons Bay City Council director of community services.

Golden Plains Mayor Des Phelan said Mr Braslis had a demonstrated record of achievement and his strong background in planning and strategy would be a good fit for the municipality.

In welcoming Mr Braslis to Golden Plains Shire, G21 says thank-you to Mr Nicholls for his excellent contribution to all of our region.

Matildas to light up Geelong

G21 region soccer fans are in for a treat with Australia's powerful and exciting women's team the Matildas on their way to Kardinia Park's GMHBA Stadium in less than a month.

The Matildas will play China in Geelong on November 26 in the second game of an exclusive international series.

Developing of GMHBA Stadium is a G21 Economic Development Pillar Project.

People can secure the best seats in the upgraded stadium with special deals available via the Kardinia Park Stadium Trust.

Visit https://www.kardiniapark.vic.gov.au/wp-content/uploads/2017/10/MatildasTicketOffering-final.pdf to book your tickets now.



Membership of G21 is open to eligible businesses, organisations and government bodies associated with the G21 region. Details about eligibility for membership, annual fees and an application form may be viewed by clicking here.