Friends of the G21 region,

e-News provides you with a sense of the important issues, activities and proposed projects within the G21 region.
Optimism for year ahead
As we launch into 2017 the G21 region has every reason to be optimistic.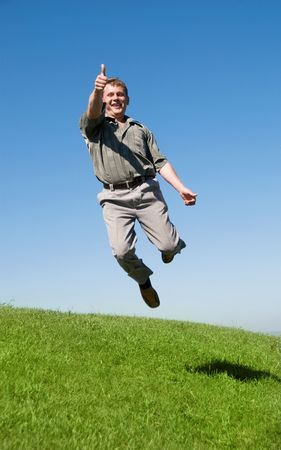 Work by G21 and others advocating for projects significant to the region is coming to fruition:
a Geelong Convention Centre comes a step closer to reality with the expected completion of a business plan to form the basis for government and private funding opportunities;
joint state and federal funding will see significant work begin this year on maintenance and amenity upgrades to the economically important Great Ocean Road, which alone is responsible for $2 billion a year of tourism income; and
the region's business community is swinging behind the GROW (G21 Region Opportunities for Work) project to combat pockets of social disadvantage, by committing to purchasing and employing locally.
Just prior to Christmas the CEOs of the G21 region's five municipal councils and G21's CEO held a day of wall-to-wall meetings with managers of six key federal government departments in Canberra.

The G21 delegation came away buoyed by the positive reception and genuine interest in our region.

Hot topics of conversation were the G21 region's big priority projects; the ones that will drive the economy, create jobs and improve our lifestyle.

However, the delegation also took the opportunity to give examples of how the slow roll-out of NBN broadband across the region, including to Geelong itself, was making the region's businesses uncompetitive.

The region's road infrastructure needs were discussed, including an increasingly urgent need for a funding solution to the growing east-west truck traffic transiting Geelong.

Environmental issues such as the impacts of climate change and the rising sea levels around our coastline were flagged as fast-emerging concerns. The delegation also suggested environmental initiatives deserving federal support, including energy-saving LED street lighting.

The delegation was briefed on the new Building Better Regions Fund, which has just called for applications and, unlike its predecessor, excludes metropolitan-based cities from applying for funds.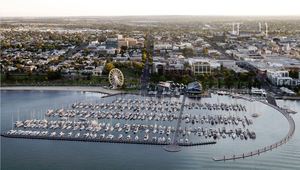 Council-backed projects such as the RGYC Safe Harbour on Corio Bay and historic Queenscliff's tourism developments may all be eligible for this funding.

Possibilities ran through the minds of delegation members during a briefing on the City Deals program, announced as part of Prime Minister Turnbull's Smart Cities Plan. That's where federal, state and local authorities – along with business and local communities – identify, agree on and fund projects that will boost the local economy and quality of life.

Premier Daniel Andrews last year called on the Prime Minister to do a 'city deal' with Geelong, just as he has with Townsville, Launceston and Western Sydney.

Working with federal authorities on a 'city deal' is a new and ambitious possibility G21 is pursuing. Federal funding support for the Geelong Convention Centre may well be possible under a 'city deal'.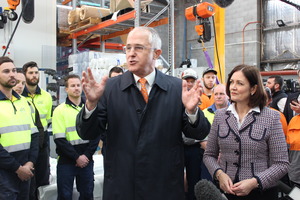 The delegation learned that a $20m Corangamite-Geelong jobs & infrastructure fund, promised by Prime Minister Turnbull during the election campaign, would come online early this year.

Since then (on 25 January) the Minister for Regional Developoment, Senator Fiona Nash and Corangamite MP Sarah Henderson announced a taskforce to recommend on the allocation of that fund, to be called Geelong Regional Jobs and Investment Packages (RJIP). G21 CEO Elaine Carbines is a member of the taskforce. Projects such as the redevelopment of GPAC, for example, might be considered for funding through this fund.

The delegation didn't expect funding promises during the visit to Canberra. It did however highlight regional needs so they are top-of-mind when commitments are being made.

Politicians make the political decisions, yet it's the public servants who know how the policies work in practice.

As the G21 CEOs boarded their flight back to Canberra, it was unanimous that a hectic day of meetings in Canberra was an invaluable investment.

All in all, 2017 is looking good for the G21 region.

'Our Place' opportunity

'Our Place' magazine will again showcase the amazing G21 region in 2017.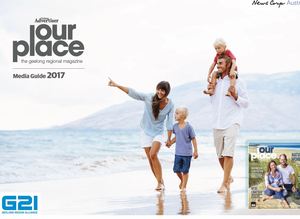 The annual publication is used throughout the year by companies and organisations to highlight the wonderful people and lifestyle of G21 region.

The magazine is a joint initiative of G21 and the Geelong Advertiser. It will be published in the Geelong Advertiser on Friday 21 April.

Copies will also be available for regional organisations to use as a promotional tool throughout the year. Council offices and tourism information centres will stock the publication.

For details on how you or your organisation can be part of 'Our Place' click here.

Don't miss your chance to be part of this important magazine.
Membership of G21 is open to eligible businesses, organisations and government bodies associated with the G21 region. Details about eligibility for membership, annual fees and an application form may be viewed by clicking here.