Friends of the G21 region,

e-News provides you with a sense of the important issues, activities and proposed projects within the G21 region.
Election-focused Canberra delegation
The G21 board's recent delegation to Canberra (2-3 March) was timed perfectly as our politicians were focused on an upcoming election.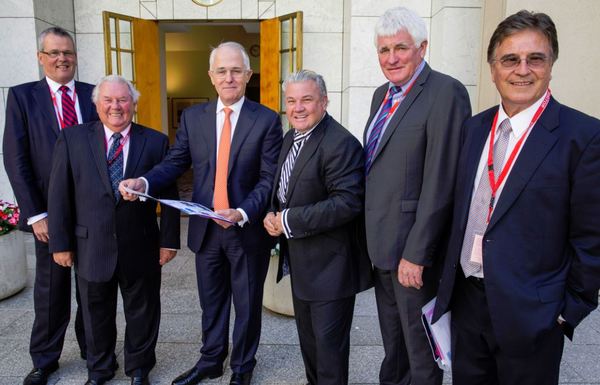 The delegation delivered messages about the challenges the region
fa
ces and the many new opportunities emerging.

When election promises are being made over coming months we want politicians to have the G21 region's specific priorities front-of-mind.

The annual delegation is part of a long-term strategy to reinforce the merits of key projects with our politicians.



Photo: From the left, Cr Clive Goldsworthy, Surf Coast Shire; Cr Bob Merriman, Borough of Queenscliffe; Prime Minister Malcolm Turnbull; G21 Chair and City of Greater Geelong Mayor, Cr Darryn Lyons; Cr Des Phelan, Mayor of Golden Plains Shire; and Kelvin Spiller, City of Greater Geelong CEO.



The board advocated for G21's 'priority' and other projects, including:
revitalisation of the Geelong CBD

the Land 400 project of next generation army combat vehicles

solutions to clogged road access to Melbourne from Geelong

faster rollout of broadband to the region, especially for education

support for the growth of Avalon Airport, and

the innovative GROW (G21 Region Opportunities for Work) project.
A complete list of G21 priority projects is available on the G21 website – www.g21.com.au

The delegation included representatives of the region's five councils, demonstrating a united voice from the region.

Photo: G21 Chair and City of Greater Geelong Mayor, Cr Darryn Lyons talks with Opposition Leader Bill Shorten.

The annual delegation is a strategy that has paid dividends for the region in the past. We are confident it will again this election year.

In a whirlwind two days of meetings, ministers, shadow ministers and key advisers visited included:
Prime Minister Malcolm Turnbull and his senior adviser on infrastructure and cities

Minister for Industry, Innovation and Science, Christopher Pyne

Minister for the Environment, Greg Hunt

Minister for Tourism, Senator Richard Colbeck

Minister for Territories, Local Government and Major Projects, Paul Fletcher

Minister for Regional Development, Regional Communications & Rural Health, Senator Fiona Nash's senior adviser

Minister for Infrastructure and Transport, Darren Chester's senior a

dvisers

Minister for Defence, Senator Marise Payne's senior adviser

Assistant Treasurer, Kelly O'Dwyer

Assistant Minister for Defence, Michael McCormack

Leader of the Opposition, Bill Shorten

Shadow Minister for Infrastructure, Transport, Cities and Tourism, Anthony Albanese

Shadow Minister for Defence, Senator Stephen Conroy

Shadow Minister for Agriculture, Fisheries, Forestry and Rural Affairs, Joel Fitzgibbon

Shadow Minister for Employment and Workplace Relations, Brendan O'Connor, and

Secretary of the Department of Defence, Dennis Richardson.
Photo: G21 Chair and City of Greater Geelong Mayor Cr Darryn Lyons advocates passionately for the region to Minister for Industry, Innovation and Science, Christopher Pyne.
The G21 delegation included mayors, councillors and CEOs from the five G21 member municipalities (Greater Geelong, Colac Otway, Surf Coast, Queenscliffe and Golden Plains), independent G21 directors and the G21 CEO.
GROW backed with State funding
The State Government has given in-principle support to the G21 Region Opportunities for Work (GROW) project since its inception.

Earlier this month it further backed the project by investing $1m over five years.

Treasurer Tim Pallas announced the grant from the Regional Jobs and Infrastructure Fund, approved by Minister for Regional Development Jaala Pulford.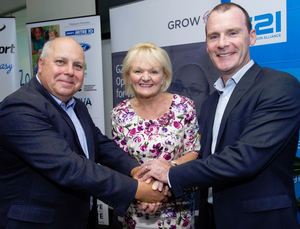 With this funding the state government is helping GROW tackle joblessness in key locations in the G21 region – Corio, Norlane, Whittington and Colac.

Photo: Victoria's Treasurer Tim Pallas with G21 CEO Elaine Carbines and Give Where You Live CEO and G21 Board member, Bill Mithen at the funding announcement.

By the end of the first five years of the project the expected benefits are up to:
500 jobs outcomes to be created in the G21 region

10 piloted social procurement and investment projects commenced, and

500 businesses/organisations in the G21 region to be active participants in the project.
The GROW project has been developed by Give Where You Live Foundation in partnership with G21 in response to employment challenges facing these locations.

GROW guides the efforts of numerous business and other stakeholders working together to create new jobs and investment opportunities. The project deals with the known correlation between unemploymen
t and disadvantage.

GROW's strategic approach will deliver a range of direct economic and community development benefits.
The government's $1m investment will support the start-up and ramp-up phases of the 10-year GROW project.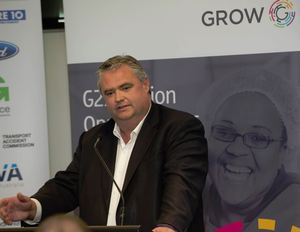 Addressing disadvantage is among the most important objectives any community can have as it works to evolve and grow economically. We can't afford to leave sections of our community behind.
Photo: Justin Giddings, CEO of Avalon Airport, which hosted the funding announcement, told of his organisation's support for GROW and its objectives.
While in Canberra the G21 board encouraged the federal government to also financially back this important project. We're hopeful of positive news from Canberra.

Details of steps to implement the GROW project across the region, and how you can become involved, may be found on the GROW website: www.grow.g21.com.au
Membership of G21 is open to eligible businesses, organisations and government bodies associated with the G21 region. Details about eligibility for membership, annual fees and an application form may be viewed by clicking here.