Friends of the G21 region,

e-News provides you with a sense of the important issues, activities and proposed projects within the G21 region.
Priorities high in Canberra
FEDERAL parliamentary leaders have clearer understanding of our region's economic priorities following a focused, united and successful G21-Geelong Region Alliance delegation to Canberra.

During two demanding days of briefings (March 22 and 23) delegation members provided essential insight for Prime Minister Malcolm Turnbull, Opposition Leader Bill Shorten, Environment and Energy Minister Josh Frydenburg, shadow ministers and senior ministerial advisers.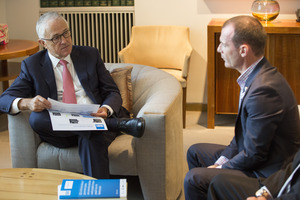 Talks with Mr Turnbull focused on seeking support for priority projects including Great Ocean Road investment, Geelong Convention and Exhibition Centre planning, Avalon Airport growth, development of a Fort Queenscliff tourism plan and brokering of a potential City Deal investment to help focus economic planning and drive collaborative growth. (Mr Turnbull is pictured speaking with G21 chair Bill Mithen, right)

Member for Corangamite Sarah Henderson coordinated the meeting with Mr Turnbull, and Member for Corio Richard Marles the meeting with Mr Shorten.

Both attended the talks and spoke in parliament about the G21 visit, pointing to its significance and hailing the clarity, credibility and achievements of G21 delegations, past and present.

Ms Henderson said in parliament a City Deal should be top priority for Geelong.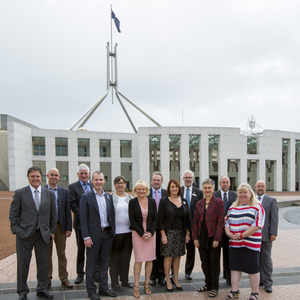 Mr Marles said the G21 delegation played a critical role in ensuring the Federal Government hears the city's voice, loud and clear. View a story on his speech to parliament here.

G21 CEO Elaine Carbines said the Canberra delegation had presented a united, informed and focused voice for the region and made strategic impact.

"Having ability to brief our national leaders first-hand on behalf of the region is immensely important and valuable," Ms Carbines said.

"We were not expecting to be returning with pledges but sought to advocate strongly and inform on what matters most to us.

"If our parliamentarians are to make the best decisions for our region and its future we need them to have as clear and thorough understanding of our agreed priorities, skills and challenges as possible."

(Pictured outside Parliament House: G21 delegation members, from left: Kelvin Spiller, City of Greater Geelong CEO; Jason Trethowan, Headspace national CEO; Cr Des Phelan, Golden Plains Shire Mayor; Bill Mithen, chairman G21 and Give Where You Live Foundation CEO; Cr Susan Salter, Borough of Queenscliffe Deputy Mayor; Elaine Carbines, G21 CEO; Cr Brian McKiterick, Surf Coast Shire Mayor; Bernadette Uzelac, Geelong Chamber of Commerce CEO; Keith Baillie, Surf Coast Shire CEO; Patti Manolis, Geelong Regional Libraries CEO; Cr Chris Potter, Colac Otway Shire Mayor; Sue Wilkinson, Colac Otway Shire CEO; Lenny Jenner, Borough of Queenscliffe CEO.)


$2 billion projects in investment blueprint

PROMISING horizons came into sharper focus with the launch of a pioneering $2 billion major projects blueprint refined for the region by G21, Deakin University and the City of Greater Geelong.

Building world-class freight infrastructure, regional food production, animal disease research and carbon fibre production are central objectives in the vision which aims to secure the region's economic future, capitalise on existing assets and reduce reliance on government investment.

Launch of the platform accompanied tabling of a Geelong Economic Futures report which predicted that the scoped projects could help shape Geelong's future, harness capital investment from private equity investors and importantly nurture long-term commercial sustainability.

It aims to provide strong strategic direction after identification of only one major futures project for the region by Infrastructure Australia, freight rail connection between north-west Victoria and the ports of Geelong and Portland.

The platform projects defined by the G21-Deakin-COGG collaboration are:
A $1 billion Avalon Freight Precinct, to become Victoria's largest, lowest cost seaport, road and rail terminal, adjacent to Avalon Airport;

A $600 - $800 million high-security water solution to drive high value, drought-proofed regional food production aimed largely at overseas markets;

A $300 million investment at CSIRO's Animal Health Laboratory at Geelong to create the Asia-Pacific collaborative hub for infectious disease research and biosecurity; and,

An injection of $70 million for Deakin's Carbon Nexus research centre, which would make it home to the world's leading non-aerospace industrial scale carbon fibre manufacturing plant, with initial creation of 80 jobs.
G21 CEO Elaine Carbines joined Deakin University vice-chancellor Jane den Hollander and City of Greater Geelong administrators for the launch on March 24.

"The approach Geelong Economic Futures takes to regional economic development is an exciting new method, particularly in the light of the fact that Infrastructure Australia has identified just one major project for the city," Ms Carbines said.

"We all know our major industries have changed and the wider G21 region is continuing to adapt. What is most positive about this plan is that it will mean jobs across a raft of sectors, including for blue collar workers who have been hardest hit by the manufacturing shift across the region."

The project report was refined during consultations with more than 100 leaders of local government and national and international business, industry and research organisations.

Importantly, launch of the projects' vision and Geelong Economic Futures will be encored by a series of four lectures during May and June. The Our Futures Deakin Lecture Series will focus on the topics biosciences, agriculture, advanced manufacturing and pathways to prosperity.

For further information on the major projects: http://www.g21.com.au/news/leaders-unite-secure-g21-regions-economic-future

For further information on the lecture series: http://www.g21.com.au/news/discussions-regions-economic-growth


Trekkers limber up

ONE month remains until teams and individual participants set off walking 40 kilometres of our spectacular coastline in one day on the Surf Coast Trek, (April 29) raising money for Give Where You Live Foundation and Kids Plus Foundation.

An extraordinary 750 people have registered for this year's Trek, from Aireys Inlet to Torquay, pushing out the size of the participant field from last year's outstanding inaugural success
Last year 550 walkers raised more than $300,000.

G21 again has a team limbering up for the challenge and urges people across the region to support the field of 750 Trekkers and in turn the worthy causes.

To pledge your support: www.surfcoasttrek.com.au

Membership of G21 is open to eligible businesses, organisations and government bodies associated with the G21 region. Details about eligibility for membership, annual fees and an application form may be viewed by clicking here.