Friends of the G21 region,
e-News provides you with a sense of the important issues, activities and proposed projects within the G21 region.
Grasp the future boldly
The politicians said it. The business leaders supported it. Their message was stated in words the size of sky-writing:

The G21 region has a stellar future, provided we are bold enough to reach out and grasp it.

Last month's sell-out G21 Stakeholder Forum 2015 brought together a dazzling array of politicians, business people and community leaders.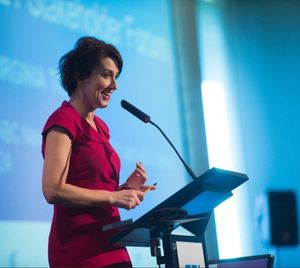 While it may have been ABC journalist Virginia Trioli (pictured), Opposition Leader Bill Shorten, Environment Minister Greg Hunt and Leader of the Australian Greens Senator Richard Di Natale who many came to hear, there were other speakers also delivering important messages.

Cultivate innovation hubs
Victorian Centre for Advanced Materials Manufacturing (VCAMM) CEO Brad Dunstan pointed to new manufacturing opportunities through cultivating innovation hubs.

He said innovation hubs had four key success factors, all of which are present in the G21 region:
an educated workforce

a supportive community

connection to a university, and

access to capital.
Mr Dunstan said 60 years ago 'rich areas' were the manufacturing centres, based around 'physical capital'. Today 'human capital' is the best predictor of success: education, ingenuity and skills.

He said Geelong and the G21 region had a 'window' in which to grasp opportunities and turn itself into the Ann Arbor of the southern hemisphere.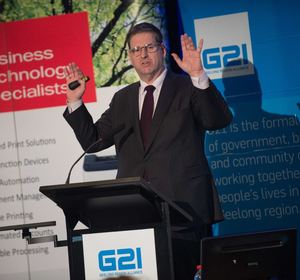 Ann Arbor is home to the University of Michigan, one of the foremost research universities in the United States. The university helps shape that city's economy, now centred to a large degree on high-tech health and biotechnology. Companies are drawn to the area by the university's research and development, and by its graduates.
Build on great work

Mr Dunstan said the G21 region should build further on the great work already underway by Deakin University and its commercial collaborators in a number of innovation fields.

However, he warned that we must move swiftly, as other regions in Victoria are positioning to seize these significant opportunities.

WorkSafe CEO Clare Amies told the forum of her organisation's enthusiasm to relocate its headquarters to the region.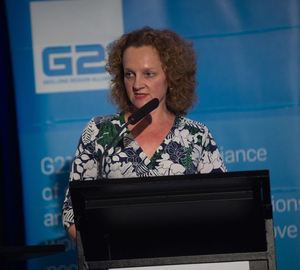 Ms Amies said there was exciting collaborative potential of similarly-tasked organisations WorkSafe and the Transport Accident Commission (TAC), along with the National Disability Insurance Agency (NDIA), developing a Geelong-based centre of excellence in the fields of insurance, injury and occupational safety.

WorkSafe will begin its staged transition to Geelong in 2016, with completion in 2018, by which time about 680 WorkSafe jobs will be based in Geelong.

A decision on office accommodation for WorkSafe in Geelong will be made by the end of this year.

Strengthen social fabric

G21 CEO Elaine Carbines spoke of the joint G21 and Give Where You Live Foundation initiative GROW (G21 Opportunities for Work), to help ensure that while our region develops in new directions people aren't left behind.

Ms Carbines said GROW was a long-term strategy to tackle disadvantage, which would benefit and strengthen the social and economic fabric of the entire region over coming years.

GROW targets two specific means of job growth — procurement and investment. It's an innovative project, the likes of which has never been tried on this scale in Australia.

Backing for GROW from the region's business and community leaders is snowballing, as the project also attracts interest and support from the state and federal governments.

Striding positively

G21 Chair and City of Greater Geelong Mayor, Cr Darryn Lyons told the forum: "like never before, government and private investment opportunities abound across the G21 region".

He said ours is a region "striding positively into the future, developing exciting new, and often unique, opportunities as it goes".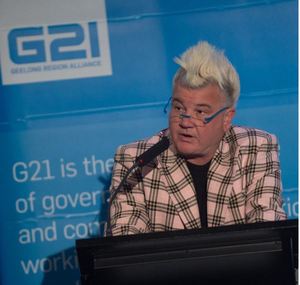 But Cr Lyons said to take this evolution forward, to make the most of these wonderful opportunities, the region needed infrastructure investment.

Among G21's Priority Projects for advocacy in the lead up to the next federal election are developments crucial to our region's future:
a world-class convention and exhibition centre to accommodate growing business expectations
a revitalised central heart to CBD Geelong, including marine infrastructure along our frontage to Corio Bay
much-needed road linkages to Geelong's ring road and to Geelong Port, and
a workable solution to the road traffic congestion to the west of Melbourne, which currently retards business investment across our region.
We'll be on your doorstep

Speaking to those federal politicians at the forum, Cr Lyons said G21 would be "on your doorsteps" right up to the federal election.

"We are a region with a mission. We have passion. We have plans," he said.

"History shows that the G21 region has a proud tradition of achieving, often against great odds.

"We'd love to have you supporting us and coming along on our journey," Cr Lyons said.

The G21 Stakeholder Forum is an annual event, open to G21 members and supporters, discussing issues relevant to the region's development. Organisations interested in becoming G21 members may obtain details from the G21 website.