Friends of the G21 region,

e-News provides you with a sense of the important issues, activities and proposed projects within the G21 region.
Economic blueprint project shines
A multi million-dollar Geelong Economic Futures blueprint project has occupied centre stage with dynamic appeal, taking G21 region technology and trade to the world.

Deakin University's signing of a $58 million deal to join forces with US firm LeMond Composites marked a watershed moment in global carbon fibre production.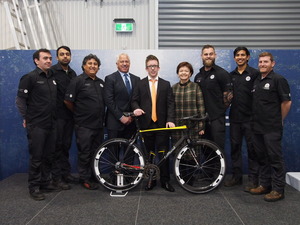 The project is one of five significant emerging economic opportunities outlined in a 2017 Geelong Economic Futures report refined by G21-Geelong Region Alliance, Deakin University and the City of Greater Geelong.

All have strong credentials for attracting large-scale investment – projected to be $2 billion in total – and in turn of generating sustainable economic futures, and they all build on regional strengths.

Deakin's status as a global advanced materials hub multiplied rapidly with signing of the agreement allowing LeMond Composites to license technology developed by Deakin's acclaimed Carbon Nexus research centre.

The technology, developed by PhD student Maxime Maghe and Carbon Nexus general manager Steve Atkiss, enables carbon fibre to be manufactured using 75 per cent less energy, dramatically cutting costs.

Palpable sense of achievement and excitement surrounded the June 21 announcement by Deakin vice-chancellor Professor Jane den Hollander and LeMond Composites founder and three-time Tour de France winner Greg LeMond.

"This is a huge global success story and it was incubated right here at Waurn Ponds by one of our very own future leaders, a PhD student working under the guidance of our gifted leadership in carbon fibre research," Professor den Hollander said.

"Just three months ago, Deakin joined with the City of Greater Geelong and G21 to launch Geelong Economic Futures, a blueprint for a number of projects that included scope for development to help lead this city's future. Carbon fibre development was a key project so it is pleasing to see a key in this vision come to fruition."

As part of the deal LeMond Composites will explore development of a carbon fibre manufacturing plant in Geelong, with potential investment of more than $30 million in construction and equipment and creation of dozens of jobs.

Mr LeMond in 1986 became the first cyclist to win the Tour de France aboard a carbon fibre bike.

He has become a household name in cycling, selling carbon fibre bikes under his own brand before last year setting up LeMond Composites to realise his vision of making carbon fibre bikes accessible for everyday riders.

He said Deakin's manufacturing process would make it possible to localise carbon fibre manufacturing and make the products available to a wider range of industries including transportation, renewable energy and infrastructure.

Award-winning Carbon Nexus was established in 2014 as a globally unique research facility for basic and industrial scale research into carbon fibre production and composite manufacturing techniques.

G21 region also welcomed another significant project threshold moment during the past fortnight with start of work on Avalon Airport's new industrial precinct, heralding an era of growth.

Geelong-founded and based international retailer Cotton On will be first major tenant with a 35,000m-sq distribution centre.

Premier Daniel Andrews joined Linfox Airports chief David Fox, Member for Corangamite Sarah Henderson and Cotton On Group chief financial officer Michael Hardwick for a ceremonial sod-turning on the new 340 hectare industrial zone on June 16.

The precinct will help Avalon Airport – already home to Jetstar domestic flights, busy freight traffic and the Australian International Airshow – diversify its operations, further cementing its future as an industrial, freight and logistics hub capable of servicing a variety of sectors.

With further development and tenants the industrial precinct is forecast to provide 750 new jobs.

An Avalon site adjacent to the airport is focus of another Geelong Economic Futures project, establishment of Victoria's future major intermodal freight terminal.

Development of the new industrial precinct will complement the Economic Futures ambition.

Development of Avalon Airport, including expansion of domestic flights and introduction of international flights, is a G21 priority project.

The three other projects earmarked in the Geelong Economic Futures report are:
Irrigated agriculture using secure recycled water supplies;

Development of Geelong's Australian Animal Health Laboratory; and,

Commercialised international education and training in farming and agribusiness.
Read the report here.

Caption: Greg LeMond, fourth from left, Maxime Maghe and Prof Jane den Hollander are pictured flanked by Carbon Nexus team members. Picture: Deakin University


Green lights for big rail wins

WE'RE all aboard for G21 priority project regional rail developments following release of $1.4 billion from the Federal Government, which will in turn finance State Budget pledges.

More than a month of inter-government wrangling over issuing of the money from the Commonwealth Asset Recycling Initiative has resolved with consequent funding for the state's Regional Rail Revival.

That revival package includes green lights for planning of important track duplication between South Geelong and Waurn Ponds, a new line to Torquay and upgrading of the Warrnambool line.

All of the works are championed in G21's regional rail connections priority project, looking to cater for population growth, increase the region's accessibility and build economic opportunities.

The State Government will spend $110 million on the first stage of the Surf Coast Rail Project, which incorporates rail corridor and business case preparations for the Waurn Ponds duplication, and reserving of land for a future line to Torquay.

The Federal Government also committed $100 million for the duplication works, a lone big win for G21 region in the May Budget.

The State Government's $114 million investment in the Warrnambool line will provide signal and line upgrades allowing for use of VLocity trains and increased frequency of services.

Regional Rail Revival work across the state is forecast to generate 1000 jobs.


Sales coup for Stakeholder Forum

BE sure to save September 1 for G21-Geelong Region Alliance's acclaimed annual Stakeholder Forum and absorb insight from presenters including Walkley award-winning journalist Leigh Sales.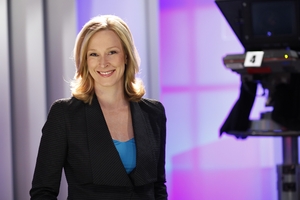 The anchor of the Australian Broadcasting Corporation prime time flagship program 7.30 will be keynote speaker at the sixth annual event, which will focus on the theme Advancing the G21 Region.

Other presenters will include:
Federal Opposition Leader Bill Shorten

Federal Greens Leader Senator Richard Di Natale

Member for Corangamite Sarah Henderson

Regional Australia Institute chief executive officer Jack Archer

Victoria's first Gender and Sexuality Commissioner Rowena Allen
A panel of speakers will also represent the Great Ocean Road visitor economy.

G21 chief executive officer Elaine Carbines urged people to lock away the date, with tickets to be available from July 17 via Eventbrite.

"Our forums have become key annual events for G21 region, providing compelling discussion points on issues of public importance," Ms Carbines said.

The forum will run from 9am to 3.30pm at RACV Torquay Resort.

Ms Sales, pictured, was previously anchor of the ABC's prestigious Lateline program, where her work included interviewing Hillary Clinton, Tony Blair and Henry Kissinger.

She worked as ABC Washington correspondent and received Australia's highest journalism honor, a Walkley, for her work covering events at US military prison Guantanamo Bay and the case of Australian detainee David Hicks.

Her subsequent book Detainee 002 received critical acclaim.


Membership of G21 is open to eligible businesses, organisations and government bodies associated with the G21 region. Details about eligibility for membership, annual fees and an application form may be viewed by clicking here.