Friends of the G21 region,
e-News provides you with a sense of the important issues, activities and proposed projects within the G21 region.
A recipe for Canberra Advocacy
Start with fifteen (15) G21 Board members.
Allocate two (2) days for them all to travel to Canberra.
Arrange eighteen (18) meetings, with Ministers and Shadow Ministers.
Provide face-to-face briefings on more than 20 projects and important issues for the G21 region.
Return home exhausted, but pleased that Canberra is better informed about our region's needs.
That was the recipe for this month's (18-19 March) G21 Board delegation to Canberra.

The success of G21's delegation can only be assessed over future months and years. However, the aim was to ensure that our region's priorities are front-of-mind when key resource and expenditure decisions are being taken.

Among the many issues raised this year was the growing community and business concern over the patchy, slower-than-desired, roll-out of the National Broadband Network (NBN) in parts of our region.

The Board made clear its concerns that southern Geelong and some rural centres across the region were seemingly being left behind in the roll-out of this vital communication technology.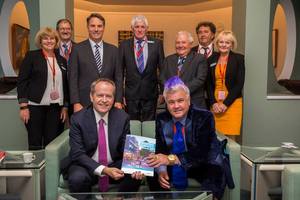 To be competitive in attracting new investment, and for doing day-to-day business, the region must have first-rate broadband connections.

Investment opportunities was a central focus of the delegation's messaging. The regional community is embracing new and, very often, innovative business development opportunities. G21 wants our political decision makers to be aware of, and supportive of, the exciting opportunities emerging.

The delegation explained that the changing complexion of the regional economy, while presenting challenges, is opening new doors and wonderful initiatives that need careful nurturing.

Expanding opportunities in tourism, education, health and innovative manufacturing were all highlighted.

The delegation emphasised the importance of effective targeting of available government grants, such as through the Geelong Region Innovation and Investment Fund (GRIIF), the Regional Infrastructure Program (RIP) and local government Financial Assistance Grants.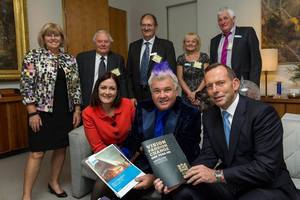 In relation to Avalon Airport, a major regional asset, the Prime Minister Tony Abbott committed that when Avalon begins hosting international flights his government would ensure necessary boarder services — such as Customs and Quarantine — would be provided in a timely fashion.

G21's priority projects were also among issues canvased, including the revitalisation of central Geelong, the proposed redevelopment of Apollo Bay Harbour and the important bid to be part of the Australian Government LAND 400 new military vehicle design, build and maintenance project.

A GROWing interest

There was much interest in the joint G21 and Give Where You Live GROW (G21 Region Opportunities for Work) initiative, which aims to address areas of social disadvantage in our region at a number of levels, and in innovative ways.

Even in its infancy, the GROW project is attracting comment in Canberra. G21 Board member and Give Where You Live CEO Bill Mithen was invited back to Canberra to present on GROW to the Coalition's Social Policy Committee.

GROW was recently recognised in The Search, a prestigious national 'social impact' award. It was one of only 11 to be shortlisted from 49 applicant projects from across Australia.

We'll be providing much more detail about GROW in the near future with the launch of the full GROW business plan, including how you might wish to become involved. In the meantime, you may wish to view the GROW website: www.grow.g21.com.au

Several of our political leaders remarked that the G21 Board's visit to Canberra is unique — representing the united voice of five municipalities, business and community organisations. The G21 model is one that other regional areas of Australia envy.

G21's approach when in Canberra is not to seek hand-outs. Rather, the G21 Board seeks to inform so that, when available, resources can be well-directed, to where the region needs them most.

It's a tried and true recipe that has paid dividends to the G21 region over the years.