Good Morning {FIRST_NAME} {LAST_NAME}

As an important member of the broader G21 family, each month we will keep you informed of the key projects and activities of the G21 Alliance. G21 is the formal alliance of government, business and community organisations, working together to improve people's lives in the G21 region.

FEATURE ARTICLES
Full steam ahead for Northern Futures
Works underway for Western Distributor
Cruise ships provide support for new Yarra Street pier
V/Line rail commuters face unstable wait
Gforce wins contract to help the Barwon's young job seekers
Getting on with regional partnerships in Barwon
City of Greater Geelong achieves One Planet certification
$30,000 to support Colac's vulnerable youth
Major Boost for Golden Plains Mobile Library
Team G21 treks Surf Coast Trail
Geelong racecourse on track for facilities upgrade
Colac Otway's 10-day turnaround for minor permits
Unlocking regional Victoria
REGULAR SNAPSHOTS FEATURES
RDA BSW Committee update
Items of regional interest
Latest news from the G21 Pillars
Key Economic Indicators released
Media articles of interest to the G21 region
Welcome to new members
FEATURE ARTICLES
Full steam ahead for Northern Futures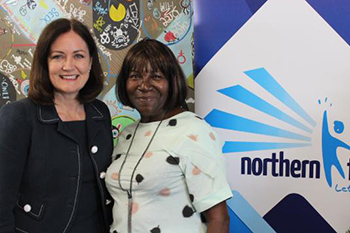 Northern Futures will continue to help disadvantaged jobseekers find long-term employment, following the Federal Government's adjustment of access guidelines.

Prime Minister Malcolm Turnbull has signed off on amendments that provide approval to the program as an alternative to Work for the Dole.

This follows weeks of work between the Northern Futures Board, G21, Federal Employment Minister Michaelia Cash and Member for Corangamite Sarah Henderson.

Northern Futures works in the community supporting and training young job seekers, including some of our region's most disadvantaged youth from Geelong's northern suburbs.

There were fears for the program's future as Job Active guidelines channelled people away from Northern Futures and into Work for the Dole. In November referrals had dropped from 70 a semester to 20.

Previously, only training programs which provided a minimum of certificate III training were approved for Work for the Dole. This change means that a non-government program which has a demonstrated ability to move job seekers into sustainable work can be accredited as an approved activity that can be undertaken instead.

Job Active providers across the Geelong region will now be able to channel their clients into Northern Futures.

Since establishment in 2011 Northern Futures has enrolled more than 800 people and placed more than 600 in employment at a success rate of 82 per cent. The program has won national acclaim and international support.
Works underway for Western Distributor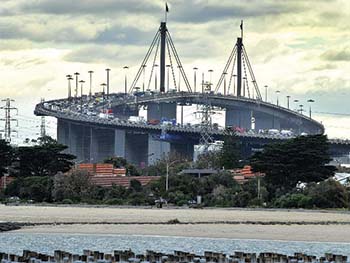 Works have begun on the $5.5 billion Western Distributor, with a dedicated new link for trucks to access the Bolte Bridge removing the need to merge or weave through traffic on the West Gate Freeway.

Reducing congestion around the West Gate Bridge to improve transport links to Melbourne is a G21 Priority Project.

The first section of the Western Distributor works includes:
Widening of Cook Street (Port Melbourne) from one to two lanes eastbound from Todd Road to the West Gate Freeway (in addition to the Port funded widening to two lanes westbound)

Creating a separate carriageway on the north side of the West Gate Freeway to provide direct access to the Bolte Bridge

A new on-ramp to the Bolte Bridge from Cook St that will be flatter, longer and with less curve to reduce the risk of truck roll-overs (and its resulting traffic gridlock).
Design work for future stages of the project is well underway with major construction to begin next year and completes in 2018.

An Environment Effects Statement (EES) for the project will be done to rigorously assess all potential social, economic and environmental impacts of the project. The effectiveness of proposed measures will also be evaluated.
Cruise ships provide support for new Yarra Street pier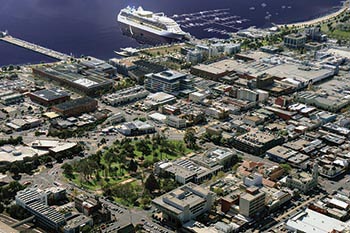 Two cruise ships making return visits to Geelong this month are a strong show of support for Geelong and the G21 region's tourism attractions.

The visits are further proof of the need for Geelong to have a new pier with dedicated cruise ship facilities. Redevelopment of the Yarra Street Pier is a G21 Priority Project.

The first of the two ships, the Seabourn Odyssey, docked last week, with 450 passengers and 330 crew. Later this month the larger Marina, with 1250 passengers and 800 crew, will berth. Both of these ships are returning to Geelong after visiting in 2015.

Geelong is clearly on the radar of the cruise industry, and visitors will have the opportunity to explore Geelong and the region sampling our best restaurants, cafes, food and wine.

The cruise industry is tourism's fastest growing sector and is worth more than $3.6 billion in Australia alone.

A dedicated terminal on a new Yarra Street pier would result in millions of dollars flowing into our region each year and would help secure a larger segment of the expanding Oceania and Pacific cruising market.
V/line rail commuters face unstable wait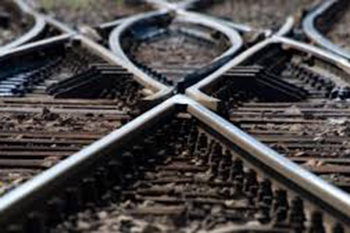 V/Line commuters should expect more rail disruption as the regional provider plans to replace Geelong rails in an effort to solve the wheel wear issue.

V/Line has been forced to pull its VLocity train from service because of a series of wheel faults that could cause a train to derail.

An interim service was scheduled to plan which services will run as trains and which will be replaced by coach.
However, there is now further uncertainty with weekend crews replacing 800 metres of track between North Melbourne and Southern Cross less than eight months after it was opened as part of the Regional Rail Link.

Several sections of track between Little River and Geelong also have to be replaced as part of the plan to address the wheel wear, with works expected in the next month.

With information forthcoming, we urge commuters to check the V/Line site to confirm which service will continue before they travel.
Gforce wins contract to help the Barwon's young job seekers
Geelong-based Gforce will help hundreds of jobless youth take a confident step towards employment after winning a four-year federal government contract to deliver `work ready' skills across the Barwon region.

The Transition to Work program is an exciting opportunity for young people, including early school leavers, and will provide intensive, pre-employment support to improve participants' work readiness in areas including interview skills, resume preparation, canvassing jobs, understanding employers' expectations and how to present themselves well to potential employers.

With youth unemployment topping 19% per cent in some areas of the G21 region, this will assist more than 300 young job seekers a year to develop valuable work-ready skills and find employment.

This initiative is a positive step to reducing the jobless rate and helping young people enjoy a more positive future.

Gforce's new Youth Employment division will co-ordinate the program out of its Geelong and Norlane offices, while The Gordon will be a key training provider.

Gforce has also benefited from the recent State Government announcement that, along with other Group Training Organisations, it will share in $9.3m of additional funding over three years. This money will help support more than 17,000 apprentices and trainees state-wide over the next three years.
Getting on with regional partnerships in Barwon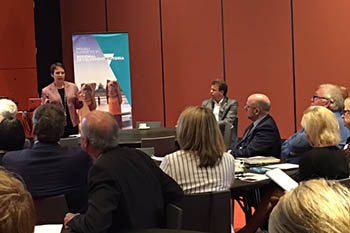 Minister for Regional Development Jaala Pulford has met with community leaders, business and local government in Geelong at a Regional Partnerships Stakeholder Forum.

G21 CEO Elaine Carbines, who was at the Forum, heard about the establishment of nine new Regional Partnerships that direct local priorities straight into the heart of Government decision-making, as set out in Victoria's Regional Statement released in November 2015.

A Barwon Regional Partnership will be established by July this year, with the Borough of Queenscliffe, City of Greater Geelong, Colac-Otway Shire and Surf Coast Shire invited to participate. Golden Plains Shire will work together with the Central Highlands Partnership.

The Partnerships will look at the strategic priorities communities have identified, such as G21's Priority Projects, and oversee implementation of the top priorities.

Nominations from business and community leaders to join the Regional Partnerships are now open. If you have a deep understanding of the opportunities and challenges facing the G21 region, and a demonstrated ability to collaborate across community and industry groups, click here.
City of Greater Geelong achieves One Planet certification
The City of Greater Geelong is just the third city in Australia to be awarded One Planet certification.

One Planet Living is an internationally recognised benchmark for sustainability. The program provides a framework and plan of action to make it easy, attractive and affordable for people to lead happy and healthy lives within Earth's finite resources - one planet's worth of resources.

Certification was based on Greater Geelong's performance and sustainability strategies and policies. A new Environment Management Strategy was adopted late 2015, which looks at decreasing greenhouse emissions and supporting renewable energy by:
fostering the development of a greener economy

enhancing natural areas and ecosystem health

sustainable urban and rural development

encouraging sustainable living.
A number of environmental projects also helped in gaining certification, including the 5 star Greenstar rated Geelong Library and Heritage Centre, implementation of the Low Carbon Growth Plan, new cycling facilities across Geelong and adoption of the G21 Principle Bicycle Network.

The City of Greater Geelong is committed to reaching One Planet Living targets by 2030, by progressing strategies towards achieving zero carbon emissions, zero waste and meeting the ten framework principles.
$30,000 to support Colac's vulnerable youth
A $30,000 grant will partner Colac Otway Shire with Colac Area Health to deliver a project that supports vulnerable youth in establishing a better understanding of young people's wellbeing, their concerns around violence and their sense of safety.

The 'Growing a Safe Community' project will provide young people with strategies to reduce levels of fear and anxiety and provide them with opportunities to contribute to decision making about implementing positive changes in their community.

Young people who are engaged through the two local secondary schools and community organisations will become the drivers of the project, identifying key safety and wellbeing concerns and providing youth-focussed solutions.

The project will link young people to a range of opportunities enabling them to continue participating in community life and decision making beyond the project.

The project is funded through a $30,000 Rural and Regional Local Government Youth Engagement grant and will run until June 2017.
Major Boost for Golden Plains Mobile Library
The State Government will deliver a $102,750 boost to the Golden Plains mobile library which will go towards a major refurbishment of the 16-year-old mobile library.

The mobile library is a vital resource for the nine communities it serves and this upgrade will deliver better service for residents. It will include new technology, lighting, flexible shelving, carpeting, window coverings, cabinetry, storage, exterior painting and improved disability access.

The mobile library stops at nine Golden Plain communities, including Cape Clear, Dereel, Enfield, Grenville, Haddon, Linton, Meredith, Rokewood, and Smythesdale.
Team G21 treks Surf Coast Trail
Team members from G21 will undertake an amazing challenge this April when they complete the Surf Coast Trek- a 40km trek along the Surf Coast Walk, starting in Airey's Inlet and finishing in Torquay.

It's an event that will help raise much needed funds for two of the region's most valued community organisations- Kids Plus Foundation and Give Where You Live.

The G21 team, consisting of Elaine Carbines, Janice Lane, Ray Ingwersen and Nada Malinac is fundraising for this event and would love for your support. You can donate here.
Geelong racecourse on track for facilities upgrade
Geelong Racecourse is set for a $21,000 facelift thanks to support from the State Government.

The upgrade will result in a major overhaul of the female jockey rooms valued at more than $12,500 and will include demolishing internal walls, new plaster and paint, better storage facilities and a new heating and cooling system.

Patrons will also be able to catch all the race-day action on 16 brand new flat screen televisions installed through-out the venue. Public amenities will also be freshened up with new fixtures and paintwork.
Colac Otway's 10-day turnaround for minor permits
Colac Otway Shire's planning department is introducing a fast track planning service to speed up the processing time for minor planning applications.

Recruitment is underway for a customer service/fast track officer, whose position would be dedicated to assessing fast track applications.

Straight forward planning applications that can be processed without advertising or the need for external referrals, including applications for front fences, repainting a heritage building and the construction of a shed, will be dealt with quicker than other planning applications.
Unlocking regional Victoria
Regional communities will be asked to contribute to a revamped regional development policy to be crafted by the Federal Government this year. The policy will set out a long term vision for regional Australia.

Grassroots input will be central to the plan, and over coming months engagement will take place with a diverse range of local community leaders, regional businesses, academic institutions and regional Australians.

These meetings will be a direct channel for the Government to hear first-hand ideas that will harness the potential of regional Australia to build a more prosperous future, and will focus on growing opportunities through nurturing innovation and investing in infrastructure.

Ongoing dialogue and partnerships with regional communities are crucial as the Australian economy responds to change.

REGULAR SNAPSHOTS FEATURES

RDA BSW Committee update

Regional Partnerships
On 17 November 2015 the Government released Victoria's Regional Statement , which outlined a new vision for the way that government works with rural and regional communities.

At the centrepiece of the Statement is the establishment of nine new Regional Partnerships to direct the priorities identified by regional communities straight into the heart of government decision making.

The Minister for Regional Development, the Hon Jaala Pulford MP, is seeking nominations from business and community leaders interested in representing their region on the Victorian Government's new Regional Partnerships.
Regional Partnerships will be established in Barwon, Great South Coast, Central Highlands, Wimmera Southern Mallee, Mallee, Loddon Campaspe, Goulburn, Ovens Murray and Gippsland and will be operational by 1 July 2016.

Each Regional Partnership will include a number of business and community leaders from which the chair and deputy chair will be selected. These roles present an opportunity to collaborate with your community, identify regional priorities, influence government and positively shape the outcomes of your region.

Experience working within and across sectors, such as tourism, food and fibre, health and education, is highly desirable.

Women, Aboriginal and Torres Strait Islander people, people with disability and people from Culturally and Linguistically Diverse backgrounds are strongly encouraged to apply.

To find out more and to apply, visit www.getonboard.vic.gov.au. Expressions of Interest close at 11:59 pm on 6 March 2016.

Please note, as Local Government CEO's have an automatic place on the relevant Regional Partnership, they are not required to submit an expression of interest application form. Further information on roles and probity requirements will be provided to CEOs at a later date.

For more information, please contact the RDA regional office on 03 5215 6000.

Items of regional interest

Entries for Geelong Business Excellence Awards now open!
The 'Powercor Geelong Business Excellence Awards' play a vital role in recognising and encouraging business excellence and community participation within the Geelong region. Information sessions for potential applicants, which helps you prepare an entry that gives you the best chance of winning, are running now until the end of March.

Nominations open for 2016 Victorian Manufacturing Hall of Fame!
With the theme "Towards Future Industries", the awards promote outstanding and forward thinking local businesses and individuals that are raising the bar in Victorian manufacturing. The nominations will be judged across a range of criteria that demonstrate best practice manufacturing, including innovation, adoption of advanced manufacturing technology, business and environmental sustainability, and skills development. Closes 29 February 2016.

Victorian Disability Awards open for nomination
The work of individuals, teams and organisations to improve the lives of people with a disability will be recognised by the sixth annual Victorian Disability Awards. There are seven categories, with a strong focus on empowerment and inclusion of people with a disability. Closes 24 March 2016.

Fins Up For Geelong Fishers To Attend Habitat Forum
Geelong Fishers for Fish Habitat Forum is a free event raising awareness of factors affecting fish habitat and populations. The forum will showcase fish habitat restoration projects happening in Victoria, particularly in Port Phillip Bay, the Barwon River and Gellibrand estuary. Club Cats, Captains Room, Simonds Stadium, Kilgour Street, Geelong on 27th February 2016.

Latest news from the G21 Pillars

Each of the eight G21 Pillars meets on a regular basis to discuss regional issues and progress regional projects. Click on the below links for the most recent Pillar activity report.

G21 Arts & Culture Pillar
G21 Economic Development Pillar
G21 Education & Training Pillar
G21 Environment Pillar
G21 Health & Wellbeing Pillar
G21 Planning & Services Pillar
G21 Sport & Recreation Pillar
G21 Transport Pillar

Click here to view the full list of G21 Pillar Projects

Key Economic Indicators released

Enterprise Geelong has released the January Key Economic Indicators which monitors the region's economy. The key points are:
| | | | |
| --- | --- | --- | --- |
| Economic Indicator | Data | Movement | Status |
| Unemployment rate | 3.6% | 0.0pts | - |
| Average weekly job advertisements | 55 | -35.3% | ↓ |
| New monthly online job advertisements | 867 | -25.3% | ↓ |
| Monthly domestic building activity | $71.5m | -2.9% | ↓ |
| Monthly new dwelling building approvals | 185 | -22.6% | ↓ |
| Monthly non-domestic building activity | 126.2m | +94.2% | ↑ |
| Quarterly mediam house price | $430,000 | +2.4% | ↑ |
Media articles of interest to the G21 region

G21 tracks articles within the region that discuss G21 and the region's Priority Projects.

Click here to view G21's Articles of Interest Jan - Feb 2016.

Welcome to new members

This month the G21 Board welcomes the following new members to G21 - Geelong Region Alliance:

Geelong Telephone Company
Pivot Summit
Vic Super

Membership of G21 is open to eligible businesses, organisations and government bodies associated with the G21 region. Details about eligibility for membership, annual fees and an application form may be viewed by clicking here.

This email has been designed to provide you, a valued member of the broader G21 Family, with a snapshot of the key projects and activities of the G21 Alliance over the past month. You have been included in the distribution list of this G21 Snapshots email, because you have an important role in improving people's lives in the G21 region as a Federal or State parliamentarian, Councillor, Regional Management Forum member, senior manager with regional Councils, senior manager with Regional Development Victoria, G21 Member, G21 Pillar participant, G21 Board member or member of the media (a list of over 700 individuals or organisations). If there are other people in your organisation or network that you think should be aware of this email please feel free to pass it on to them.

If you want further information or wish to bring something to our attention, please contact either of us at the numbers or addresses given below or refer to the G21 website at www.G21.com.au.






Cr Darryn Lyons
G21 Chairperson
chair@g21.com.au






Elaine Carbines
Chief Executive Officer
0437 202 300
ecarbines@G21.com.au