Dear G21 family member,

As an important member of the G21 community, each month we will keep you informed of the key projects and activities of the G21 Alliance. G21 is the formal alliance of government, business and community organisations, working together to improve people's lives in the G21 region.
FEATURE ARTICLES
STAKEHOLDER FORUM ENTHRALS
BARWON ASSEMBLY TO SHAPE PRIORITIES
COMCARE PUSH IN CANBERRA
STAGE SET FOR GPAC UPGRADE
COLAC OFFERS SHEEP SALES RELIEF
RIPPER NEWS FOR RIP CURL PRO
MULTILINGUAL SIGNS FOR GREAT OCEAN ROAD
MUNICIPAL MONITORS FOR GEELONG
BIG BASH BATS TO BLAZE AT KARDINIA
APOLLO BAY HARBOUR ATTRACTS INTEREST
FEEDBACK REQUIRED! COMPLETE THE G21 STAKEHOLDER SURVEY

REGULAR SNAPSHOTS FEATURES
RDA BSW COMMITTEE UPDATE
ITEMS OF REGIONAL INTEREST
LATEST NEWS FROM G21 PILLARS
KEY ECONOMIC INDICATORS
MEDIA ARTICLES OF INTEREST
G21 MEMBERSHIP
G21-Geelong Region Alliance's 2017 Stakeholder Forum was hailed an outstanding success, with eloquent and thought-provoking speakers enthralling a capacity 280-strong audience.

Award-winning journalist Leigh Sales topped the distinguished bill in style as she engaged with insight and humour across a spectrum of topics, including the changing face of news gathering and delivery in the smartphone era.


The ABC 7.30 anchor, mum and former Washington correspondent talked about managing her busy daily work and family demands, described the challenges of interviewing politicians and experiences interviewing celebrities including Harrison Ford and Julie Andrews.

She also described real leadership she has witnessed in the field, not from people of eminence or high office but unsung community contributors.

Ms Sales said in the new world of social media everyone has a brand, and in an increasingly hungry 24-hour news cycle opinion seems to carry more currency than fact.

She closed with emphasis that kindness, community and facts still matter.

Other speakers encored in style during the day at RACV Torquay Resort, with several voicing emphatic support for a federal City Deal for Geelong and the Great Ocean Road, and praise for G21's concise and well-planned regional leadership and advocacy.

Speakers included:

Victorian Commissioner for Gender and Sexuality Ro Allen, who outlined realities and challenges faced by LGBTI communities, touching on areas including workplace inclusion and active discrimination in sport.

Federal Labor Leader Bill Shorten celebrated the historic importance of the Great Ocean Road as an inspiring example of collaboration, talked about the luck we make for ourselves as a region with education and skills as cornerstones. He said Federal Labor is sharply aware of G21 region priorities.

Member for Corangamite Sarah Henderson, representing Prime Minister Malcolm Turnbull emphasised her commitment to regional priorities and said her next challenge is to deliver a City Deal for Geelong.

Federal Greens Leader Richard Di Natale stated commitment to sell the hidden gem of Geelong to the world as a modern coastal city and strongly endorsed the G21 GROW project targeting place-based disadvantage.

Regional Australia Institute CEO Jack Archer strongly endorsed a City Deal for Geelong and the Great Ocean Road and affirmed G21 as one of the best in the business for organised advocacy in Australia.

Panellists Lizzie Corke of the Conservation Ecology Centre, Warick Brown of Surf Coast News, Matt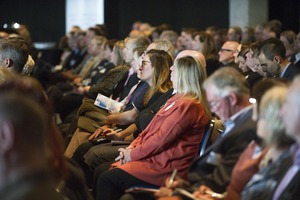 McDonald of Searoad Ferries and Christine Smith of Great Ocean Stays discussed challenges and opportunities for the Great Ocean Road visitor economy, emphasising need to entice visitors to stay longer with activities, wow factors and provision of opportunities and accessibility for people with disabilities.

G21 CEO Elaine Carbines outlined G21 priorities, highlighted state and federal funding achievements and pointed to potential for City Deal investment for Geelong and the Great Ocean Road. Ms Carbines also decried the poor internet capacity of many of our region's schools and vowed to continue to fight on to have the issue addressed by the State Government.

G21 chair Bill Mithen outlined the mission of the G21-Give Where You Live Foundation GROW project, highlighting the importance of local procurement and for businesses to become signatories to the GROW compact.

Visit bit.ly/2fhGhKJ to view an album of photographs from the Stakeholder Forum and bit.ly/2bM8lx2 to access recordings of presentations.

BARWON ASSEMBLY TO SHAPE PRIORITIES
A second Barwon Regional Assembly will convene tomorrow (September 14, 2017) to refine major project priorities for the region, with schools digital connectivity remaining a major issue.

Schools across G21 region have poor internet connectivity compromising learning. Last year's Assembly Partnership stamped addressing of the issue as its number one priority.

The State Government has since announced rollout of post-Budget digital initiatives, including Barwon region schools being the first to receive new virtual conferencing systems, but improving of broadband connectivity remains unresolved.

G21-Geelong Region Alliance chief executive officer Elaine Carbines has emphasised the issue is still of critical importance, bringing educational opportunities for next-generation leaders up to 21st Century expectations.

Ms Carbines said if the Barwon Regional Partnership process is to have credibility as a means for the community to voice its priorities to the State Government, the priorities must be regarded seriously by the government.

Other leading priorities established last year included:
Revitalisation of central Geelong;

Investment in the Great Ocean Road visitor economy;

Enabling children through education;

Securing jobs for the future;

Improving transport networks;

Protecting natural assets;

Transforming industries; and,

Building safe and inclusive communities.
The State Government has since announced $11.7 million in upgrades for central Geelong and more than $500 million for improvement of regional roads including the Great Ocean Road.

Registrations for tomorrow's assembly closed on September 11.

COMCARE PUSH IN CANBERRA
G21 CEO Elaine Carbines is part of a delegation to Canberra this week advocating relocation of federal agency Comcare to Geelong.

The City of Greater Geelong is leading the mission to meet key parliamentary advisers and Member for Corangamite Sarah Henderson, seeking to highlight the city's growing profile and suitability as a social insurance national hub.

Comcare is Federal Government workplace insurer and regulator, overseeing workplace health, safety and rehabilitation. It employs about 650 people nationally.

Geelong Chamber of Commerce, Committee for Geelong and Transport Accident Commission representatives are also part of the delegation.

STAGE SET FOR GPAC UPGRADE
Artists have until September 27 to register interest in creating a standout work to adorn the redeveloped Geelong Performing Arts Centre.

With dramatic $38.5 million building expansion and upgrading due to start this month, leaders are calling for creation of an artwork for the building's new eastern façade.


The commissioned work would complement and be integrated into the architectural form of the redevelopment, acting as a marker for GPAC and the cultural precinct and aiming to convey sense of Geelong's dynamic emerging culture.

After expressions of interest close on September 27, 2017 three artists will be shortlisted and receive honorariums of $3000 to develop their ideas by November 16.

The preferred work will be selected in December, with a budget between $300,000 and $500,000. Interested artists can visit http://bit.ly/2wUGgE8 for further information, or email queries or expressions of interest to CVpublicart@ecodev.vic.gov.au

Developing of GPAC is a key element of G21's Geelong Cultural Precinct Priority Project.

The redevelopment, forecast to create 100 jobs, will include a new Ryrie St façade, improved access to the Playhouse Theatre, new foyers, studios and bar and new spaces for creative practitioners and organisations.

It will reveal and feature an historic stone church which has been largely hidden on the site since 1920.

Kane Constructions will complete the work. The company's previous Geelong projects include Simonds Stadium, Geelong Library and Heritage Centre and the Playhouse Theatre.

COLAC OFFERS SHEEP SALES RELIEF
Colac Regional Saleyards will launch new regular sheep and lamb sales from Monday (September 18, 2017), in response to closure of Geelong's historic yards.

Colac Otway, Geelong and Surf Coast municipalities have worked together to provide the alternative for many affected farmers, and G21 region municipal leaders have urged them to support the sales during a trial period and beyond.

The City of Greater Geelong closed Geelong Saleyards at the end of August due to long-running safety and maintenance issues. The closure affected many peri-urban operators transacting small sale lots.

Colac Otway Shire Mayor Chris Potter said his municipality was pleased to be in a position to provide the service, and excited to be diversifying the sale offering at Colac.

The saleyards have 60 outdoor and 20 under-cover sheep selling pens, as well as 138 under-cover cattle pens.

Colac Regional Saleyards are identified in the G21 Regional Growth Plan as the preferred option for a regional saleyards facility.

The new fortnightly sheep and lamb sales will start at 10am, with sheep deliveries between 3pm and 6pm on preceding Sundays or 7am and 9am on sale days. All lots must have accompanying sheep vendor declarations.

People can call Colac Regional Saleyards superintendent Graeme Riches on 0407 092 195 for more information.

The saleyards canteen will open from 7am on Monday. Read more here.

RIPPER NEWS FOR RIP CURL PRO
Ring the bell, the world-class Rip Curl Pro surfing contest will stay at Bells Beach until at least 2022.

The Victorian Government announced commitment to stage the event for a further five years, ensuring tens of thousands of visitors would continue Easter pilgrimages to the famous setting to see the world's best surfers in action on the waves.

The Rip Curl Pro is the world's longest-running surfing contest and third leg of the world championship tour.
About 30,000 people attended this year's event and millions of fans tuned in worldwide to watch telecasts.

MULTILINGUAL SIGNS FOR GREAT OCEAN ROAD
New multilingual signs will help international tourists safely navigate the Great Ocean Road.

In an Australian first, trucks involved in work on the road are will display travel advice in Mandarin and English.

Multilingual electronic signs can display 25 different messages and will be used during peak roadwork periods.

More than seven million people travel the Great Ocean Road each year, with the largest proportion of tourists visiting from China.

The Victorian Government announced commitment to the plan, drawn from the example of a road worker using his phone and Google Translate to communicate with some international tourists.

The Victorian Government has invested $53 million to help make the Great Ocean Road safer, with roadside remediation works including rock netting and retaining walls.

That investment is in addition to a $50 million state and federal program of capital works and maintenance. Great Ocean Road maintenance and investment is a G21 priority project.

MUNICIPAL MONITORS FOR GEELONG
Two municipal monitors will oversee delivery of good governance by the City of Greater Geelong's new council.

The Victorian Government announced appointment of Jude Munro as primary monitor and Peter Dorling as supporting monitor.

They will oversee and aid implementation of recommendations from a state Commission of Inquiry, workplace culture review, good governance framework, transformation program, strategic plans and 30-year vision. Read more here.

Ms Munro is former Brisbane City Council chief executive officer and was a commissioner for the Commission of Inquiry into the council.

Mr Dorling is a former executive director of the Committee for Geelong and is now a state-appointed administrator of the Geelong council.

The monitors will start work after a new council is elected in October and will continue until the council's 2020 election.

BIG BASH BATS TO BLAZE AT KARDINIA

Bats will be blazing as the Melbourne Renegades take on the Sydney Sixers at Kardinia Park in a T20 Big Bash cricket double header.

Men's and women's teams will clash in the first regional fixture of its kind on January 3, 2018 enhancing Simonds Stadium's national profile and providing a spectacle for fans from across the region and beyond, including many summer holidaymakers.

The Victorian Government announced the scheduling coup and international superstars including Dwayne Bravo, Ashleigh Gardner, Nathan Lyon and Cameron White are likely to be part of the big show, to be broadcast to 147 countries.

The Renegades will also host a week-long training camp in Geelong and community activities leading into the clash, with fans able to meet players at a family day at Kardinia Park on December 10, 2017.

Developing Simonds Stadium for hosting of national and world-class sport is a G21-Geelong Region Alliance Economic Development Pillar project.

APOLLO BAY HARBOUR ATTRACTS INTEREST
Colac Otway Shire will seek expressions of interest in Apollo Bay harbour development, after market testing revealed moderate private sector commercial interest.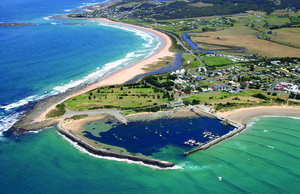 Developers and investors will now be able to submit proposals with more details about projects possible within the precinct's existing planning controls.

Market testing launched in February revealed commercial development interest between $2 million and $10 million.
Development of the harbour is a G21 Planning and Services Pillar project.

Community members have indicated they would like the zone to include a publicly accessible aquatic and wellbeing centre and public infrastructure work including installation of boardwalks, improvements to car parks public toilets and interpretive signs, but no accommodation or hotels.

FEEDBACK REQUIRED! COMPLETE THE G21 STAKEHOLDER SURVEY
G21 welcomes feedback on how it is doing its job.

Please help us by taking only a couple of minutes to complete the 2017 survey at

https://www.surveymonkey.com/r/G21survey2017

Responses will help increase G21's value to you and the region. Thanks in anticipation!


REGULAR SNAPSHOTS FEATURES
Australian Government response to the Independent review of the RDA program

Minister for Regional Development Fiona Nash recently announced the RDA program reforms after careful consideration of the findings and recommendations contained in the 2016 independent review of the Regional Development Australia (RDA) program.

The minister announced a number of reforms to the program. These reforms will be implemented over the coming months.

All RDA committees will move forward under a new charter which focuses on growing strong and confident regional economies that harness their competitive advantages and drive economic growth.

The key RDA program reforms are:
RDA committees will operate under a new charter that focuses their work on facilitating economic development by creating local jobs, attracting investment and driving innovation;

The four Melbourne RDA committees will be consolidated into one, consistent with other capital city RDA committees. The existing boundaries of all other RDA committees are expected to be maintained;

Geographic coverage of the RDA network will be expanded to the external territories of Christmas, Cocos (Keeling) and Norfolk Islands and Jervis Bay Territory;

A more rigorous merit-based RDA chair, deputy chair and committee member appointment process will be implemented; and,

New performance measures will be established to ensure that the outcomes of RDA committee activities are properly monitored and measured.
For more information on the new RDA charter please visit the RDA website

https://rda.gov.au/files/Charter-for-RDA-20170816.pdf
Please contact the RDA regional office on 03 5215 6000 for any further information.
Click here to visit the RDA Committee website
Click here to follow RDA Committee on Twitter
TECH SCHOOL FORUM

The vision and mission of Geelong's new Tech School adjoining The Gordon Institute will be focus of a community forum on Friday (September 15, 2017).

Presenters will include school director Leanne Collins, Graeme Robertson of the Department of Education and Training Tech Schools Division and representatives from other schools and industry.

Work on the new school is underway as part of $20 million developments at The Gordon.

The forum, in The Gordon Gallery from 9am to 10.30am, will aim to explain the role and position of the school, including how it will work with local secondary schools and industry to develop programs.

People with inquiries can call Leanne Collins on 5225 0441.

LOOKING FOR REGIONAL ONLINE HEROES

Growing your business via use of the internet? You could be in line to become a Regional Australia Online Hero.

A competition being run by the Regional Australia Institute and Google aims to celebrate small and medium-sized businesses kicking goals in the domain.

Operators of businesses judged Australia's top 10 Regional Online Heroes will be flown to Google's Sydney headquarters for a unique, money-can't-buy masterclass, with flights and accommodation paid.

Being a Regional Online Hero could mean anything from using online marketing to attract new customers, to expanding a traditional bricks and mortar store, to selling online or managing a team across borders using online productivity tools.

Only businesses in regional Australia with less than 200 employees will be eligible.

People can visit http://bit.ly/2eKIMob for more information and entries close on October 8.

HUMANS IN GEELONG EXPO

Passionate local people making a difference will share their stories as part of a Humans in Geelong Expo on October 8, 2017.

Organisers promise a day of uplifting presentations, thought-provoking workshops, music, laughter, connection and live performances for all ages.

The expo will be at Geelong's Deakin Waterfront Café from 10am to 3pm.

Presenters will include Australia's only thanatologist Peter Roberts who plays harp for the ill, radio presenter and community contributor Roxie Bennett, 2016 Victorian Young Achiever of the Year Sarah Kenworthy and Pat Murnane of Geelong Connected Communities.

People can visit http://bit.ly/2gWSnwv for more information.

Latest news from the G21 Pillars
Each of the eight G21 Pillars meets on a regular basis to discuss regional issues and progress regional projects. Click on the below links for the most recent Pillar activity report.

G21 Arts & Culture Pillar
G21 Economic Development Pillar
G21 Education & Training Pillar
G21 Environment Pillar
G21 Health & Wellbeing Pillar
G21 Planning & Services Pillar
G21 Sport & Recreation Pillar
G21 Transport Pillar
Click here to view the full list of G21 Pillar Projects

Key Economic Indicators released

Enterprise Geelong has released the June/July Key Economic Indicators which monitors the region's economy. The key points are:
| | | | |
| --- | --- | --- | --- |
| Economic Indicator | Data | Movement | Status |
| Unemployment rate | 5.0% | -0.7pts | ↑ |
| Average weekly job advertisements | 92 | +37.3% | ↓ |
| New monthly online job advertisements | 1,616 | +12.0% | ↑ |
| Monthly domestic building activity | $79.1m | -1.5% | ↓ |
| Monthly new dwelling building approvals | 196 | -0.5% | ↓ |
| Monthly non-domestic building activity | $84.9m | +81.7% | ↑ |
| Quarterly mediam house price | $475,000 | +3.3% | ↑ |
Media articles of interest to the G21 region

G21 tracks articles within the region that discuss G21 and the region's Priority Projects.

Click here to view G21's Articles of Interest August-September 2017.

G21 Membership
Membership of G21 is open to eligible businesses, organisations and government bodies associated with the G21 region. Details about eligibility for membership, annual fees and an application form may be viewed by clicking here.
This email has been designed to provide you, a valued member of the broader G21 Family, with a snapshot of the key projects and activities of the G21 Alliance over the past month. You have been included in the distribution list of this G21 Snapshots email, because you have an important role in improving people's lives in the G21 region as a Federal or State parliamentarian, Councillor, Regional Management Forum member, senior manager with regional Councils, senior manager with Regional Development Victoria, G21 Member, G21 Pillar participant, G21 Board member or member of the media (a list of over 700 individuals or organisations). If there are other people in your organisation or network that you think should be aware of this email please feel free to pass it on to them.
If you want further information or wish to bring something to our attention, please contact either of us at the numbers or addresses given below or refer to the G21 website at www.G21.com.au.






Bill Mithen
G21 Chairperson
chair@g21.com.au





Elaine Carbines
Chief Executive Officer
0437 202 300
ecarbines@G21.com.au