Friends of the G21 region,

e-News provides you with a sense of the important issues, activities and proposed projects within the G21 region.
#Let'sDeal! for Geelong and Great Ocean Road
An exciting transformative Federal Government City Deal for Geelong and the Great Ocean Road now appears firmly on the agenda, bringing a welcome focus on visitor economy.

Victorian Premier Daniel Andrews has again pressed the case in a letter to Prime Minister Malcolm Turnbull, and Federal Tourism Minister Steven Ciobo has expressed strong confidence that the governments can work together on a package.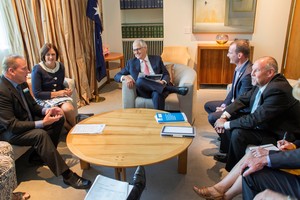 The #Let'sDeal! tagline is now gaining traction in social media, with four G21-Geelong
Region Alliance priority projects in line to gain significant support.

City Deals require agreement and commitment on major funding priorities and plans of action from all levels of government, and communities

The Geelong Advertiser reported Mr Andrews' latest pitch to Mr Turnbull, which followed an initial approach in December, saying his government stood ready to partner on the state's first City Deal.

He hailed Geelong as a 'shining example of the transformation possible in a regional city' and named central funding projects: Geelong Convention and Exhibition Centre, Shipwreck Coast Master Plan, Geelong Waterfront Safe Harbour Project and Central Geelong Revitalisation.

G21 chairman Bill Mithen and chief executive officer Elaine Carbines talked with Mr Turnbull about a potential City Deal during a G21 delegation to Canberra in March.

G21 continues to provide full and active support for a City Deal including Geelong and the Great Ocean Road, and acknowledges work already undertaken by Federal Member for Corangamite Sarah Henderson, State Parliamentary Secretary to the Treasurer Daniel Mulino, other local parliamentarians, councils and regional bodies.

"We welcome this latest exciting progress," G21-Geelong Region Alliance chief executive officer Elaine Carbines said.

"This is such an important opportunity for our region and we particularly welcome focus on the visitor economy through the key projects named by Mr Andrews.

"It is great to see such strong, broad support for a Geelong City Deal, and working together with a united voice will be crucial as we progress."

G21 supports the Shipwreck Coast Master Plan, as part of its Great Ocean Road priority project.

The Master Plan calls for $340 million in public and private infrastructure upgrades along 28 kilometres of the road from Princetown to Bay of Islands, including the Twelve Apostles, Port Campbell and the Blowhole. Though the stretch of road is outside G21 region it is central to the road's economy and tourist experience.

The Federal Government has already issued City Deals for Townsville and Launceston and is working on another for western Sydney.

Pictured: Prime Minister Malcolm Turnbull, centre, with Member for Corangamite Sarah Henderson and members of a G21-Geelong Region Alliance delegation to Canberra, from left, Surf Coast Shire councillor Brian McKiterick, G21 chair Bill Mithen and Colac Otway Shire Mayor Chris Potter.


Baptcare shines in Norlane

Important and affirming news this month with opening of the first stage of Baptcare Affordable Housing Norlane Integrated Community Project.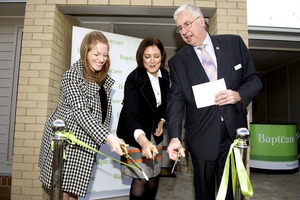 Single parents and families living in refuge, escaping violence or seeking asylum in Australia are among tenants already finding sanctuary as a result of the project, with 20 of 52 new affordable housing units now built.

The $43.5 million Norlane project, an Eagle Parade, will also include a 90-bed aged care facility, community hub, gym, playground and café.

Investment in and support for the G21 Region Opportunities for Work (GROW) program – launched by G21-Geelong Region Alliance and Give Where You Live Foundation to target place-based disadvantage – helped leverage $7.25 million in Federal Government funding for the Baptcare project.

Norlane is one of Geelong's most vulnerable suburbs.

Addressing Disadvantage remains a G21 priority project.

Pictured: Baptcare acting chief executive Kate Barber, left, Member for Corangamite Sarah Henderson and Baptcare chairman Philip Curtis formally open Norlane Integrated Community project stage one.


Visitor economy boost

The Great Ocean Road visitor economy has been focus of more good news, with a unique ecotourism attraction gaining local government approval, and qualifying as one of four businesses gaining Federal Government funding.

Colac Otway Shire has issued a green light for the Cape Otway Conservation Ecology Centre's ecotourism development, which will offer people immersive experience of Otways flora and fauna on a specifically nurtured 20 hectare property.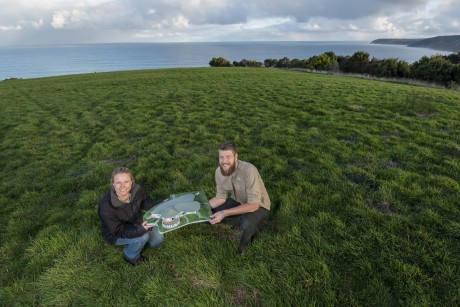 Small, guided tour groups will be able to observe koalas, potoroos, bandicoots, kangaroos, birdlife and more in natural environs, set against the backdrop of the Southern Ocean.

Profits from the new attraction, to be the first of its kind on the Great Ocean Road, will be invested into the Conservation Ecology Centre's research and activities.

The venture is forecast to generate at least 45 jobs during construction and 30 new full-time jobs ongoing.

Federal Trade, Tourism and Investment Minister Steven Chiobo announced $557,962 funding for planning, design and business case development for the Wildlife Wonders project, to be matched by private investors through the Conservation Ecology Centre

Mr Chiobo also announced funding for: The Platypi Chocolate Project, $300,000 for a new café in Forrest; The Provenance Cellar Door project at Fyansford Paper Mill, $332,000 for construction of a working winery and cellar door; and, Wye Beach Hotel $450,000 for expansion enabling hosting of conferences and functions.

Each of the Federal Government commitments will be matched by private investment.

Pictured: Conservation Ecology Centre founder Lizzie Corke with administration and ecolodge manager Stephan Ras. Photo: Doug Gimesy.


G21 Stakeholder Forum, get your tickets now!

Cape Otway Conservation Ecology Centre chief executive Lizzie Corke will be a panellist speaking about the Great Ocean Road visitor economy at G21's annual stakeholder forum on September 1.

Tickets for the popular and acclaimed forum are now on sale here, and the guest list includes:
Keynote speaker Leigh Sales, Walkley award-winning journalist and anchor of ABC TV flagship show 7.30;

Federal Opposition Leader Bill Shorten;

Australian Greens Leader Senator Richard Di Natale;

Federal Member for Corangamite Sarah Henderson;

Regional Australia Institute chief executive officer Jack Archer; and,

Victoria's first Commissioner for Gender and Sexuality Rowena Allen.
Ms Corke will be joined by Matt McDonald of Searoad Ferries, Warick Brown of the Surf Coast Times and Christine Smith of Great Ocean Stays reflecting on building business success on the Great Ocean Road.

The G21-Geelong Region Alliance Stakeholder Forum will be at RACV Torquay Resort. Book here.


Membership of G21 is open to eligible businesses, organisations and government bodies associated with the G21 region. Details about eligibility for membership, annual fees and an application form may be viewed by clicking here.