Friends of the G21 region,

e-News provides you with a sense of the important issues, activities and proposed projects within the G21 region.
Taskforce to target Great Ocean Road growth
A new expert taskforce will protect and grow the Great Ocean Road and its economy in a move long-advocated by G21-Geelong Region Alliance.

Tourism and Major Events Minister John Eren announced appointment of the taskforce at Barwon Regional Assembly, heralding a new era in fostering investment and generating tourism along the world-famous attraction.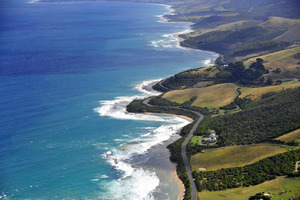 Its first role will be to identify what is and is not working in creating opportunities, with an initial report to be delivered to the State Government before the end of the year and a final report in 2018.

Its overarching mission will include boosting visitation, to support local businesses and employment. Read more here.

Providing focused management of Great Ocean Road issues and opportunities is a key element of G21's Great Ocean Road Priority Project.

G21 chief executive officer Elaine Carbines is a member of the taskforce, alongside former Victorian Coastal Council chair Diane James, Great Ocean Road Tourism chair Wayne Kayler-Thomson and chief executives from five councils.

Former Victorian Transport Ministers Terry Mulder and Peter Batchelor jointly chair the group, which will be backed by $1.3 million State Government investment including $80,000 for local councils to accelerate planning applications.

G21 strongly welcomes increasing focus on Great Ocean Road investment and management, need for infrastructure and recognition of the importance of the visitor economy.

The Alliance's Great Ocean Road Priority Project endorses the Shipwreck Coast Masterplan, which is calling for $340 million in public and private infrastructure upgrades.

The Great Ocean Road is also figuring strongly in ongoing talks on a potentially transformative Federal City Deal for Geelong and region.

Speakers shine at G21 Stakeholder Forum

G21-Geelong Region Alliance's annual Stakeholder Forum maintained its high reputation with a sellout audience absorbing messages from a blend of acclaimed speakers.

Led by keynote presenter ABC 7.30 anchor Leigh Sales they covered a diverse range of topics from international, national and regional politics, to gender and sexuality, regional development and Great Ocean Road tourism.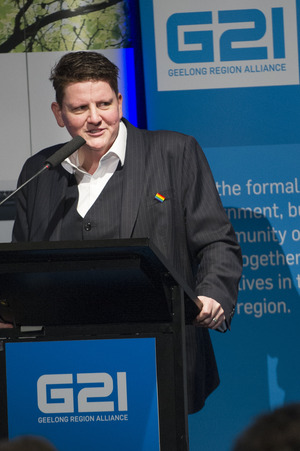 Several voiced emphatic praise for G21's concise and well-planned regional leadership and advocacy, and support for a potential federal City Deal for Geelong and the Great Ocean Road.

The quality of the speakers testified to the forum's profile and 280 people attended the event at RACV Torquay Resort.

Ms Sales topped the bill in style, reflecting on career experiences, the increasingly hungry 24-hour news cycle in which opinion seems to carry more currency than fact, and examples of true leadership she has witnessed in the field.

Other speakers were:
Victorian Commissioner for Gender and Sexuality Ro Allen (pictured);

Federal Labor Leader Bill Shorten;

Member for Corangamite Sarah Henderson, representing Prime Minister Malcolm Turnbull;

Federal Greens Leader Richard Di Natale;

Regional Australia Institute CEO Jack Archer;

Panellists Lizzie Corke of the Conservation Ecology Centre, Warick Brown of Surf Coast News, Matt McDonald of Searoad Ferries and Christine Smith of Great Ocean Stays discussing challenges and opportunities for the Great Ocean Road economy.

G21 chief executive officer Elaine Carbines; and,

G21 chair Bill Mithen.
People can visit http://bit.ly/2bM8Ix2 to listen to forum presentations and http://bit.ly/2fhGhKJ to view a gallery of photos.

Join G21's regional mission

Care about G21 region? Consider playing part in its sustainable development by nominating your organisation as a member of G21-Geelong Region Alliance.

G21 presents a clear and influential voice working with governments, business and community to improve the lives of people within Colac Otway, Golden Plains, Greater Geelong, Queenscliffe and Surf Coast municipalities.

It works as a forum for regional issues, leads research, consultation and planning, and critically supports the delivery of major projects in alignment with the region's strategic plan.

G21 already prides itself on the diversity of its membership base, which encourages a balanced approach to regional planning and magnifies its influence at all levels of government. Broadening the membership base can only amplify its voice.

Members are invited to participate in events and forums and receive regular updates on G21 activities, priorities and objectives.

Membership of G21 is open to eligible businesses, organisations and government bodies associated with the G21 region. Details about eligibility for membership, annual fees and an application form may be viewed by clicking here.