Dear G21 family member,

As an important member of the broader G21 family, each month we will keep you informed of the key projects and activities of the G21 Alliance. G21 is the formal alliance of government, business and community organisations, working together to improve people's lives in the G21 region.
FEATURE ARTICLES
GEELONG SAFE HARBOUR PROJECT SAILING
G21 COUNCIL CEOs BRIEF FEDERAL POLICY ADVISERS
NEW DIRECTORS ELECTED TO G21 BOARD
NEW ERA FOR CITY COUNCIL
NEW MAYORS AT SHIRES
SALUTE, AND WELCOME FOR CEOs
$5M BOOST FOR SHIPWRECK COAST MASTER PLAN
GEELONG TO SHINE ON WHITE NIGHT
ADVANCED MANUFACTURING WINS
JOBS HOPE WITH LAND 400
HELP BUILD WEST GATE PROJECT
BANNOCKBURN HEART OPERATION
OUR PLACE TO SHINE AGAIN
REGULAR SNAPSHOTS FEATURES
RDA BSW COMMITTEE UPDATE
ITEMS OF REGIONAL INTEREST
LATEST NEWS FROM THE G21 PILLARS
KEY ECONOMIC INDICATORS
MEDIA ARTICLES OF INTEREST TO THE G21 REGION
G21 MEMBERSHIP
FEATURE ARTICLES
GEELONG SAFE HARBOUR PROJECT SAILING
Good tidings for G21 region with confirmation the Geelong Waterfront Safe Harbour redevelopment will proceed, following further funding of $3.5 million from the State Government.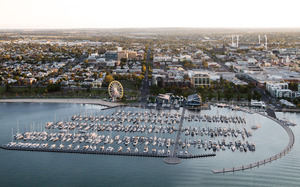 The mission to upgrade Royal Geelong Yacht Club (RGYC), Victorian Sailing School (VSS) and precinct is a G21 Priority Project, which will significantly enhance the precinct's major events potential and regional visitor economy.

The $3.5 million, from the School Building Authority, will directly fund redevelopment of the Sailing School, which is a Newcomb Secondary College campus. The State Government has previously committed $4m to the overall safe harbour project, Royal Geelong Yacht Club $3 million and City of Greater Geelong $3 million.

The first stage of the project will include:
A new, shared facility for the RGYC and Newcomb Secondary College to use for Off The Beach sailing, junior training and VSS education programs;

A floating breakwater and promenade arcing around the north-west perimeter of the harbour precinct;

29 new floating berths; and,

Public access and facilities which will be detailed in the final design.Delighted community leaders joined
Deputy Premier and Education Minister James Merlino for announcement of the latest allocation and issuing of a green light for stage one work.
G21 COUNCIL CEOs BRIEF FEDERAL POLICY ADVISERS
CEOs from G21 member councils briefed high-level Federal Government departmental officials in Canberra on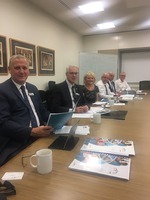 Monday (November 20, 2017) on the region's infrastructure and development priorities.

The G21 delegation aimed to ensure that key policy advisers are well informed of the challenges and opportunities facing the region

The delegation followed on from the full G21 board delegation to Canberra in March this year, which met with the Prime Minister and Opposition Leader and a range of ministers and shadow ministers.

The delegation is part of a long-term G21 strategy to reinforce the merits and importance of key projects with decision makers in Canberra, both politicians and officials.

Issues discussed during six meetings included a City Deal for Geelong and the Great Ocean Road, Avalon Airport growth, NBN rollout, Geelong Convention Centre, Apollo Bay Harbour precinct, Geelong Waterfront Safe Harbour, Geelong Performing Arts Centre redevelopment and Geelong Northern ARC masterplan development.
NEW DIRECTORS ELECTED TO G21 BOARD
Three new elected directors have joined G21's board during the Alliance's annual meeting, which celebrated achievements during the past year.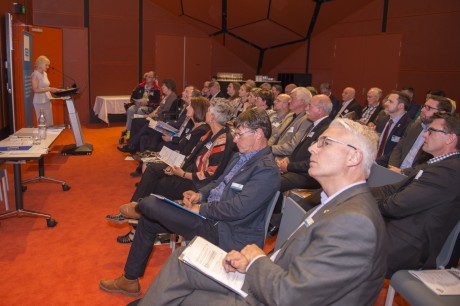 Damian Armour, chief executive officer of Epworth Geelong, Tracey Slatter, Barwon Water managing director and Brett Winter, GeelongPort chief executive officer, filled vacated posts.

New Surf Coast Mayor David Bell
also joined the board and a City of Greater Geelong representative is to be appointed.

Presentations and tributes were made to outgoing board members, Health and Wellbeing and Primary Care Partnership director Janice Lane, Peter Dorling, Cr Brian McKiterick, Rod Nicholls, Jason Trethowan, Bernadette Uzelac and Sue Wilkinson.

CEO Elaine Carbines highlighted G21's many achievements for the year and commended the contributions of many Alliance members and their communities.

"G21 success is your success," Ms Carbines said.

The latest G21 Report to the Region publication was also distributed and is now available online here.

The Report includes a 'year in review' highlighting achievements and events, feature stories, details of priority and pillar projects, and pillar reports.
NEW ERA FOR CITY COUNCIL
G21-Geelong Region Alliance congratulates and will brief councillors elected to chart a new era for the City of Greater Geelong.

Results of the first city election following a period of administration were formalised on Monday November 6, 2017 and G21 chief executive officer Elaine Carbines welcomed the blend of experience and fresh faces on the 11-member council.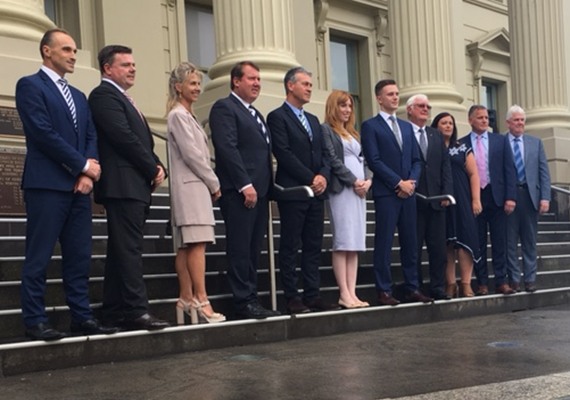 G21 leaders will be among first delegations to brief councillors, focusing on the Alliance's work and the importance of working together strategically as a region.

Cr Bruce Harwood was elected Mayor by unanimous vote at a special public meeting on November 14, 2017, following formal swearing-in of councillors, with Cr Peter Murrihy unanimously elected deputy mayor.

The full council comprises: Anthony Aitken, Stephanie Asher, Kylie Grzybek, Bruce Harwood, Eddy Kontelj, Sarah Mansfield, Jim Mason, Pat Murnane, Peter Murrihy, Ron Nelson, Trent Sullivan.

Installation of the new council heralds a new era for the municipality following State Government dismissal of the previous council in April 2016, a period of governance by administrators and recommendations from an Australian-first citizens' jury.

The State Government formally endorsed in June 2017 changes to the council structure, with passing of the City of Greater Geelong Amendment Bill.

The council was reduced from 13 to 11 councillors, four wards replaced 11 and the directly-elected mayoral model was scrapped.

Pictured from left, councillors Eddy Kontelj, Anthony Aitken, Stephanie Asher, Ron Nelson, Mayor Bruce Harwood, Sarah Mansfield, Trent Sullivan, Jim Mason, Kylie Grzybek, Deputy Mayor Peter Murrihy, Pat Murnane. Picture: City of Greater Geelong.
NEW MAYORS AT SHIRES
Three other G21 municipalities have welcomed new mayors, with elections of Cr Helena Kirby at Golden Plains Shire, Cr Joe McCracken at Colac Otway Shire and Cr David Bell at Surf Coast Shire.

Cr Kirby has replaced Cr Des Phelan to serve a one-year term and is in her third term on Golden Plains council.

The Rokewood resident and small business operator said she intended to lead an inclusive and collaborative council.

She paid special tribute to her predecessor Cr Des Phelan, who has served five terms as Golden Plains mayor during his many years of contribution to Golden Plains Shire.

Cr McCracken, at 29, is the youngest councillor to have been elected Colac Otway Shire mayor.

A teacher, he replaces Cr Chris Potter and will lead the council for 12 months, with Cr Jason Schram as deputy.

He said increasing community involvement in projects including budget preparation, rating and road management reviews would be a focus for the year ahead.

First-time Mayor Cr Bell replaced Cr Brian McKiterick and will be supported by Cr Clive Goldsworthy as deputy. Cr Bell runs an organic farm at Bellbrae and manages Torquay Farmers Market.

Read more about the new mayors here.
SALUTE, AND WELCOME FOR CEOs
G21 salutes and thanks its longest-serving board member Rod Nicholls as he prepares to close the book after 23 years as chief executive officer at Golden Plains Shire.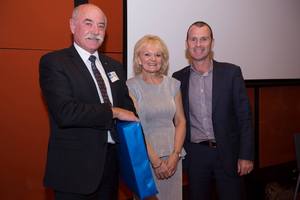 Mr Nicholls, the municipality's first and only CEO, is retiring after having worked 47 years in local government and made immeasurable contribution to shire and regional development.

A citation presented at G21's annual general meeting paid tribute to his ability to support many Golden Plains councillors, mayors and fellow G21 board members with clarity and vision.

It hailed his ability to establish strategic partnerships and to think regionally and the see the value for his home communities in big picture G21 planning and advocacy.

At the same time, G21 welcomes new CEO Eric Braslis, who joins the municipality from Gannawarra Shire, where he has been CEO since July 2015.

Mr Braslis has previously worked as Ballarat City Council general manager of infrastructure, and director of growth and development. He was Stonnington City Council director of planning and environment and Hobson's Bay City Council director of community services.

Outgoing Golden Plains Mayor Des Phelan said Mr Braslis had a demonstrated record of achievement and his strong background in planning and strategy would be a good fit for the municipality.

Rod Nicholls is pictured, left, at G21's annual meeting with G21 CEO Elaine Carbines and chair Bill Mithen.
$5M BOOST FOR SHIPWRECK COAST MASTER PLAN
Welcome government announcements continue for the Great Ocean Road, with confirmation of projects within a $50m improvements package, and $5m tabled to start early works on the Shipwreck Coast Master Plan.

Federal and Victorian Governments are jointly funding the $50m work, which will target 100 improvements during the next five years, focusing on pedestrian safety, paving, intersection, turning lane and car parking upgrades and bridge strengthening. Click here for more detailed information.

The $50m allocation had been previously announced.

The State Government confirmed the $5m for the early works on the Shipwreck Coast Master Plan. Projects will include improving traffic flow and pedestrian safety, and planning for improved visitor arrival experiences around the Twelve Apostles tourism magnet.

Support for the Master Plan and other work is part of G21's Great Ocean Road Priority Project and the early works are the Great South Coast Regional Partnership's top priority.

The visionary Master Plan takes in 28 kilometres of coastline between Princetown and the Bay of Islands, aiming to protect its natural assets and strengthen sustainable tourism and economies.
GEELONG TO SHINE ON WHITE NIGHT
Geelong landmarks will shine in a different light when the city hosts a popular White Night Festival in October 2018.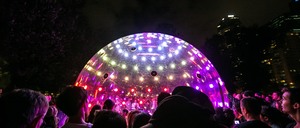 Tourism and Major Events Minister and Member for Lara John Eren announced the bright news on November 3, 2017, heralding a further expansion of the festival into regional Victoria.

The event is expected to generate millions of dollars in economic activity.

White Night, founded in Paris, brings cities alive with spectacular projections, lighting displays and entertainment.

White Night Geelong will take over city streets, parklands, laneways, public spaces and cultural institutions, thematically paying tribute to the region's rich history of indigenous culture and European settlement.

Melbourne has hosted several immensely successful White Nights and an inaugural Victorian regional White Night in Ballarat in March, 2018, drew more than 40,000 people and generated more than $3 million for the city's economy.

Find more information here.

Image: City of Greater Geelong.
ADVANCED MANUFACTURING WINS
Geelong's world-leading mission in carbon fibre research and production was a major focus among $10.1 million in Federal Government Advanced Manufacturing Growth Fund allocations for G21 region.

Deakin University-based LeMond Composites and Carbon Revolution Operations received $2.5 million apiece to support their pioneering work in the sector.

LeMond's allocation will support commissioning of Australia's first commercial carbon fibre manufacturing plant, predicted to be a global game-changer in production cost. Carbon Revolution's allocation will support major expansion of its Waurn Ponds site.

The funding aims to enable companies to innovate, diversify, pursue new markets and create jobs in regions affected by closures of automotive manufacturing plants. Read more here.

Other recipents were:
Flat Glass Industries, $2.5m to embed an advanced manufacturing platform into its existing Geelong plant;

Boundary Bend Olives, $812,000 to develop its business utilising waste by-products to produce high-value extracts for the cosmetic goods sector; and,

Air Radiators, $1.85m for development of a new range of heat exchangers for high horsepower diesel engines
JOBS HOPE WITH LAND 400
Up to 60 new jobs might be created in Geelong if Victoria wins a multi billion-dollar defence vehicle manufacturing contract.

Victorian Trade and Investment Minister Philip Dalidakis visited Norlane's former Ford manufacturing site on November 9 to highlight the importance of the LAND 400 Phase Two project to the state and to Geelong region.

Local defence supply chain company Marand will build vehicle components if BAE Systems Australia is assigned the contract.

Marand is looking to increase its footprint in Geelong and base a significant part of its LAND 400 work the Ford site.

Read more here.
HELP BUILD WEST GATE PROJECT
The State Government wants to hear from G21 region businesses interested in supplying materials and services for Melbourne's West Gate Tunnel Project.

A special information session at Geelong City Hall, 57 Malop St, from 4pm to 6pm on November 23 will provide details.

Victorian Roads Minister Luke Donnellan said the State Government wanted large and small local businesses contributing to the construction, with construction set to start early in 2018 and bring an estimated 6000 jobs.

Business operators can register their interest in the project via www.wgtp.icn.org.au

BANNOCKBURN HEART OPERATION

Bannockburn's town heart is in for a far-reaching transformation after a Victorian Government allocation of $500,000.

The Regional Jobs and Infrastructure grant is for Stage One upgrading of a central community space beside the town's library and cultural centre, incorporating a water play splash pad, adventure play and fitness equipment, barbecue and toilet facilities, new car park and improved site for the popular Golden Plains Farmers' Market.

Golden Plains Shire will contribute $800,000 to the project and the Federal Government $1.2m. It is forecast to boost retail spending in Golden Plains Shire by $6 million a year.

G21-Geelong Region Alliance has championed the development as an Economic Development Pillar Project.

Work is projected to create 22 jobs during construction and help generate 60 new long-term jobs.
OUR PLACE TO SHINE AGAIN
G21 region's abundance of lifestyle and business innovation will again be showcased with pride in the Our Place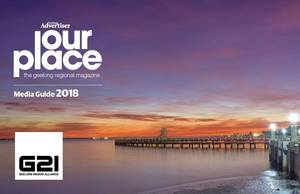 magazine.

Organisations can now get in early to avoid missing out on being part of the annual gloss publication, a joint initiative of G21 and the Geelong Advertiser Group.

Our Place profiles and celebrates what the region has to offer, highlighting its quality of life, diverse culture, natural environment and investment opportunities.

It will be published in April 2018 inserted in the Advertiser and distributed to businesses, tourism hubs, government offices and more.

Don't miss out, for full details on how you or your organisation can be part of 'Our Place' click here.

REGULAR SNAPSHOTS FEATURES

RDA BSW Committee update

Building Better Regions Fund, Round Two now open

The $481.6 million Building Better Regions Fund (BBRF) supports the Australian Government's commitment to create jobs, drive economic growth and build stronger regional communities into the future.

The BBRF program will run from 2016-17 to 2020-21 and will fund projects in regional Australia outside the major capital cities of Melbourne, Sydney, Brisbane, Perth, Adelaide and Canberra.

Round Two of the program is now open and this time around both the Infrastructure Stream and the Community Investments Stream applications close on the same day – December 19, 2017, at 5pm AEDST.

If you are considering applying for this funding, please discuss your application with the RDA Barwon South West team by either email rda.barwonsouthwest@rdv.vic.gov.au or phone 03 5215 6000.

More information, including the guidelines for both streams, can be found here www.business.gov.au/BBRF

Infrastructure Projects Stream

The Infrastructure Projects Stream supports projects which involve the construction of new infrastructure, or the upgrade or extension of existing infrastructure, that provide economic and social benefits to regional and remote areas.

The minimum grant amount is $20,000 and maximum $10 million. For most projects grant funding will be up to 50 per cent or up to 75 per cent of your eligible project costs. Your location will determine the percentage of grant funding you can receive.

You may apply for a partial or full exemption to the co-funding requirement if you can demonstrate that you are experiencing exceptional circumstances.

Community Investments Stream

The Community Investments Stream will fund the following community activities, new or expanded local events, strategic regional plans and leadership and capacity strengthening activities.

The minimum grant amount is $5000. The maximum grant amount is $10 million, however given the nature of eligible projects we expect most grants will be under $100,000.

For projects with a total project cost of more than $20,000, grant funding will be up to 50 per cent or up to 75 per cent of your eligible project costs. Your location will determined the percentage of grant funding you can receive.

For small projects with a total project value of less than $20,000, grant funding will be up to 100 per cent of eligible project costs.

You may apply for a partial or full exemption to the co-funding requirement if you can demonstrate that you are experiencing exceptional circumstances.

RDA Involvement

RDA Barwon South West can provide project guidance and letters of support for projects that align with the Regional Road Map.

If you would like to request a letter of support for your project please complete the template and return it to rda.barwonsouthwest@rdv.vic.gov.au by December 5, 2017 to allow processing time.

Please contact the RDA regional office on 03 5215 6000 for any further information.

Click here to visit the RDA Committee website
Click here to follow RDA Committee on Twitter
Items of regional interest

CAROLS AT KARDINIA

ORGANISERS hope up to 3000 extra people might attend this year's Geelong Christmas Eve Carols by Candlelight service after its shift to Kardinia Park's GMHBA Stadium.

Kardinia Park Stadium Trust leaders have expressed delight to be hosting the 53rd event in partnership with the Y Service Club of Geelong.

The carols night has been held at Johnstone Park since inception but the park will be unavailable this year due to ongoing upgrading work. This year's service will run from 8pm to 10pm.

The event typically draws crowds of about 4500 but organiser Noel Hooper hopes between 2000 and 3000 more people will attend at the stadium.

Kardinia Park Stadium Trust chief executive officer Michael Brown said it would be proud to 'host such a wonderful tradition' for the city.

He said the stadium was demonstrating its versatility during the summer, with the carols alongside major sporting fixtures including the Aussie Matildas taking on China in women's soccer, Melbourne Renegades meeting the Sydney Sixes in Big Bash cricket and Melbourne Victory playing Central Coast Mariners in A-League soccer.

For more information visit www.kardiniapark.vic.gov.au

SURF COAST TREK REGISTRATIONS OPEN

Team G21 will again be stepping up to the challenge joining Give Where You Live's popular 40-kilometre Surf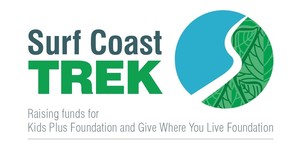 Coast Trek.

Registrations for the 2018 trek from Aireys Inlet to Torquay are now open for teams and individuals. To learn more click here.


G21 staff and supporters have joined hundreds of other trekkers in previous years taking on the long walk to raise hundreds of thousands of dollars for the Give Where You Live Foundation and Kids Plus Foundation.


ECOTOURISM RESEARCH

Deakin University researcher Paulina Gutierrez Ramos is hoping for survey feedback in her study of ecotourism in Corangamite Catchment Management Authority region.

Ms Ramos is studying for a Master of Science in Sustainable Regional Development and has framed an anonymous online survey aiming to explore the views and knowledge of regional stakeholders.

The survey will contribute to a thesis to be presented to Deakin and will be submitted to a peer-reviewed publication or conference on the topic.

People can visit http://bit.ly/2l0dxeK to participate before December 15.

Latest news from the G21 Pillars
Each of the eight G21 Pillars meets on a regular basis to discuss regional issues and progress regional projects. Click on the below links for the most recent Pillar activity report.

G21 Arts, Heritage & Culture Pillar
G21 Economic Development Pillar
G21 Education & Training Pillar
G21 Environment Pillar
G21 Health & Wellbeing Pillar
G21 Planning & Services Pillar
G21 Sport & Recreation Pillar
G21 Transport Pillar
Click here to view the full list of G21 Pillar Projects

Key Economic Indicators released

Enterprise Geelong has released the September Key Economic Indicators which monitors the region's economy. The key points are:
| | | | |
| --- | --- | --- | --- |
| Economic Indicator | Data | Movement | Status |
| Unemployment rate | 5.8% | +0.2pts | ↓ |
| Average weekly job advertisements | 110 | +3.4% | ↑ |
| New monthly online job advertisements | 1,591 | +3.0% | ↑ |
| Monthly domestic building activity | $87.8m | +4.2% | ↑ |
| Monthly new dwelling building approvals | 269 | +8.5% | ↑ |
| Monthly non-domestic building activity | $48.4m | -37.8% | ↓ |
| Quarterly median house price | $492,000 | +3.6% | ↑ |
Media articles of interest to the G21 region

G21 tracks articles within the region that discuss G21 and the region's Priority Projects.

Click here to view G21's Articles of Interest October-November 2017.

G21 Membership
G21 welcomes the following organisations, approved for membership:
Times News Group
Waurn Ponds Shopping Centre
Membership of G21 is open to eligible businesses, organisations and government bodies associated with the G21 region. Details about eligibility for membership, annual fees and an application form may be viewed by clicking here.
This email has been designed to provide you, a valued member of the broader G21 Family, with a snapshot of the key projects and activities of the G21 Alliance over the past month. You have been included in the distribution list of this G21 Snapshots email, because you have an important role in improving people's lives in the G21 region as a Federal or State parliamentarian, Councillor, Regional Management Forum member, senior manager with regional Councils, senior manager with Regional Development Victoria, G21 Member, G21 Pillar participant, G21 Board member or member of the media (a list of over 700 individuals or organisations). If there are other people in your organisation or network that you think should be aware of this email please feel free to pass it on to them.
If you want further information or wish to bring something to our attention, please contact either of us at the numbers or addresses given below or refer to the G21 website at www.G21.com.au.






Bill Mithen
G21 Chairperson
chair@g21.com.au






Elaine Carbines
Chief Executive Officer
0437 202 300
ecarbines@G21.com.au