Dear G21 family member,

As an important member of the G21 community, each month we will keep you informed of the key projects and activities of the G21 Alliance. G21 is the formal alliance of government, business and community organisations, working together to improve people's lives in the G21 region.
FEATURE ARTICLES
#LET'SDEAL FOR GEELONG AND GREAT OCEAN ROAD
TARGA FLORIO COUP
THAT'S US: CLEVER, CREATIVE, ENTERPRISING, ADAPTIVE
BIG IDEAS SHINE AT HEALTH AND WELLBEING FORUM
TWO SHIRE CEOs TO BID ADIEU
TRAIN GAINS RIGHT ON TRACK
HISTORIC SALEYARDS TO CLOSE
AFFORDABLE HOUSING MAKING A DIFFERENCE
SPEAK UP AT BARWON REGIONAL ASSEMBLY
WILDLIFE WONDER ECOTOURISM FOR GREAT OCEAN ROAD
G21 STAKEHOLDER FORUM TWO WEEKS AWAY!

REGULAR SNAPSHOTS FEATURES
RDA BSW COMMITTEE UPDATE
ITEMS OF REGIONAL INTEREST
LATEST NEWS FROM G21 PILLARS
KEY ECONOMIC INDICATORS
MEDIA ARTICLES OF INTEREST
G21 MEMBERSHIP
Victorian Premier Daniel Andrews has helped invigorate hopes for a transformative Federal City Deal for Geelong and the Great Ocean Road.

The issue appears firmly back on the agenda after Mr Andrews again pressed the case in a letter to Prime Minister Malcolm Turnbull.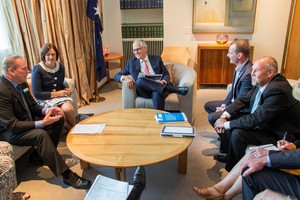 Federal Tourism Minister Steven Ciobo has responded expressing strong confidence that the governments can work together on a package.

The Geelong Advertiser relayed the developments on July 20 with Mr Andrews specifying four central projects, which included welcome focus on the Great Ocean Road and visitor economy. He hailed Geelong as a shining example of transformation possible in a regional city.

Three of the specified projects, Geelong Convention and Exhibition Centre, Geelong Waterfront Safe Harbour and Central Geelong Revitalisation, are G21 priority projects and a fourth, Shipwreck Coast Master Plan, is included in the G21 Great Ocean Road priority project.

G21 chairman Bill Mithen and chief executive officer Elaine Carbines talked with Mr Turnbull about a potential City Deal during a G21 delegation to Canberra in March.

G21 continues to provide full and active support for a City Deal including Geelong and the Great Ocean Road, and acknowledges work already undertaken by Federal Member for Corangamite Sarah Henderson, State Parliamentary Secretary to the Treasurer Daniel Mulino, other local parliamentarians, councils and regional bodies.

City Deals require agreement and commitment on major funding priorities and plans of action from all levels of government, and communities.

The Federal Government has already issued City Deals for Townsville and Launceston and is working on another for Western Sydney.

Pictured: Prime Minister Malcolm Turnbull, centre, with Member for Corangamite Sarah Henderson and members of a G21-Geelong Region Alliance delegation to Canberra, from left, Surf Coast Shire councillor Brian McKiterick, G21 chair Bill Mithen and Colac Otway Shire Mayor Chris Potter.

TARGA FLORIO COUP
G21 Region is set to again shine on the world stage as the internationally-renowned Targa Florio vintage car rally takes to the Great Ocean Road on its first venture outside Italy in 100 years.

The four-day event will take more than 200 classic cars – with makes from Ferrari and Bugatti to Maserati and Porsche – 1200 kilometres across Victoria including Geelong, the Bellarine Peninsula, Torquay, Lorne, Lavers Hill, Apollo Bay and Queenscliff.

In its 101st year, it will feature a special 101-car Ferrari tribute, and is expected to attract thousands of car lovers, celebrities and international media.

Minister for Tourism and Major Events and Member for Lara John Eren announced the international coup in Torquay on August 11 with Confederation of Australian Motor Sport general manager Mike Smith.

Victoria will now be the only place in the world to in one year play host to an F1 Grand Prix, Moto GP and the Targa Florio , events all sanctioned by the Federation Internationale de l'Automobile (FIA).

First run in 1906 the Sicilian Targa Florio has always started and finished in Palermo. The Australian event will start in Melbourne on November 30.

Its route will also include Mornington wine region, San Remo, Healesville, Marysville, King Lake and Albert Park, after a crossing of Port Phillip Bay via Searoad Ferries.

Tour participant spaces are available and people can visit here for more information.

THAT'S US: CLEVER, CREATIVE, ENTERPRISING, ADAPTIVE
City of Greater Geelong administrators have formally endorsed an Our Future document that projects big picture objectives and ideals for the municipality across the next 30 years.
After having brought more than 16,000 people into the conversation during a series of forums it aspires for the Geelong of 2047 to be internationally-recognised for cleverness and creativity as well as its enterprising and adaptive forward-looking attitude and care for people and environment.

Administrators stamped approval of the community vision on July 25 and it is intended as a regular reference point for future councils, governments, community organisations and businesses.

Community forums helped shape the view, with discussion focusing on areas including values and goals, economic prosperity, tourism, employment, environment, social equity, culture, transport, connectivity and leadership.

The Our Future process, between August 2016 and May 2017, followed recommendation from a 2016 Commission of Inquiry report.

Key ambitions outlined in the document include:

Education and jobs: The number of students completing secondary schooling and/or engaged in post-school study to be higher than state average.

Creative technology: Having Greater Geelong rated in the top 200 on the Global Innovation Cities index; being a leader in developing and adopting a variety of affordable technologies.

Transport: Being able to travel between Geelong and Melbourne in 30 minutes; having an international passenger
and freight airport.

Tourism: Increasing total number of visitors to the region by 2.1 per cent a year.

Inclusion and social connection: No Greater Geelong postcodes in bottom 20 per cent of Socio-Economic Indexes for Areas.

Sustainability and environment: Investing in renewable industries and research; having businesses adopt clean technology; moving to zero waste.

Read more here.

BIG IDEAS SHINE AT HEALTH AND WELLBEING FORUM
Ensuring every children's setting sells only healthy food and drinks emerged as the key Big Idea and resolution from a G21 Health and Wellbeing partner forum in association with Deakin University.

More than 110 people came together at Simonds Stadium to hear acclaimed researchers and health sector experts speak on topics including health equity, activity and nutrition, active living for children and adolescents, obesity and our built environment and to help plan a next generation of healthier action.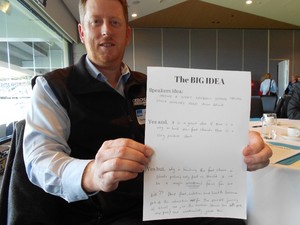 Forum participants broke into think tanks to refine three big action ideas which went to a vote to rate their priority.

The results were: Ensuring every children's setting has healthy food and drinks 41% approval; Women rise up and be active, we're taking over footy, what's next? 32%; prioritising people before cars in G21 region 27%.

Key agencies and stakeholders will come together to work through the big ideas and develop an action plan.

People interested in playing part can contact G21 Health and Wellbeing director Janice Lane on jlane@g21.com.au

The forum was co-sponsored by Deakin University and the Victorian Government with support by the G21 Sport and Recreation Pillar.

Pictured: Durham Green of Geelong Medical Group with his Big Idea thoughts.


TWO SHIRE CEOs TO BID ADIEU
GOLDEN Plains and Colac Otway Shires are seeking new chief executive officers after confirmation Rod Nicholls and Sue Wilkinson will be moving on.

Mr Nicholls, who has been Golden Plains Shire's first and only CEO for 23 years, has announced plans to retire in December.

He has spent 47 years in local government.

Ms Wilkinson will leave Colac Otway Shire on September 1 to join Melbourne's rapidly-growing City of Darebin in the same role.

She joined Colac Otway three years ago as a first-time CEO after having worked in senior roles with the cities of Monash, Port Phillip, Greater Bendigo.

G21 chief executive officer Elaine Carbines paid tribute to the two G21 board members, hailing their contributions to the region through their energy, expertise, insight and wise counsel.

TRAIN GAINS RIGHT ON TRACK
Check your timetables! More train services are coming to G21 region this month.

August 27 is the red letter day for rollout of 151 new Victorian regional services, announced by Public Transport Minister Jacinta Allan on July 21.

A new timetable will add 69 Geelong services, including 30 new services every weekend, meaning trains will run at least every 40 minutes between 7am and 7pm every day.

Bus times will be adjusted to complement the new schedules.

Premier Daniel Andrews also signalled on the same day that $114 million Warrnambool line improvements would include running of VLocity trains on the line for the first time, installation of a new crossing loop, improved signalling and upgraded level crossings.

The Regional Rail Revival upgrades are forecast to shave 20 minutes off the Warrnambool-Melbourne trip, improve safety, boost reliability and enable a fifth daily service.

HISTORIC SALEYARDS TO CLOSE
After a year of debate, evaluation and speculation Geelong City Council has resolved to permanently close the city's historic saleyards to sheep and cattle sales at the end of the month.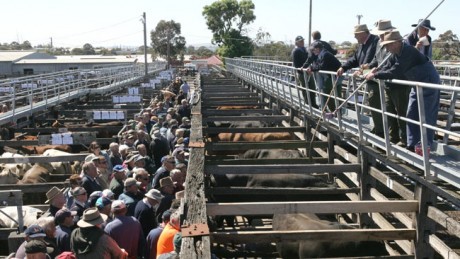 Occupational health and safety concerns and financial losses have underpinned concerns and the closure will follow independent local stock market analysis, stakeholder engagement, consideration of A Sustainable Agribusiness Strategy for the G21 Region and independent estimation of upgrading costs.

Reports noted factors including a 70 per cent decline in cattle numbers through the saleyards from 2000 to 2016, falling financial performance during the past 10 years and operating losses of more than $200,000 a year during the past two years.

The yards were closed by city officers in August 2016 and following some modifications later re-opened for sheep sales. The future of poultry sales and a truck wash bay at the North Geelong site remains undecided.

Colac is identified as preferred livestock facility for the region and Colac Otway Shire has moved to welcome farmers affected by the Geelong closure.

AFFORDABLE HOUSING MAKING A DIFFERENCE
A far-reaching affordable housing project is changing lives in one of Geelong's most vulnerable suburbs.

Leaders formally opened Baptcare Affordable Housing Norlane Integrated Community Project on July 18, with families living in refuge and families escaping violence among tenants occupying 20 new home units.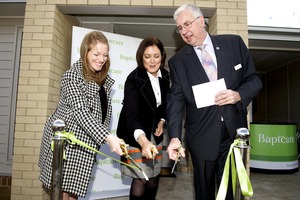 A total of 52 are to be built by the end of 2017 at the heart of the $43.5 million project, which has been supported by the G21 Region Opportunities for Work (GROW) program launched by G21-Geelong Region Alliance and Give Where You Live Foundation to target place-based disadvantage.

Investment in, and support for GROW helped leverage $7.25 million in Federal Government National Stronger Regions funding for the Baptcare project.

The new units will offer safe, supported homes for low income families, older people, people with disability and those who find managing in the rental market difficult.

The development will include a 90-bed aged care facility, community hub, gym, playground and café.
Addressing disadvantage is a G21 priority project.

Pictured: Baptcare acting chief executive Kate Barber, left, Member for Corangamite Sarah Henderson and Baptcare chairman Philip Curtis formally open Norlane Integrated Community Project stage one.

SPEAK UP AT BARWON REGIONAL ASSEMBLY

People are encouraged to help further shape the future at a second Barwon Regional Partnership Regional Assembly to be in Geelong on September 14.

The 2017 assembly will continue discussion about issues emphasised as mattering most to the community, and help influence Victorian Government decisions. Issues include:
Enabling children through education;

Jobs for the future;

Improving transport networks;

Protecting our natural assets;

Transforming our industries;

Having safe and inclusive communities; and,

Building our tourism economy.

People can click here to join an online assembly forum or to register to attend.

WILDLIFE WONDER ECOTOURISM FOR GREAT OCEAN ROAD

Cape Otway will be home to a new immersive tourism experience bringing people and wildlife together.

The Wildlife Wonders project will fill a spectacular 20 hectare property west of Apollo Bay, offering people opportunity to observe and photograph animals unfettered in natural environs.

Colac Otway Shire has approved plans for the venture, which will direct profits to the cape's established Conservation Ecology Centre, and it has received $557,962 in Federal Government funding via the Tourism Demand Driver Infrastructure (TDDI) program.

Conservation Ecology Centre founder Lizzie Corke said the aim would be to enable people to experience the Otways truly vibrant with wildlife.

"Accompanied by a qualified conservationist guide small groups of visitors will experience a beautifully restored area, where koalas doze in the treetops, potoroos and bandicoots forage on ferny forest floors and kangaroos hope along the horizon against a spectacular ocean vista,"

Other Great Ocean Road and Geelong region enterprises to receive TDDI funding were: Platypi Chocolate $300,000 for a chocolate café in Forrest; The Provenance Cellar Door $332,000 for a working winery and cellar door at Fyansford Paper Mill; and Wye Beach Hotel $450,000 for expansion enabling wedding and conference catering.

G21 S#QuickstepTAKEHOLDER FORUM TWO WEEKS AWAY!
Lizzie Corke will share her insight on the Great Ocean Road and visitor economy as a panellist during G21-Geelong Region Alliance's annual Stakeholder Forum on September 1.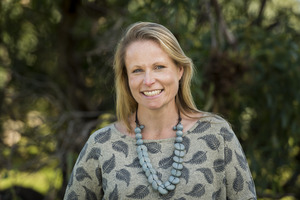 Ms Corke, pictured, describes the road's high visitation and but low yield as a 'lucky problem' and will aim to illuminate opportunities during a discussion with other panellists, chief executive of Searoad Ferries Matt McDonald, Surf Coast News advertising director Warick Brown and Great Ocean Stays manager Christine Smith.

"I think the opportunity we have is incredible. It's a very lucky problem with very, very high visitation, but we need ways we can tap into that for the benefit of everyone," Ms Corke said.

She believes enhancing the connection visitors feel with the beauty of the road's environs is one of the keys.

With Great Ocean Road maintenance, development and ongoing government investment major talking points, the panel discussion will be a key part of an informative and thought-provoking 2017 forum, which has the theme Advancing G21 Region.

ABC 7.30 anchor Leigh Sales, Federal Labor leader Bill Shorten and Federal Greens leader Richard Di Natale will headline the day's presentations. Federal Member for Corangamite Sarah Henderson will represent Prime Minister Malcolm Turnbull.
Tickets for the forum are on sale here.
REGULAR SNAPSHOTS FEATURES
Minister for Regional Development Fiona Nash recently announced 110 rural, regional and remote projects will receive $219.5 million funding under the infrastructure stream of round one of the Building Better Regions Fund.
Overall Victoria received $22.9 million (10%) of the allocated funding in round one, with four projects being successful in the Barwon South West, receiving a total of $2.2 million towards a total investment of $4.6 million.
The successful projects:
$245,000 Birregurra Community Group for 'I Have a Hall in my Heart' project for an upgrade of the community call and surrounding area. Total project cost $491,000;

$314,000 for the construction of a 200m sq Diversability Centre at Diversitat's Northern Community Hub, total $628,000;

$1.47 million Kids Plus Foundation for construction of a purpose-built facility, total $2.97; and,

$200,000 Winchelsea netball pavilion upgrade, total $500,000.

The next round of BBRF should open before the end of the year. Unsuccessful applicants are encouraged to seek feedback by contacting bbrffeedback@industry.gov.au to help improve their application for next round.
A full list of successful round one applicants for infrastructure projects stream funding is available at www.business.gov.auy/bbrf
Successful projects from the community investments stream of the fund will be announced soon.
Please contact the RDA regional office on 03 5215 6000 for any further information.
Click here to visit the RDA Committee website
Click here to follow RDA Committee on Twitter

GIVE WHERE YOU LIVE DISTRIBUTES $2.86 MILLION

Give Where You Live Foundation helped empower dozens of important G21 region community projects and organisations with distribution of $2.03 million in community grants during July.

The allocations combined with contributions to programs including G21 Region Opportunities for Work (GROW), Feed Geelong and ENGAGE youth philanthropy to total $2.86 million in community investment this year, one of biggest foundation distributions in Australia.

Grant recipients gathered for presentations on July 27, 2017. Grants focused on work in health and wellbeing, live and learn and survive and thrive categories, aiming to support Geelong's most vulnerable people.

For full list of recipents click here.

EMPOWERING KOORI YOUTH

Geelong's Wathaurong Aboriginal Co-operative received $36,240 State Government funding to mobilise a program aiming to empower and inspire Koori youths in Geelong and Colac.

The allocation was part of more than $1.5 million distributed through the Koori Youth Crime Prevention Grants program, focusing on engagement through camps, sporting activities, workshops and education.

A series of sessions will feature guest speakers and focus on cultural connection, education opportunities and local initiatives.

The State Government also announced Youth Crime Prevention grants totalling $5.6 million to be distributed among eight communities including Geelong.

REALISE MAGAZINE OUT TO INSPIRE

Karingal St Laurence has launched a new magazine, available online, celebrating the stories of the people at the heart of the organisation.

REALISE is available online here.

Karingal St Laurence says it was born from recognition of the volume of amazing stories involving the people who surround the organisation day-to-day, who realise full potential and dreams.

The first edition includes stories of a teenager overlooked by teachers because they didn't understand her disability, a young man whose life has been shaped by a life-threatening seizure he experienced as a baby, a family escaped from war-torn Syria and a father's devotion in helping give his daughter the independence she desires through supported accommodation.

ENTERPRIZING SUNSET RUN

Exercise your endorphins for greater good and race the Enterprize tall ship in the Bellarine Sunset Run.

The event raises money for Bellarine Community Health youth services and entries opened on August 1.

Participants in a 21 kilometre run from Portarlington to St Leonards and back will be able to race the Enterprize as it makes the same journey on the waves.

Other events include a 10.5 kilometre run and a four kilometre walk.

The Bellarine Sunset Run will be on February 3 and people can visit http://bit.ly/2uBtOv4 to learn more.

SMALL TOWN WINNERS
Projects in five Colac Otway Shire towns will accelerate after distribution of $96,100 in Small Town Improvement Program funding.

Mayor Chris Potter said the program targets communities that would have to otherwise compete for limited council capital works funding, and aim to stimulate economic development, community enthusiasm and pride.

The grants are: $7000, developing options for safer accessibility to Apollo Bay war memorial; $25,000, feasibility study of Wild Dog Creek Apollo Gay to Skenes Creek discovery trail; $15,000, Forrest common master plan development; $3400, Gellibrand garden walk upgrade; $20,700 Birregurra Park outdoor equipment installation; $25,000, Kennett River tourism and traffic management plan development.

Latest news from the G21 Pillars
Each of the eight G21 Pillars meets on a regular basis to discuss regional issues and progress regional projects. Click on the below links for the most recent Pillar activity report.

G21 Arts & Culture Pillar
G21 Economic Development Pillar
G21 Education & Training Pillar
G21 Environment Pillar
G21 Health & Wellbeing Pillar
G21 Planning & Services Pillar
G21 Sport & Recreation Pillar
G21 Transport Pillar
Click here to view the full list of G21 Pillar Projects

Key Economic Indicators released

Enterprise Geelong has released the June Key Economic Indicators which monitors the region's economy. The key points are:
| | | | |
| --- | --- | --- | --- |
| Economic Indicator | Data | Movement | Status |
| Unemployment rate | 4.7% | -0.7pts | ↑ |
| Average weekly job advertisements | 67 | -28.0% | ↓ |
| New monthly online job advertisements | 1,443 | -9.8% | ↓ |
| Monthly domestic building activity | $80.2m | -0.2% | ↓ |
| Monthly new dwelling building approvals | 197 | -26.6% | ↓ |
| Monthly non-domestic building activity | $46.7m | -25.3% | ↓ |
| Quarterly median house price | $460,000 | +2.2% | ↑ |
Media articles of interest to the G21 region

G21 tracks articles within the region that discuss G21 and the region's Priority Projects.

Click here to view G21's Articles of Interest July-August 2017.

G21 Membership
This month the G21 Board welcomes new members to G21-Geelong Region Alliance:
Jim's Test & Tag – Geelong East,
Telstra, Novo Planning, Signarama Geelong West.
Membership of G21 is open to eligible businesses, organisations and government bodies associated with the G21 region. Details about eligibility for membership, annual fees and an application form may be viewed by clicking here.
This email has been designed to provide you, a valued member of the broader G21 Family, with a snapshot of the key projects and activities of the G21 Alliance over the past month. You have been included in the distribution list of this G21 Snapshots email, because you have an important role in improving people's lives in the G21 region as a Federal or State parliamentarian, Councillor, Regional Management Forum member, senior manager with regional Councils, senior manager with Regional Development Victoria, G21 Member, G21 Pillar participant, G21 Board member or member of the media (a list of over 700 individuals or organisations). If there are other people in your organisation or network that you think should be aware of this email please feel free to pass it on to them.
If you want further information or wish to bring something to our attention, please contact either of us at the numbers or addresses given below or refer to the G21 website at www.G21.com.au.






Bill Mithen
G21 Chairperson
chair@g21.com.au





Elaine Carbines
Chief Executive Officer
0437 202 300
ecarbines@G21.com.au