Dear G21 family member,

As an important member of the G21 community, each month we will keep you informed of the key projects and activities of the G21 Alliance. G21 is the formal alliance of government, business and community organisations, working together to improve people's lives in the G21 region.
FEATURE ARTICLES
SPECIALIST TASKFORCE FOR GREAT OCEAN ROAD
RECREATION HUB FOR ARMSTRONG CREEK
INVESTMENT FLOURISHES WITH GOLDEN PLAINS WATER
GREAT OCEAN ROAD PARKING AND TRAFFIC FOCUS
$70M RESORT PLANS ON DISPLAY
SAVE THE DATE, G21 AGM
HEALTH AND WELLBEING PLAN SET
SCHOOL UPGRADES TARGET ASBESTOS
MATILDAS SET TO LIGHT UP GEELONG
MORE RAILWAY CAR PARKS, BETTER BUS SHELTERS
FEEDBACK REQUIRED! COMPLETE THE G21 STAKEHOLDER SURVEY

REGULAR SNAPSHOTS FEATURES
RDA BSW COMMITTEE UPDATE
ITEMS OF REGIONAL INTEREST
LATEST NEWS FROM G21 PILLARS
KEY ECONOMIC INDICATORS
MEDIA ARTICLES OF INTEREST
G21 MEMBERSHIP
A state-appointed specialist taskforce will oversee a new era in Great Ocean Road investment and tourism economy growth in a move long-advocated by G21-Geelong Region Alliance.

Tourism and Major Events Minister John Eren announced appointment of the taskforce at Barwon Regional Assembly. Its overarching mission will include boosting visitation to the world-acclaimed attraction to support local businesses and employment.

G21 chief executive officer Elaine Carbines is a member of the expert team, which will work under joint chairs former Victorian transport ministers Terry Mulder and Peter Batchelor. Other members include Victorian Coastal Council chair Diane James, Great Ocean Road Tourism chair Wayne Kayler-Thomson and chief executives from five councils.

The taskforce will be backed by $1.3 million State Government investment, including $80,000 for local councils to accelerate planning applications.

Its first role will be to identify what is and is not working in creating opportunities, with an initial report to be delivered to the State Government before the end of the year and a final report in 2018.

Providing focused management of Great Ocean Road issues and opportunities is a key element of G21's Great Ocean Road Priority Project. G21 strongly welcomes increasing focus on its investment and management, need for infrastructure and recognition of the importance of the visitor economy.

The Alliance's Great Ocean Road Priority Project endorses the Shipwreck Coast Masterplan, which is calling for $340 million in public and private infrastructure upgrades.

The road and visitor economy are also figuring strongly in ongoing talks on a potentially transformative federal City Deal for Geelong and region.


RECREATION HUB FOR ARMSTRONG CREEK
Sport and recreation has a home in the making at rapidly-growing Armstrong Creek, with work starting on a new pavilion and grounds.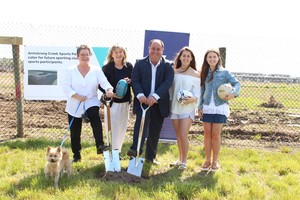 The new pavilion with social room, kitchen, change rooms, umpire's rooms, meeting and administration spaces will provide a hub adjoining grounds catering for football, netball, volleyball, cricket and soccer.

The development on eight hectares will also include a children's playground, car park, public open space, pathways and landscaped areas.

G21 has advocated the development of active open and recreation spaces at Armstrong Creek as a Sport and Recreation Pillar Project, and part of the G21 Amstrong Creek Urban Growth Area Priority Project.

The City of Greater Geelong is contributing $3.18 million for the project and the Victorian Government $500,000.

Armstrong Creek is one of the largest growth areas in Australia with 2500 hectares of developable land forecast to accommodate about 22,000 homes and up to 65,000 people.

Pictured from left: City of Greater Geelong director of community life Linda Quinn, Member for Western Victoria Gayle Tierney and Greg Mills of Rendine Constructions with Maddy Mills and Emily Mills.


INVESTMENT FLOURISHES WITH GOLDEN PLAINS WATER
Welcome increased investment is flowing from a new water pipeline supplying intensive agriculture enterprises in Golden Plains Shire.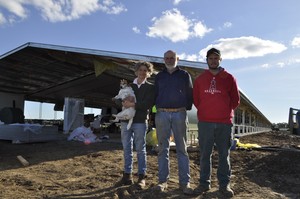 The $11.7 million first stage of the 18-kilometre pipeline was completed mid-2016 and 75 megalitres of water has already been committed for use by producers now able to diversify their operations.

With supply assured existing operations are expanding and new players are establishing within the precinct, with two planning permits approved for new free range egg suppliers.

The Federal Government contributed $4.17 million, State Government $2.94 million, Golden Plains Shire Council $1.23 million and Barwon Water $3.44 million to the first stage.

Golden Plains Mayor Des Phelan said the pipeline had enabled operators to diversify, creating jobs and stimulating investment.

"The precinct is unique in that it has been established specifically to encourage investment in intensive agriculture. It has all the infrastructure required to help the sector flourish – access to water, power, roads and an abundance of suitable land."

People can learn more about the food production precinct and investment opportunities by contacting Golden Plains Shire's economic development team on 5220 7111 or visiting the shire website here.

Photo: Members of the Macpherson family near their Golden Plains free-range egg production sheds during construction.


GREAT OCEAN ROAD PARKING AND TRAFFIC FOCUS
Colac Otway Shire will match federal Building Better Regions funding to formulate a Great Ocean Road Tourism Parking and Traffic Strategy.

Member for Corangamite Sarah Henderson announced a $75,000 allocation for the project, to be matched by the municipality, enabling evaluation of parking and traffic conditions in all key towns along the road and its hinterland.

The project is expected to include significant stakeholder engagements and a communications plan, resulting in recommendations for a five-year capital works plan.

The allocation headlined an important round of Building Better Regions funding announcements, which included $25,000 for Colac Otway Shire for delivery of a $50,0000 Colac Otway Economic Development Strategy.

Geelong Chamber of Commerce received $19,500 for establishment of a Barwon South West Regional Business Council, and convening of a Regional Business Summit.

Business groups to be invited to be part of the council are: Apollo Bay Chamber of Commerce, Bannockburn Chamber of Commerce, Business and Tourism Anglesea, Colac and District Chamber of Commerce, Commerce Warrnambool, Committee for Lorne, Highton Traders' Association, Lara Chamber of Commerce, Ocean Grove Business Association, Portarlington Business Development Association, Queenscliff RIP Chamber and Torquay Commerce and Tourism.

Geelong's Upstart Entrepreneurial Challenge will also receive $17,950 to run two innovation workshops.

$70M RESORT PLANS ON DISPLAY
Plans for a $70 million resort development near Apollo Bay are available for public viewing.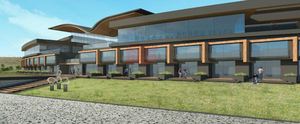 The Barham River Road proposal by Oceans United Investment Group includes 180 rooms, 82 villas, a wellness centre, public access pool, bar and restaurants.

Plans illustrate a first stage of development and seek recognition of possible future expansion.

The resort is forecast to provide about 175 ongoing jobs and 250 during construction.

Application documentation includes support from Regional Development Victoria, which emphasises that major, quality accommodation investment on the Great Ocean Road will help increase lengths of visitor stays and better position it as a national and international destination.

The application can be viewed here or during business hours at Colac Otway Shire's customer service centres in Colac or Apollo Bay.


SAVE THE DATE, G21 AGM
You are invited to attend the G21-Geelong Region Alliance Annual General Meeting (AGM) at 5.30pm on Thursday November 16, 2017.

The AGM provides members with the opportunity to review and celebrate the achievements of the Alliance over the past 12 months, and to hear about G21's plans for the coming year.

This year, three of the elected G21 Directors are due to conclude their terms. If you are a member of G21 and interested in becoming a G21 Director, please contact Nada Malinac to obtain a nomination form on nmalinac@G21.com.au or (03) 5227 4000. Nominations close 5pm on Thursday October 19, 2017.

If the number of nominations received exceeds the number of positions available, the membership will be called upon to vote for their preferred candidate at the AGM.

If a G21 Director or member would like to raise any 'special business' at the AGM they must submit their request in writing or via email to Elaine Carbines, CEO of G21 at nmalinac@G21.com.au by 5pm on Thursday October 19, 2017. Please ensure you include the nature of the special business and personally sign the submission.

Minutes from the previous G21 AGM and the Agenda will be distributed to members with a formal invitation on Thursday October 26, 2017.


HEALTH AND WELLBEING PLAN SET

G21-Geelong Region Alliance Health and Wellbeing Pillar has refined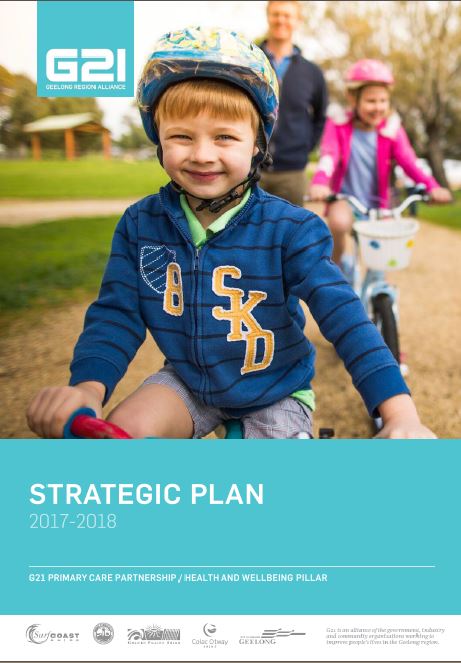 priorities and directions for 2017-18 in a new strategic plan.

Working with partners, the pillar will focus on:
Healthier eating and active living;

Promoting and supporting gender equity;

Improving social connectedness, mental health and wellbeing;

Capacity building and leadership;

Communication and engagement; and,

Measuring our progress.
The Health and Wellbeing Pillar vision is for the communities of G21 to enjoy a high quality of life achieved through inclusion, creativity and vibrant, collaborative partnerships.

Its mission is working together collectively, improving the health and wellbeing outcomes for G21 communities.

View the 2017-18 strategic plan here.


SCHOOL UPGRADES TARGET ASBESTOS
Two Geelong primary schools will have old buildings containing asbestos removed as part of $4.5 million State Government upgrades.

Highton Primary will have $2.5 million work including demolition of its main building and replacement with a modular structure containing classrooms, an art room and toilets.

Fyans Park Primary will have $2 million work including replacement of the administration building with a modular structure with classrooms, an art room, staff area and student toilets.

Education Minister James Merlino announced the plans, as part of the State Government's $155 million program for asbestos removal and building replacement.

The modular buildings are expected to be ready for use by February 2018 at both schools.


MATILDAS SET TO LIGHT UP GEELONG

Australia's world-conquering Matildas women's soccer team will take on China at Geelong's Simonds Stadium in a sporting coup set to light up November.

The newly-crowned Tournament of Nations champions will play the second of two Victorian clashes at Kardinia, eager to maintain the winning momentum which has seen them grow immense popularity.

Announcement of the fixture came hot on the heels of the Matildas' third consecutive win against Brazil.

Scheduling of the clash is further endorsement of the development of Simonds Stadium into a national regional sporting hub, now attracting more international-standard fixtures including Big Bash cricket. Developing of Simonds Stadium is a G21 Economic Development Pillar Project.

The high-profile events bring visitors to G21 region, helping generate jobs and economic strength. World-class players also inspire next generations of athletes.

The Matildas will play in Geelong on November 26, following a game at Melbourne's AAMI Park on November 22.

The Geelong match will start at 4.30pm. Find tickets here.


MORE RAILWAY CAR PARKS, BETTER BUS SHELTERS
Railway station parking and bus shelters will be upgraded at a range of Geelong locations after allocation of State Government funding.

Public Transport Minister Jacinta Allan announced the projects would be part of a $22.5 million government Road and Rail Minor Works Program.

Commuters using Marshall railway station will have 50 new car parks and commuters using South Geelong railway station will get 200 new parks.

Other upgrades, to be completed by late 2018, include:
Deakin University Waurn Ponds, new bus shelter;

Deakin University Waterfront, bus shelter replacement;

Geelong Railway Station/Court House stop, new bus shelter;

Geelong Railway Station bus interchange, new shelter canopy and taxi rank shelter;

North Geelong Railway Station, bike cage installation; and,

North Shore Railway Station, new bus shelter and pedestrian crossing.

FEEDBACK REQUIRED! COMPLETE THE G21 STAKEHOLDER SURVEY
G21 welcomes feedback on how it is doing its job.

Please help us by taking only a couple of minutes to complete the 2017 survey by close of business Friday, October 6, 2017.

https://www.surveymonkey.com/r/G21survey2017

Responses will help increase G21's value to you and the region. Thanks in anticipation!


REGULAR SNAPSHOTS FEATURES
Building Better Regions

Building Better Regions Fund (BBRF) – Community Investments stream recently announced that a total of 392 applications were received from rural, regional and remote areas across Australia in round one.

From these projects 147 projects will receive funding to the value of $6.9 million. Twenty-two Victorian projects have been successful in round one with five projects in the Barwon South West region to receive funding for the following projects:
| | | | | |
| --- | --- | --- | --- | --- |
| Project Name | Project Description | Project Location | Grant Approved | Total Project Cost |
| Colac Otway Shire Tourism Parking and Traffic Strategy | Evidence-based plan outlining infrastructure priorities & traffic management strategies, including development and implementation of Stakeholder Engagement & Communications Plan, Environmental Scanning and Research and Development of the Tourism Parking and Traffic Strategy. | Apollo Bay | $75,000 | $150,000 |
| Colac Otway Economic Development Strategy | Development of an Economic Development Strategy that will articulate Council's vision, objectives and actions for economic development to plan for and facilitate economic growth and prosperity for the Shire. | Colac | $25,000 | $50,000 |
| Terang and Region Financial Services Needs Analysis | The Terang and Region Financial Services Needs Analysis will review the financial, postal and other services in Terang to determine local community and business need, the impact of the loss of these services, processes to retain and/or attract them and potential benefits to the community. | Terang | $16,400 | $19,400 |
| Geelong Chamber Of Commerce – Establishment of the Barwon South West Regional Business Council | A project to establish and map out a framework for the establishment, ongoing sustainability and governance arrangement of a regional business council. Deliver a regional business summit to bring regional businesses and potentially key government representatives together. | Geelong | $19,500 | $20,000 |
| Upstart Entrepreneurial Challenge Limited – Building an Entrepreneurial Community | Two entrepreneurial community innovation workshops for business, community groups, educators and young people to explore the benefits and practical means to build innovative entrepreneurial communities. | Rippleside | $17,950 | $18,950 |
It is anticipated that Round 2 of BBRF will open before the end of the year.

Unsuccessful applicants are encouraged to seek feedback by contacting bbrffeedback@industry.gov.au to help improve their application for the next round.

A full list of all the successful Round One projects is available at: www.business.gov.au/bbrf

Please contact the RDA regional office on 03 5215 6000 for any further information.
Click here to visit the RDA Committee website
Click here to follow RDA Committee on Twitter
SUPPORT FEED GEELONG

Show your support for the annual Feed Geelong campaign during October, focusing on addressing hunger and food insecurity which is often hidden within our community.



Key events during the month will help raise valuable funds and awareness in support of the region's unsung emergency food relief network, which helps the thousands of men, women and children who might struggle to put three nutritious meals on the table each day.

Give Where You Live leads the Feed Geelong mission. Events include a 'Seeing is Believing' tour of food relief network locations on October 6, a Brown Paper Bag Day on October 16 which encourages people to donate equivalent of the cost of their lunch to the appeal, and a community lunch at Geelong's Christ Church community meals hub on October 26.

Visit the Feed Geelong website here to learn more, register for an event or make a donation.


HUMANS IN GEELONG EXPO

Inspiring speakers, exhibitors, workshops and live performances will feature at a first Humans in Geelong Expo at Deakin University Waterfront campus on Sunday, October 8, 2017.

A line-up of 16 speakers at the free event, from 10am to 3pm, will include Seven Women founder Stephanie Woollard, 2016 Victorian Young Achiever of the Year Sarah Kenworthy, radio personality and community contributor Roxie Bennett and thanatologist Peter Roberts who plays harp for the ill, and will play at an expo 'time out' session.

Live performers will include Imogen Brough, Rach Brennan, Irish band Which Which Is Which, Once Voice Choir, Geelong Community Tango and La Vida Salsa.

Volunteer-based Humans in Geelong tells positive stories of local people making a difference in their community, showcasing stories of creativity, sustainable practices and opportunities.

Find the expo program and make bookings links here.


NEW HQ FOR COLAC POLICE

Colac's $11 million new police station is expected to be ready for use late in 2018.

Commercial lndustrial Construction Group will build the new hub, designed to provide a modern base for uniformed and speciliast police teams including the Criminal Investigation Unit, highway patrol and sexual offence and child abuse investigation team.

The new station will be next to Colac Magistrate's Court on Queen St, replacing a station in use since the 1930s on the corner of Queen and Dennis streets.

Police will continue to operate from the existing station during construction.


Latest news from the G21 Pillars
Each of the eight G21 Pillars meets on a regular basis to discuss regional issues and progress regional projects. Click on the below links for the most recent Pillar activity report.

G21 Arts & Culture Pillar
G21 Economic Development Pillar
G21 Education & Training Pillar
G21 Environment Pillar
G21 Health & Wellbeing Pillar
G21 Planning & Services Pillar
G21 Sport & Recreation Pillar
G21 Transport Pillar
Click here to view the full list of G21 Pillar Projects

Key Economic Indicators released

Enterprise Geelong has released the August Key Economic Indicators which monitors the region's economy. The key points are:
| | | | |
| --- | --- | --- | --- |
| Economic Indicator | Data | Movement | Status |
| Unemployment rate | 5.6% | +0.6% | ↑ |
| Average weekly job advertisements | 106 | +18.5% | ↑ |
| New monthly online job advertisements | 1,805 | +11.7% | ↑ |
| Monthly domestic building activity | $84.3m | +5.8% | ↑ |
| Monthly new dwelling building approvals | 248 | +2.7% | ↑ |
| Monthly non-domestic building activity | $83.6m | -1.5% | ↓ |
| Quarterly median house price | $475,000 | +3.3% | ↑ |
Media articles of interest to the G21 region

G21 tracks articles within the region that discuss G21 and the region's Priority Projects.

Click here to view G21's Articles of Interest for September-October 2017.

G21 Membership
G21 welcomes the following organisations, approved for membership:

Green Earth Electrical

National Service Scholarship Foundation (NSSF)

Active Geelong Ltd
Membership of G21 is open to eligible businesses, organisations and government bodies associated with the G21 region. Details about eligibility for membership, annual fees and an application form may be viewed by clicking here.
This email has been designed to provide you, a valued member of the broader G21 Family, with a snapshot of the key projects and activities of the G21 Alliance over the past month. You have been included in the distribution list of this G21 Snapshots email, because you have an important role in improving people's lives in the G21 region as a Federal or State parliamentarian, Councillor, Regional Management Forum member, senior manager with regional Councils, senior manager with Regional Development Victoria, G21 Member, G21 Pillar participant, G21 Board member or member of the media (a list of over 700 individuals or organisations). If there are other people in your organisation or network that you think should be aware of this email please feel free to pass it on to them.
If you want further information or wish to bring something to our attention, please contact either of us at the numbers or addresses given below or refer to the G21 website at www.G21.com.au.






Bill Mithen
G21 Chairperson
chair@g21.com.au





Elaine Carbines
Chief Executive Officer
0437 202 300
ecarbines@G21.com.au