Dear G21 family member,

As an important member of the G21 community, each month we will keep you informed of the key projects and activities of the G21 Alliance. G21 is the formal alliance of government, business and community organisations, working together to improve people's lives in the G21 region.
FEATURE ARTICLES
REPORT CARD DEMONSTRATES GROW IMPACT
LEIGH SALES COUP FOR G21 FORUM
FEDERAL BUDGET RAIL WIN
STATE BUDGET MIXED BAG
GEELONG TO GET 69 NEW RAIL SERVICES
COUNCIL RESTRUCTURE BILL
G21 ROAD TRANSPORT PLAN, HAVE A SAY
STATE FUNDS FOR NEXT KARDINIA PARK UPGRADE
THE ROAD HOME SUPPORTS HOMELESS
NEW $100,000 COMMUNITY GRANT AVAILABLE
NO RAMBLING AT EMERGE GEELONG

REGULAR SNAPSHOTS FEATURES
RDA BSW COMMITTEE UPDATE
ITEMS OF REGIONAL INTEREST
LATEST NEWS FROM G21 PILLARS
KEY ECONOMIC INDICATORS
MEDIA ARTICLES OF INTEREST
G21 MEMBERSHIP
POSITIVE growth and powerful stories shone at delivery of the first report card for G21 Region Opportunities for Work, GROW project.

Give Where You Live Foundation chief executive officer Bill Mithen and G21 chief executive officer Elaine Carbines formally welcomed 20 new compact signatories to the project during an event which also included launch of an online dashboard charting latest GROW trends and updates.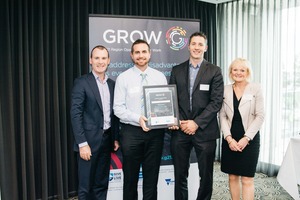 GROW, established by Give Where You Live Foundation and G21-Geelong Region Alliance, has reported growth of 9 per cent and led to creation of 56 jobs, targeting areas of disadvantage.

The project encourages enterprises to buy and employ locally, keeping economic benefits of spending within the community and helping to generate jobs. Read more here.

Mr Mithen is pictured, left, with new GROW signatories Cameron Shepherd and Nathan Holmes of AusPits and Ms Carbines.

He told more than 60 people at the report card launch that GROW was needed as an initiative that 'didn't wait for government' to address entrenched place-based disadvantage.

While Geelong's overall unemployment rate appeared to compare well with the state, some areas such as Norlane were alarmingly three times higher.

"Why GROW? That's partly why GROW," Mr Mithen said.

ArcBlue modelling based on data collected from 18 of 58 GROW compact business signatories also shows that growth generated by the project has led to at least 56 new on-the-ground jobs and a further 90 indirect jobs in G21 region.

Mr Mithen said 46 of the 58 signatories still did not have compact action plans. He issued a rallying call for businesses to compose and maintain action plans as active documents to measure against.

"GROW isn't about G21, it isn't about Give Where You Live Foundation, it is about all of you coming together and taking some action saying we want to make some change, we know it is an entrenched issue," Mr Mithen said.

LEIGH SALES COUP FOR G21 FORUM
WALKLEY award-winning journalist and acclaimed author Leigh Sales will be a keynote speaker at G21-Geelong Region Alliance's annual Stakeholder Forum in September.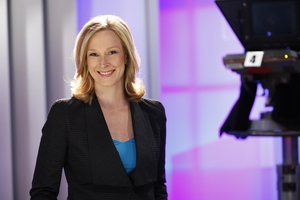 G21 is delighted to have confirmed the anchor of Australian Broadcasting Corporation prime time flagship program 7.30 for the sixth annual event.

G21 chief executive officer Elaine Carbines said Victoria's first Gender and Sexuality Commissioner Rowena Allen had also confirmed as a speaker.

Prime Minister Malcolm Turnbull and Opposition Leader Bill Shorten have been invited to present.

Ms Carbines urged people to save the forum's September 1 date, with tickets to be available from late July.

"Our forums have become key annual events for G21 region, providing compelling discussion points on issues of public importance," Ms Carbines said.

"Having secured Leigh Sales as a keynote speaker immediately provides us with a respected national voice, insight and authority."

Ms Sales was previously anchor of the ABC's prestigious Lateline program, where her work included interviewing Hillary Clinton, Tony Blair and Henry Kissinger.

She has also filled roles as ABC Washington correspondent – covering stories including the aftermath of September 11, war in Afghanistan and Iraq, a presidential election and Hurricane Katrina – and was ABC national security correspondent from 2006-2008.

She received a Walkley Award, Australia's highest journalism honour, for her work covering events at US military prison Guantanamo Bay and the case of Australian detainee David Hicks.

Her subsequent book Detainee 002 received critical acclaim and won the prestigious University of Technology Sydney George Munster Award for Independent Journalism.

FEDERAL BUDGET RAIL WIN
FUNDING for duplication of South Geelong-Waurn Ponds rail line was a lone big ticket win for G21 region in the Federal Budget.

An allocation of $100 million was part of a $500 million spend on Victorian regional rail, combining with State Government money to lock in the prospect of improved connectivity for a rapidly growing local population base.

Installation of a passing loop between the stations will allow greater frequency of services. Work will include building of additional platforms at South Geelong, Marshall and Waurn Ponds stations.

G21 has long championed the duplication as a key element of the regional rail connections priority project.

The Federal Budget was otherwise lean for G21 region-specific priorities, with Great Ocean Road tourism infrastructure investment, central Geelong revitalisation and Geelong harbour redevelopment among projects overlooked.

Find G21's full Federal Budget response here.

STATE BUDGET MIXED BAG
FUNDING of a Geelong Secondary Schools and Community Digital Learning Hub remains an urgent G21 region priority after having been ignored in this month's State Budget.

The region welcomed some significant Budget wins but G21 rates overlooking of the 'shovel-ready' $4.7 million hub project as a significant disappointment, failing the region's school students as they battle sub-standard internet provision.

Establishment of the digital hub is a G21-Geelong Region Alliance priority project and is the number one issue identified by the state's own Barwon Region Partnership.

The State Government announced on May 16 that the Budget would include $16.4 million to improve bandwidth and digital connectivity for students in rural and regional Victoria, and $67.9 million for better IT support for schools across the state, but failed allocate any to the G21 digital hub.

Budget priority project wins for the region, announced by Treasurer Tim Pallas, included:
$15 million for central Geelong revitalisation,

Funding for establishment of a taskforce and management team to simplify management of the Great Ocean Road, and

Surf Coast and Warrnambool line rail upgrades, though contingent on Federal Government payment of Victoria's $1.46 billion entitlement from the commonwealth Asset Recycling Initiative.

$3.9m, Simonds Stadium stage five redevelopment planning and design
Lack of funding for Geelong Convention and Exhibition Centre planning was also a major disappointment, with the State Government having missed its own deadline for preparation of a business case.

Find G21's full State Budget response, and region allocations here.

GEELONG TO GET 69 NEW RAIL SERVICES
THE State Government encored Budget projects for the region by announcing travellers would have at least 69 new weekly rail services between Geelong and Melbourne from late August.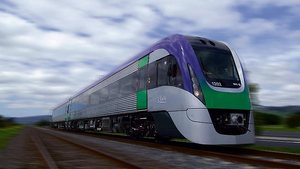 New timetabling announced by Premier Daniel Andrews and Public Transport Minister Jacinta Allan on May 9 promises 30 new services each weekend on the state's busiest regional rail line, and trains at least every 40 minutes between 7am and 7pm every day.

The additions are among 142 extra services scheduled for across the state, with 18 new weekly services to go to both Bendigo and Ballarat.

Upgrading of public transport is a G21 priority project.

The announcement followed the State Government's April 30 Regional Rail Revival pledge of more than $200 million for rail upgrades in Barwon South West region, including important duplication of the line between South Geelong and Waurn Ponds. Reserving of a rail corridor to Torquay and upgrading of the Warrnambool line were pending federal payment of the Asset Recycling Initiative entitlement.

The new regional train timetable is set to be available in July from ptv.vic.gov.au

CITY COUNCIL RESTRUCTURE BILL
The State Government has moved to reshape the City of Greater Geelong's council and mayoral election with introduction of an Amendment Bill into parliament.

The City of Greater Geelong Amendment Bill 2017 seeks implementation of Citizens' Jury recommendations following dismissal of the council by the State Government in April 2016 after a three-month investigation of its governance, administration and culture.

New structure for the council, to be effective from elections in October 2017, includes:
Local Government Minister Natalie Hutchins said the Citizens' Jury had allowed residents to have their say about a new council structure, and how it could function more effectively in the interests of the city.

The Victorian Electoral Commission is in the process of consulting Geelong residents on ward structure.

G21 ROAD TRANSPORT PLAN, HAVE A SAY
The deadline for community comment on the draft G21 Road Transport Plan 2017-27 is fast approaching.

The plan aims to guide the development of our regional road transport infrastructure and G21 has been seeking feedback from community members, prior to endorsement by each of the five G21 region municipal councils – Greater Geelong, Colac Otway, Golden Plains, Surf Coast and Queenscliffe.

The deadline for comment is Friday, May 19. Read the plan and have your say here.

STATE FUNDS FOR NEXT KARDINIA PARK UPGRADE
THE State Government is shaping to transform Geelong's Kardinia Park into the best sporting arena in regional Australia by completing its world-class redevelopment.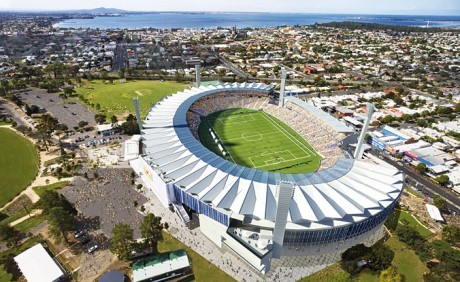 The government preceded the May 2 State Budget by confirming its $3.9 million investment to kick-start planning and design for Stage 5 of the redevelopment of Geelong Football Club's iconic home.

The new work was set to start as Stage 4 development neared completion, on target for May 19 opening with the Cats taking on the reigning premiers Western Bulldogs under lights.

Stage five will be the final chapter in a series of upgrades which have gradually enclosed the ground.

Stages four and five upgrading of Kardinia Park (Simonds Stadium) is a G21 Economic Development Pillar project.

THE ROAD HOME SUPPORTS HOMELESS

Stark latest figures on homelessness in G21 region have highlighted urgency of The Road Home project, which gathers donations of hygiene and warmth items for people living the reality.

Richard Walter of Corio Norlane Lions Club is driving force behind the project, and urged people to support a winter appeal from April to September.

Barwon South-West Region homelessness co-ordinator Andrew Edgar revealed in late April that latest figures show about 1000 people experiencing homelessness in Barwon region, with about 120 of them sleeping rough.

G21 is amplifying The Road Home call for support. Addressing disadvantage is a G21 priority project, incorporating the G21 Region Opportunities for Work (GROW) plan.

People can donated hygiene items to help people maintain cleanliness and dignity and items like blankets, towels, jackets, hats, new socks and new underwear at any of 15 collection bins located across Geelong and region, including G21 at 131 Myers St, Geelong. Read more here.

NEW $100,000 COMMUNITY GRANT AVAILABLE
Geelong Community Foundation and Adroit Insurance Group have announced a new $100,000 grant to be awarded to a Geelong region organisation during 2017.

The grant will be made from proceeds of the annual Adroit Insurance Group Charity Golf Day, which has raised more than $965,000 for local causes since inception in 2001.

Leaders said establishment of the grant would present a transformative opportunity for community organisations.

Applications opened on May 9 and close on July 7 and the recipient will be announced at the end of July.

This year's Adroit golf day will be at 13th Beach on November 23. People can click here to learn more or make a grant application.

NO RAMBLING AT EMERGE GEELONG
Entrepreneurs are ready and willing to soak up and share inspiration at this month's Emerge Geelong 'unconference', which will illuminate ways to pitch and grow new businesses.

The May 24 event aims to build on Geelong's vibrant start-up culture with lightning 10-minute presentations covering topics including finding support and potential in Geelong, shaping ideas and concepts, avoiding waste downtime and horror stories from off-shoring.

Emerge Geelong, promising 'no rambling', is funded by Skilling The Bay and will be run on the bay at The Pier.
Go to http://bit.ly/2pUlwaj for more information.

REGULAR SNAPSHOTS FEATURES
Commonwealth Budget 2017-18


The Regional Ministerial Budget Statement Regional Australia–Driving Our Economy 2017-18 was released on 9 May 2017 as a part of the 2017-2018 Australian Government budget. The statement outlines key measures that will help build a prosperous future for regional Australia and includes the following categories:
Health

Education

Employment

Defence

Infrastructure

Telecommunications

Agriculture and water resources.
The Australian Government has also committed $70 billion for infrastructure to support connectivity and economic growth in the regions. This includes:
A commitment of $4.5 billion in NBN Co's fixed wireless and satellite networks

$4 billion in farm business concessional loans

The National Water Infrastructure Loan Facility to ensure our regions are places of commerce and community

$200 million injection into the Building Better Regions Fund, and

A $270 million major projects fund will be created to unlock the potential of regional Australia.
The budget included a further $74.3 million for RDA Committees to continue through to 2021. The release of the Government's response to the review of the RDA program is expected soon.

Further information on the Regional Australia–Driving Our Economy 2017-18 Statement can be accessed through the Department of Infrastructure and Regional Development website.

Please contact the RDA regional office on 03 5215 6000 for any further information.
Click here to visit the RDA Committee website
Click here to follow RDA Committee on Twitter
FIRST PRINCIPALS FOR NEW SCHOOLS

Inaugural principals have been appointed to the soon-to-be-opened Bannockburn P-12 and North Geelong Special Development schools.

Minister for Education James Merlino announced on April 28 Rob Nelson would be principal of the new Bannockburn P-12 and Suzanne Armstrong principal of the North Geelong Special Development school.

Opening in 2018, Bannockburn P-12 will accommodate 475 prep to Year six students and 720 Year seven to 12 students. Establishment of the Bannockburn P-12 school is a G21 Education Pillar Project.

Mr Nelson is current principal of Bannockburn Primary School.

Also opening in 2018, North Geelong Special Development School will provide specialist education services for students with a disability from ages 5 to 18.

Ms Armstrong has been the principal of Colac Specialist School since July 2006.

LOTS OF STARS NEED LOTS OF LOVE

Chris Storm needs some generous help to move 17,500 stars!

The art therapist is Geelong region co-ordinator of the One Million Stars to End Violence project, which has encouraged people across Australia to weave stars that will ultimately come together in an installation at next year's Gold Coast Commonwealth Games.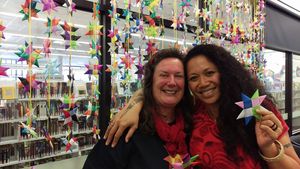 Maryann Talia Pau started the project in response to the murder of Melbourne woman Jill Meagher. She was inspired by a quote from Martin Luther King Jnr and aimed to engage communities in conversations about ending violence.

"Each star represents a person's commitment to practise light, hope, courage and solidarity and the one million star installation will be a peaceful statement against all forms of violence in our communities," Ms Talia Pau said.

Chris Storm thanked all of Geelong region's 'willing weavers' who had poured hearts into the project.

Ms Storm needs some help in getting 17,500 of them on the way to Brisbane by the end of May. She estimates the cost might be about $1000 and is seeking support from community organisations or individuals.

People can use the gofundme page here, email her at storminsightcounselling@gmail.com or phone on 0418 432 362.

HIGH TEA FOR WOMEN IN AGRIBUSINESS

REGIONAL NAB Agribusiness manager Liz Duncan and world record rower and Bachelor of Business Sally Kehoe will speak at a Geelong high tea celebrating Women in Agribusiness.

The Centre for the Study of Agribusiness at Marcus Oldham College is convening the May 24 event, to be at the college's Ivo Dean Function Centre.

Liz Duncan is regional Agribusiness Manager South West Victoria for NAB Agribusiness, based in Warrnambool for the past three years.

She grew up on a beef cattle farm and has advised and worked with several not-for-profit organisations including as a board member for St Andrew's Toowoomba Hospital.

Sally Kehoe, from Toowoomba, became a national rowing champion at 14, has competed at three Olympics, is a world record holder in women's double scull and many times world championships competitor.

She is a Bachelor of Business Economics graduate from the University of New England, and has a Masters in International Finance from Deakin University.

Click here for more information.

RSL ACTIVE TARGETS ISOLATION

A veteran support program nurtured by Geelong Returned and Services League volunteers has won $400,000 backing from the Victorian Government.

Minister for Veterans John Eren announced the government would partner the Victorian RSL in supporting RSL Active, a specialized program tailored to meet the needs of young veterans affected by social isolation.

It will bring them together via activities including sport, music, art and social events.

"We hope younger veterans who are facing their own challenges can use RSL Active to make new friendships, connect with their community and get back on their feet," Mr Eren said.

He joined RSL Victoria president Dr Robert Webster announcing support for the program during a learn to surf event in Torquay.

People can go to rslvic.com.au to learn more about RSL Active.

TREKKERS PUT FEET UP
This year's outstanding Surf Coast Trek raised almost $300,000 to be shared between Give Where You Live and Kids Plus Foundation, and Team G21 proudly finished second on the team money-raising table.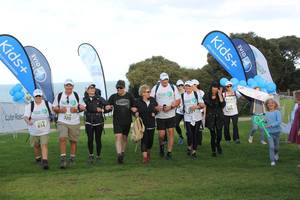 With the support of many big-hearted donors the eight-member G21 outfit raised $6475, ranking behind only Avalon Airport trekkers, who swooped into top rung during the last week of campaigning and finished with $7260.

A capacity entry of 750 walkers enjoyed mainly ideal conditions, with a couple of refreshing light showers, for the scenic 40km walk from Aireys Inlet to Torquay.

Team G21 members Elaine Carbines, Janice Lane, Ray Ingwerson, Liz Dando, Nada Malinac, Anne O'Brien, Michael Trotter and Danny Lannen crossed the line together after eight hours, 34 minutes on the track and thank all donors for their outstanding support

TRAINING AWARDS OPEN

Nominations for the 63rd Victorian Training Awards are now open, aiming to recognise the importance of the state's training and TAFE system.

Fifteen categories include six for individual excellence, three for training, four for employers, one for people's choice and a Lynne Kosky memorial award for lifetime achievement.

Winners will receive $5000 and represent Victoria at the Australian Training Awards in Canberra in November.

People can click here to nominate before entries close on June 16.

Latest news from the G21 Pillars
Each of the eight G21 Pillars meets on a regular basis to discuss regional issues and progress regional projects. Click on the below links for the most recent Pillar activity report.

G21 Arts & Culture Pillar
G21 Economic Development Pillar
G21 Education & Training Pillar
G21 Environment Pillar
G21 Health & Wellbeing Pillar
G21 Planning & Services Pillar
G21 Sport & Recreation Pillar
G21 Transport Pillar
Click here to view the full list of G21 Pillar Projects

Key Economic Indicators released

Enterprise Geelong has released the March Key Economic Indicators which monitors the region's economy. The key points are:
| | | | |
| --- | --- | --- | --- |
| Economic Indicator | Data | Movement | Status |
| Unemployment rate | 6.2% | +0.5pts | ↑ |
| Average weekly job advertisements | 73 | -37.6% | ↓ |
| New monthly online job advertisements | 1,500 | +7.4% | ↑ |
| Monthly domestic building activity | $82.6m | +18.7% | ↑ |
| Monthly new dwelling building approvals | 232 | +3.1% | ↑ |
| Monthly non-domestic building activity | $67.6m | +297.6% | ↑ |
| Quarterly mediam house price | $460,000 | +2.2% | ↑ |
Media articles of interest to the G21 region

G21 tracks articles within the region that discuss G21 and the region's Priority Projects.

Click here to view G21's Articles of Interest April-May 2017.

G21 Membership
This month the G21 Board welcome new member
Techne Development to
G21-Geelong Region Alliance
Membership of G21 is open to eligible businesses, organisations and government bodies associated with the G21 region. Details about eligibility for membership, annual fees and an application form may be viewed by clicking here.
This email has been designed to provide you, a valued member of the broader G21 Family, with a snapshot of the key projects and activities of the G21 Alliance over the past month. You have been included in the distribution list of this G21 Snapshots email, because you have an important role in improving people's lives in the G21 region as a Federal or State parliamentarian, Councillor, Regional Management Forum member, senior manager with regional Councils, senior manager with Regional Development Victoria, G21 Member, G21 Pillar participant, G21 Board member or member of the media (a list of over 700 individuals or organisations). If there are other people in your organisation or network that you think should be aware of this email please feel free to pass it on to them.
If you want further information or wish to bring something to our attention, please contact either of us at the numbers or addresses given below or refer to the G21 website at www.G21.com.au.






Bill Mithen
G21 Chairperson
chair@g21.com.au





Elaine Carbines
Chief Executive Officer
0437 202 300
ecarbines@G21.com.au