Upcoming Events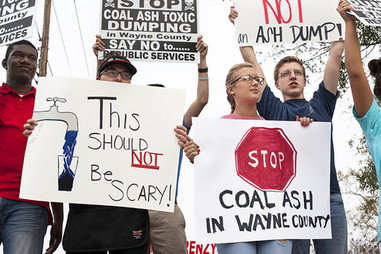 GEC 1st Friday Lunch, September 2, 11 AM, Captain Joe's Seafood, 5296 New Jesup Hwy, Brunswick. Beth Roach, part of No Ash at All, the Wayne County community group, is speaking on their fight to stop millions of tons of coal ash annually from being dumped at Wayne County's Broadhurst Land Fill. Roach will discuss threats that coal ash poses to our aquifer, wetlands, rivers, and the Georgia coast. GEC Board meeting after 1st Friday Lunch.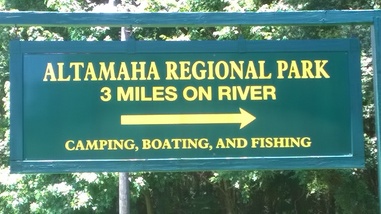 Save the Date – Saturday, September 24, Noon-3. GEC Annual Membership Meeting and Picnic, Altamaha Regional Park. You and your friends who care about coastal Georgia are invited to join us. Bring your favorite covered dish to share on the banks of the Altamaha River. GEC events are family friendly.
What We Have Been Working On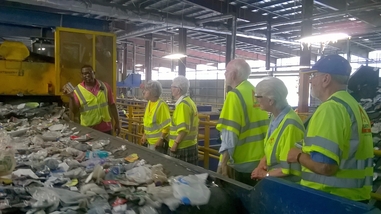 - GEC members toured Republic Services North Florida Recycling Center, a

70,000 squa

r

e

foo

t

facilit

y in Jacksonville, on Thursday, August 11. Over 7 thousand tons of trash is recycled monthly using state-of-the-art technologies to identify and separate materials such as paper, metals, plastics, and other recyclables. Thanks to Republic employees, Tiffany Williams, Ashley James, and Angelo Solomon for the tour of what is described as

on

e

of

th

e

mos

t

technologically

advance

d

p

r

ocessing centers

o

n

th

e

Eas

t

Coast.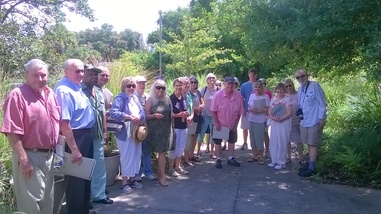 - GEC members were given a tour of the EcoScapes Demonstration Garden on August 5 by Keren Giovengo, Program Manager at the University of Georgia Marine Extension Service. Keren also gave a presentation about promoting sustainable landscaping practices using native plants, and how to select the right plants for your yard conditions. Read More.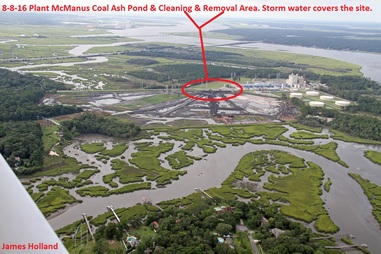 - The GEC continues to monitor Georgia Power's removal of the coal ash pond from Plant McManus in Glynn County. Georgia Power reports the coal ash passed the TCLP (Toxic Chemical Leaching Procedure), is being placed in a line cell without other wastes, and financial assurances to maintain the cells are in place at the Chesser Island Landfill near Folkston.

- On August 9, we made our first appearance before the Glynn County Superior Court arguing that Georgia law requires Glynn County to hold Twitty Park in public trust for its citizens. Glynn County and SIA Propco II, LLC (aka Sea Island Company) argued that a public park can be transferred to a private company and developed for public and private roads. Obviously, we strongly disagree and will fight to save Twitty Park. We await an initial ruling from the Court and encourage you to contact your local elected representatives to remind them that the public wants its parks and public assets held in public trust, not by private companies. Updates can be found on the Twitty Park Facebook page.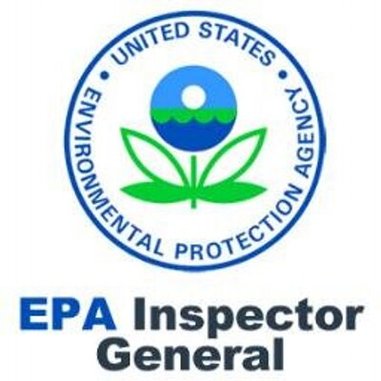 - The EPA Office of Inspector General Investigation (OIG) entered a second phase and the GEC has responded with additional information. The focus is: 1.) Use of a toxaphene (polychloro camphene) analytical method for decision-making previously found to be inappropriate by the EPA OIG; and, 2.) An agreement between EPA Region 4 and Hercules Incorporated to circumvent the Superfund community participation provisions and participation in the decision-mailing process at the Terry Creek Dredge Spoil Areas/Hercules Outfall Site.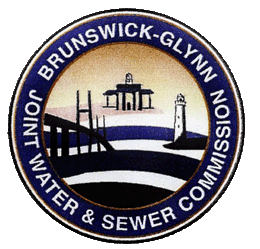 - The Glynn County Water and Sewer Commission is under a Consent Order from the Georgia Environmental Protection Division to prohibit tap-ins in an area off of South and North Harrington Roads on St. Simons, and I-95 Exit 42 on the mainland. The Planning and Zoning department's habitual finding of "no significant impact" accumulated into a significant enough problem for the GA-EPD to halt development in parts of Glynn County.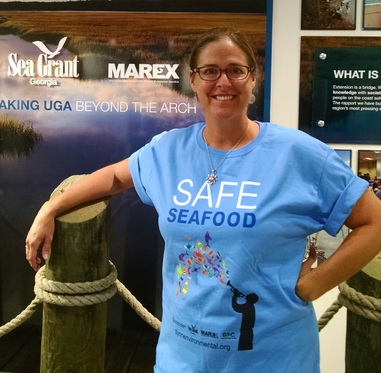 Our Sea Grant and UGA Marine Extension Service partner, Katy Smith, in the new Safe Seafood T-shirt.
- The GEC 2016 Safe Seafood program completed its second month with the arrival of our Safe Seafood T-Shirts. Thank you to our outreach person, Nicole Holt, for her effort in the field and making the T-Shirt a reality. The shirts are available from the GEC for $20 and will help support the Safe Seafood project. An expanded Safe Seafood program is being proposed for long term funding under Superfund. Advisory in English and Spanish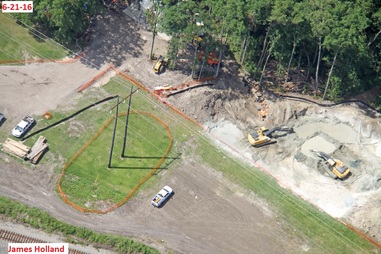 - The Brunswick Wood Preserving Superfund Site cleanup outside the underground containment walls (called slurry walls) is moving forward with the setting up of equipment in May, doing a treatment test sample, and sending it off to the laboratory analysis. When the treatment is approved, the work will continue. Read More.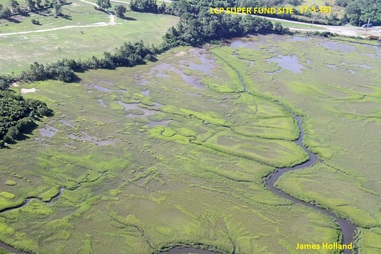 The LCP marsh is expensively contaminated with mercury and PCBs.
- The LCP Chemicals Superfund Site Consent Decree for the marsh cleanup and cover-up was released on July 29th. When recorded in the Federal Register, a 30 day comment period on the Consent Decree begins. The release of the Consent Decree starts the 3-year clock on completing the Resource Damages Claim. Read More.

- WAIT, WAIT, WAIT…. We continue to wait for a response for these projects and issues.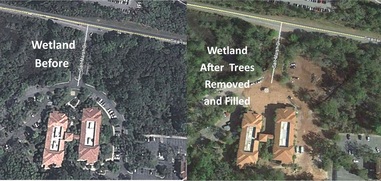 - Savannah Army Corps of Engineers (ACE) - The GEC requested an enforcement action on wetland filling at the Sea Island Inn in January 2016. The ACE Nationwide #39 Permit presented a building project while a different Preliminary Plat Approval was approved by the Island Planning Commission. The Final Plat Approval by Glynn County did not show the project proposed in the approved ACE permit application and the now filled wetland was incorporated into the landscaping design.
- Savannah Army Corps of Engineers (ACE) - The GEC and other coastal organizations continue to wait for a response to comments concerning the Sea Island Groin permit.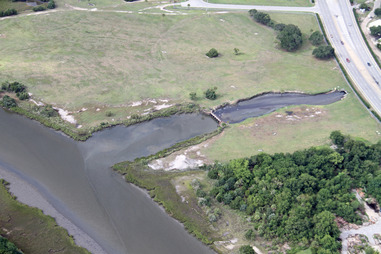 Photo by James Holland - Terry Creek Outfall Ditch.
- The Terry Creek Dredge Spoil Areas/Hercules Outfall Site Proposed Plan comments on the cleanup and cover-up of the outfall ditch were sent to the EPA in early September 2015. We are waiting for the release of the EPA Responsiveness Summary and proposed Record of Decision. Read More.

www.glynnenvironmental.org