Upcoming Events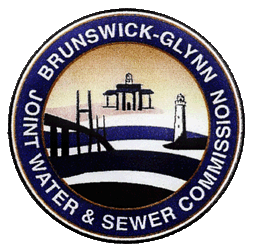 GEC 1st Friday Lunch, January 6, 11 AM, Captain Joe's Seafood Restaurant, 5296 New Jesup Hwy. Brunswick. Jimmy Junkin, Director of the Brunswick-Glynn County Joint Water & Sewer Commission is speaking about the utility, its mission, and its obstacles. He will also present an overview of capital investments & projects to support our community.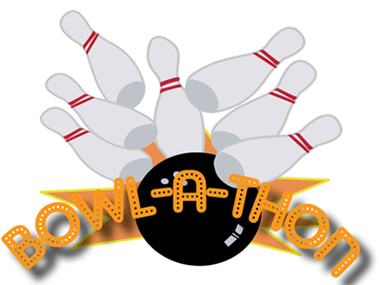 GEC 4th Annual Bowl-A-Thon, Friday January 27, 2017, 6:30 PM, The Strike Zone, 380 Millennium Blvd., Brunswick. No experience necessary! Join us for bowling, laughs, & snacks. Play individually or ask friends to put together a team of four. $10 each includes 3 games & shoe rental. Get your friends to sponsor your participation with a donation in your honor or get pledges for a set amount per pin. To participate, call 912-466-0934 or email criggins@glynnenvironmental.org.
A Look Back at 2016 and Forward to 2017
In 2016, after years of providing, advocacy, education, outreach, and technical assistance on community challenges, the GEC is proud of our progress. Our work provides strong oversight and assistance to assure that our community evolves from its industrial legacy. GEC's leadership and collaboration with local citizens and officials has unified our community's message to state and federal agencies, we don't want the most economical solution for the Superfund sites in our community - we want the best!

Building upon these success is moving us forward as a united community. As we emerge from our industrial legacy, impatience grows for clean ups of decades-old contamination. Efforts to protect water resources continue as the GEC and our partner organizations keep a diligent eye out for violators and others who would make a quick buck at the expense of our environment and quality of life. GEC's work over the last 26 years is strengthened with support from area leaders, colleges, schools, and partner organizations. Working together, we are facing new challenges as a stronger and more united community. Building upon our success, in 2017 the GEC is moving forward to make coastal Georgia a safe and healthy place to live and raise our families.
Advocacy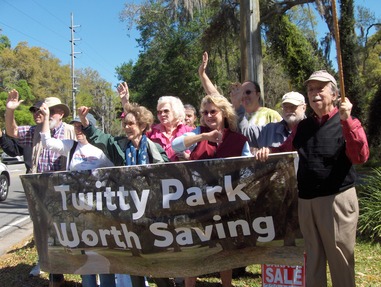 GEC is making an effort to protect 92 year old Twitty Park as a public park through community engagement, demonstrations, picnics, and social media. The issues raised by the GEC's Twitty Park Worth Saving initiative is being reviewed by the Glynn County Superior Court. In 2017, we expect a decision on the case heard by the court on August 9th. READ MORE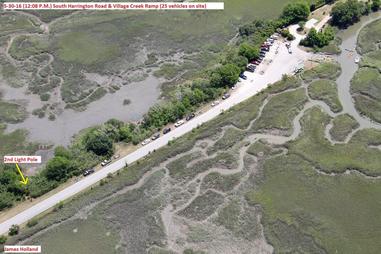 Defending free access to the marshes and creeks at the only public access for boaters and fishermen on St. Simons at Village Creek Boat Ramp on South Harrington Road. In 2017, monitoring is needed.

Environmental Justice - Responsiveness
to Community Concerns
The GEC supports and promotes environmental justice by helping people and neighborhoods communicating concerns with agencies and assisting in forming action plans.
The GEC helped the Magnolia Park neighborhoods organize and meet with the regulators who have the authority to fix the problem. Often, the regulator will cite the law, rules, and regulations in an effort to discourage citizens. The GEC helped Magnolia Park get beyond this barrier and focused the meeting on what actions the agency would be taking to fix the problem. Improvements have been noted and an agreed follow-up meeting with the Agency is still in the planning stage. In 2017, the effort will continue.

The Port of Brunswick before and after the July 2015 fire.

In follow-up to complaints about air emissions from the Port of Brunswick, and the subsequent July 11, 2015 fire that burned down several of the offending warehouses, the GEC worked with the community and Georgia Environmental Protection Division to assure the new warehouses would have the appropriate environmental controls and the community would be involved. Even though efforts of the Port did exclude some community participation, the environmental controls were implemented into the warehouse design. In 2017, monitoring Port air quality will continue.
Enforcement/Watchdog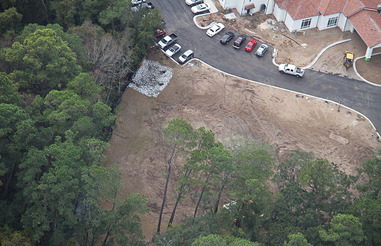 Progress was made on legal enforcement action on the wetland filling at the Sea Island Inn. The complaint alleges the ACE Nationwide #39 Permit presented a building project while a different Preliminary Plat Approval was approved by the Island Planning Commission. The Final Plat Approval by Glynn County did not show the project proposed in the approved ACE permit application and the now filled wetland was incorporated into the landscaping design. In 2017, we will monitor the enforcement action.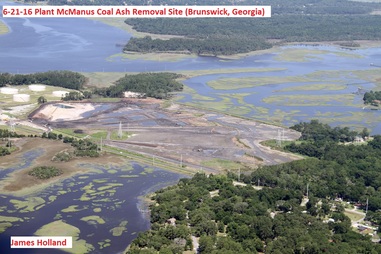 We continue monitoring of Georgia Power's removal of the coal ash pond from Plant McManus. Georgia Power reports the removal is around 30% complete. Two water samples detected arsenic. In 2017, we expect coal ash removal completed and additional water sampling results to review.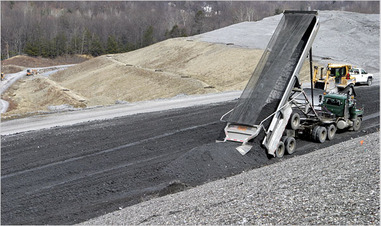 Coal Ash, Rail Road Spur, and Broadhurst - Out of state trash, coal ash, and Interstate Commerce Act were key issues this year. In 2017, an answer is needed to, "Where will the coal ash be placed?
The GEC and other coastal organizations continue to monitor: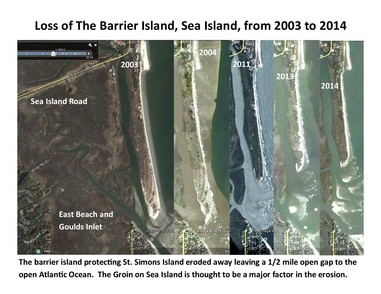 In 2017, we expect the Sea Island Groin permit decision and the Army Corps of Engineer's response to comments.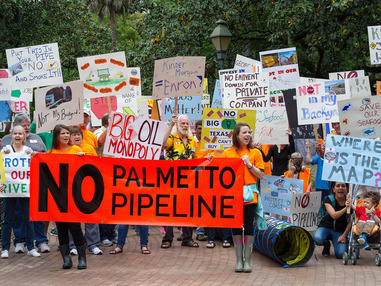 Kinder Morgan Palmetto Pipeline project, suspended March 31, remains a concern for 2017.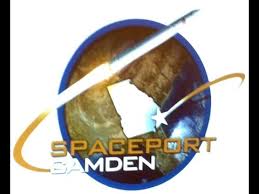 Camden County Spaceport Federal Aviation Administration's response to comments on the Environmental Impact Statement are expected in 2017.
Education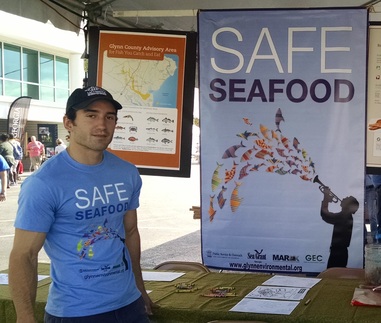 The Safe Seafood Program was energized by outreach persons, Nicole Holt and John Mahas, by engaging local fishermen where they fish, and spreading the word about safe seafood consumption guidelines. In 2017, We are working to expanded Safe Seafood under the local Superfund program.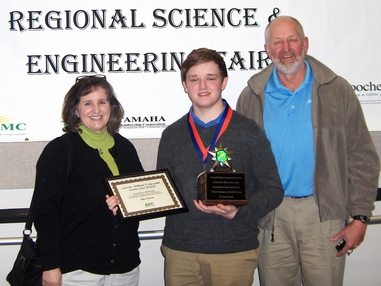 L to R - Gloria Burns, Allen Burns Dr. William T. Lipscomb Science and Engineering Fair winner, and Allen Burns
The GEC rewarding our young people's excellence in environmental science projects at the Regional Science and Engineering Fair by awarding nine Dr. William T. Lipscomb Awards and $3000 in scholarships. In 2017, we will support the February 7-9 Science and Engineering Fair at Savannah State University.
The GEC produced 12 newsletters during 2016 to keep our community unformed and updated on issues and initiatives. The EPA and other agencies often drag out over many years in an effort to let community interest and involvement wane. These monthly updates are a crucial tool in keeping our community educated, informed, and engaged. In 2017, we are planning monthly reporting on current projects and emerging issues.
We make an effort to post everything on the GEC web page at www.glynnenvironmental.org. Can't find it? Give us a call. We are well over 1,100 pages of reports, newsletters, and media.
Several calls in 2016 from universities and researchers seeking partnerships with the GEC to address environmental and health issues in our community. The GEC helped with proposals by Emory University, Georgia Southern University, and University of Georgia. Researchers requested information about the extent and risks from chemicals in our estuary for research proposals. As with grants, not all were funded. In 2017, the GEC is continuing our networking of agencies and researchers concerning community needs.
Technical Assistance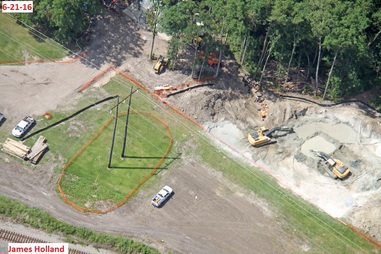 Persistent overview and perseverance at the Brunswick Wood Preserving Superfund Site led to implementation of an improved EPA cleanup plan in 2016 for the shallow creosote contamination of the sites' groundwater and soil outside the western containment area. In 2017, we expect to receive the closeout report. READ MORE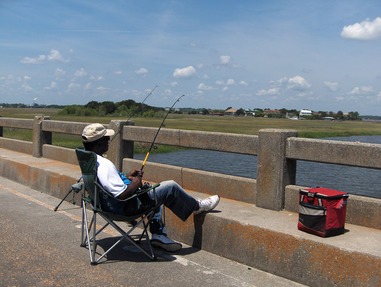 Back River is a popular fishing spot in the Terry Creek Seafood Advisory Area.
A better cleanup plan at the Terry Creek Dredge Spoil Areas/Hercules Outfall Site. GEC reported its concerns at the site to the EPA Office of Inspector General and the case is now being investigated. Our concerns focus on the fact that the EPA used an inappropriate analytical method for decision-making at the site and that EPA Region 4 and Hercules circumvented the Superfund community participation provisions and participation in the decision-mailing process. In 2017, we expect the release of the EPA Office of Inspector General's report. READ MORE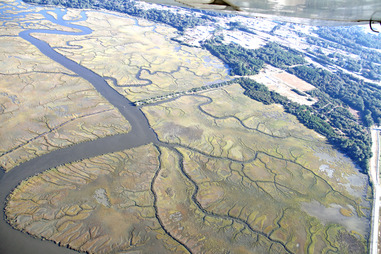 - The LCP Chemicals Superfund Site Consent Decree for the marsh cleanup and cover-up was released on July 29th for public comment through September 6th. The GEC submitted extensive comments to the U.S Department of Justice concerning environmental justice issues and the LCP Chemicals Superfund Site Consent Decree. Release of the Consent Decree starts the 3-year clock on completing the Resource Damages Claim. Thank you for the Consent Decree comments by City of Brunswick and allowing the GEC to present an update and briefing to the Brunswick City Commission. In 2017, we expect the Consent Decree decision, groundwater report, and an Uplands Proposed Plan. READ MORE

Events
The GEC sponsored field trips and other events in 2016: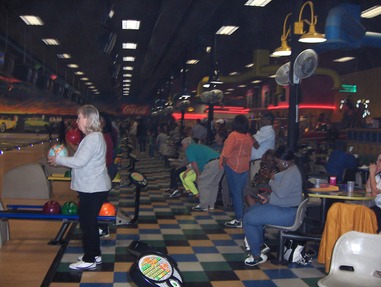 GEC Bowl-A-Thon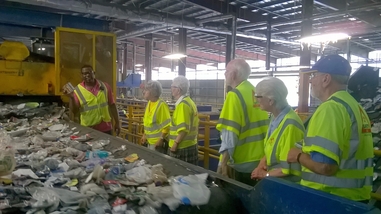 Tours of Republic Services Recycling Center in Jacksonville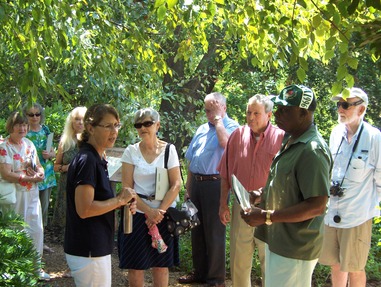 UGA MAREX EcoScapes Demonstration Garden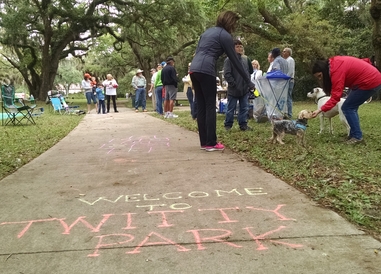 Picnic in Twitty Park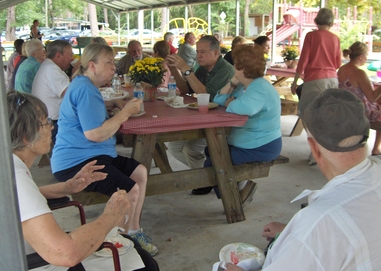 GEC Annual Meeting/ Picnic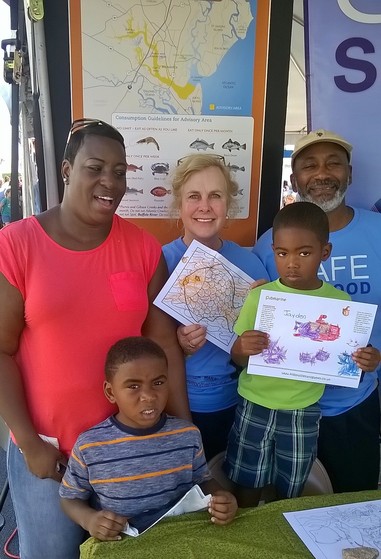 Coastfest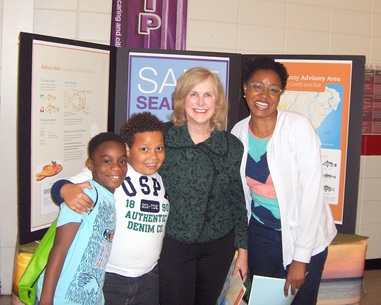 Altama Elementary' s 2016 Wellness Event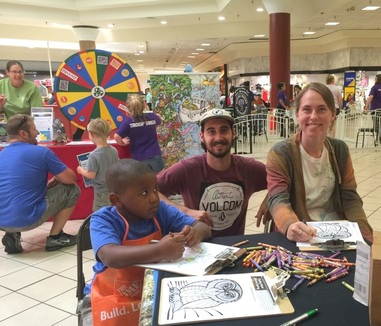 Glynn County Eco Fair, Electronics Recycling


Ecology Symposium at the College of Coastal Georgia's Coastal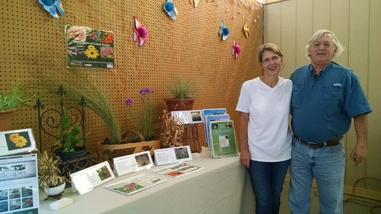 Eco-Scapes display at the County Fair about native plants, drought and salt tolerant, and how to end chemicals and fertilizer dependency around the home.
Thank You to Our
Members & Supporters
We are grateful for all the GEC members, supporters, and volunteers who share our vision and have helped in our effort to make our community a safe and healthy place to live and raise our families. Many of our successes have only come because we have stayed diligent over the years it has taken to prevail, and our victories are due to your continuing help and support.