GEC 1st Friday Lunch, November 4, 11 AM, Captain Joe's Seafood, 5296 New Jesup Hwy., Brunswick. Mark Dodd, Coordinator for the GA-DNR Sea Turtle Program is speaking about the record nesting season for loggerhead turtles-a milestone year for recovery of the threatened species.

GA Gives Day, Thursday, November 17: Make GEC your choice for GA Gives Day, an online statewide giving movement for citizens to donate to the nonprofit of their choice. All donations will be matched.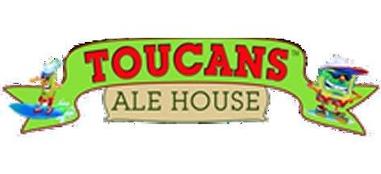 GEC Holiday Social, Friday, December 2, 5-7 PM, Toucan's Ale House, 2450 Perry Lane Road, Brunswick. Please join us. We are replacing this month's 1st Friday Lunch with an early evening social on Toucan's deck to kick off the holiday season.
What We Have Been Working On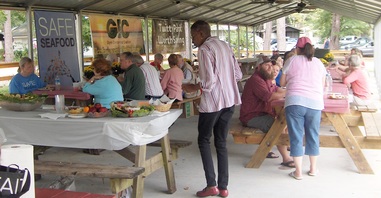 - GEC 2016 Annual Meeting and Picnic, September 24: Thanks to our guests who made the event a great success! Everyone enjoyed all of the ingredients of a great picnic – great company and great food - everything from boiled shrimp, fried chicken, potato salad, baked beans, and many more mouthwatering specialties. Thanks to the GEC officers and directors for your service to the GEC.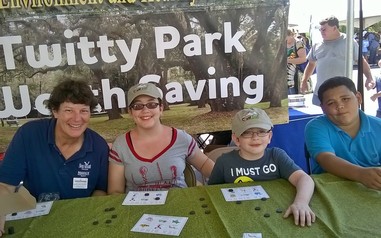 CoastFest, October 1: Hundreds enjoyed GEC's booth featuring educational activities and information on our community projects.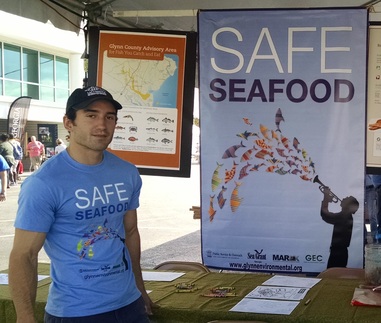 John Mahas, Safe Seafood Outreach, prepares the GEC CoastFest booth for a day of Seafood Bingo and coloring.
- The GEC 2016 Safe Seafood program completed its fourth month with a new outreach person. John Mahas started in early September. Thank you to Nicole Holt for her efforts in the field from June through August and helping with development of the Safe Seafood T-Shirt. The shirts are available for $20 and will help support the Safe Seafood project. An expanded Safe Seafood program is being proposed for long term funding under Superfund.
About John Mahas - A native of Brunswick, John will graduate from College of Coastal Georgia this December with a biology degree with a Coastal Ecology track. After graduation, John wants to pursue a job in conservation with an emphasis in ichthyology (fish biology). John shares information with our local fishermen on the seafood consumption guidelines for the Glynn County advisory area. John says he enjoys interactions with our fisherman, learning where they fish, how frequently, and what they catch. He also says the Safe Seafood outreach is improving his fish identification skills. Thank you John Mahas for doing a great job!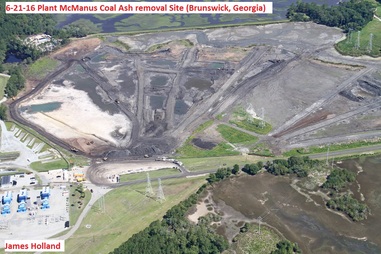 - The GEC continues to monitor Georgia Power's removal of the coal ash pond from Plant McManus in Glynn County. Georgia Power reports the removal is around 30% complete and expects to complete the project in early 2017. One water sample had arsenic, which has been reported to the Georgia EPD. The water will be investigated under the Hazardous Site Response Act program. The coal ash is being placed in a lined cell without other wastes, and financial assurances to maintain the cells are in place at the Chesser Island Landfill near Folkston.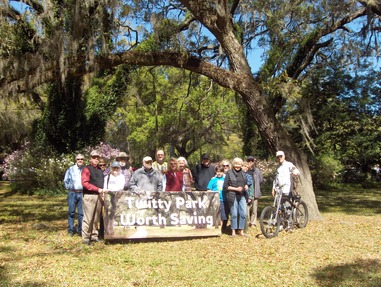 - The Twitty Park Worth Saving initiative moved to court on August 9th. We made our first appearance before the Glynn County Superior Court, arguing that Georgia law requires Glynn County to hold Twitty Park in public trust for its citizens. Glynn County and SIA Propco II, LLC (aka Sea Island Company) argued that a public park can be transferred to a private company and developed for public and private roads. Obviously, we strongly disagree and will fight to save Twitty Park. We await an initial ruling from the Court and encourage you to contact your local elected representatives to remind them that the public wants its parks and public assets held in public trust, not by private companies. We are waiting for the ruling. Read More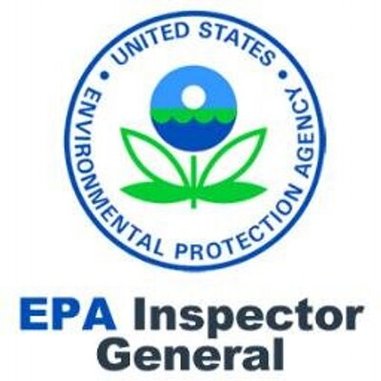 - The EPA Office of Inspector General Investigation (OIG) has agreed to look further into the complaint from the GEC concerning the Terry Creek Superfund Site. The focus is: 1.) Use of a toxaphene (polychloro camphene) analytical method for decision-making previously found to be inappropriate by the EPA OIG; and, 2.) An agreement between EPA Region 4 and Hercules Incorporated to circumvent the Superfund community participation provisions and participation in the decision-mailing process at the Terry Creek Dredge Spoil Areas/Hercules Outfall Site.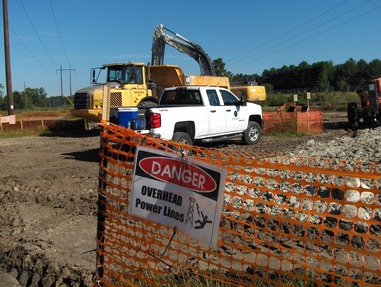 Challenges encountered at the Brunswick Wood Preserving Superfund Site included power lines, major gas pipelines, rail road tracks, and fiber optic cable.
- The Brunswick Wood Preserving Superfund Site cleanup outside the underground containment walls (called slurry walls) is nearing completion. Some excess treated material will be removed from the site in the near future. Read More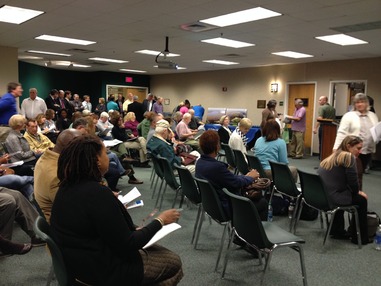 Interest was high for the LCP Chemicals Superfund Site marsh Cleanup Plan at the December 4, 2014 EPA meeting.
- The LCP Chemicals Superfund Site Consent Decree for the marsh cleanup and cover-up was released on July 29th for public comment through September 6th. The GEC submitted comments (Read More). A Technical Assistance Report was produced, mailed, and placed on the web. Read More The release of the Consent Decree starts the 3-year clock on completing the Resource Damages Claim.

Wetland vegetation removal and filling at the Inn at Sea Island in 2013.
- Savannah Army Corps of Engineers (ACE) requested more information concerning the January 2016 GEC request for enforcement action for wetland filling at the Inn at Sea Island. The ACE Nationwide #39 Permit presented a building project while a different Preliminary Plat Approval was approved by the Island Planning Commission. The Final Plat Approval by Glynn County did not show the project proposed in the approved ACE permit application and the now filled wetland was incorporated into the landscaping design.
- WAIT, WAIT, WAIT…. We continue to wait for a response for these projects and issues.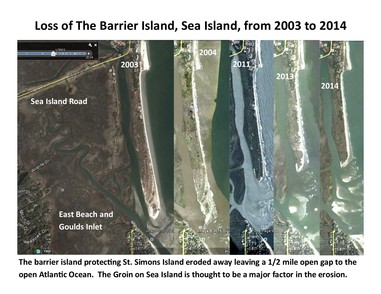 - Savannah Army Corps of Engineers (ACE) - The GEC and other coastal organizations continue to wait for a response to comments concerning the Sea Island Groin permit.
- The Terry Creek Dredge Spoil Areas/Hercules Outfall Site Proposed Plan comments on the cleanup and cover-up of the outfall ditch were sent to the EPA in early September 2015. We are waiting for the release of the EPA Responsiveness Summary and proposed Record of Decision. Read More

- The Harrington Road Boat Ramp remains a concern for boaters and fishermen on St. Simons. Efforts continue to preserve the only public access to creeks and protective waters.
Shop Smart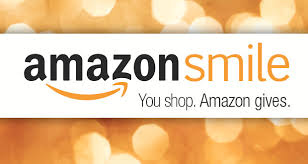 Are we your "Amazon Smile" Non-Profit?
You can support our local environment by designating the Glynn Environmental Coalition as the organization you support.

http://smile.amazon.com/ch/58-1999049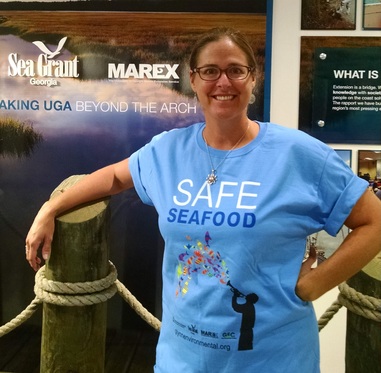 Thank you to our partner Katy Smith at the UGA Marine Extension Service for modeling the shirt.

Get your Safe Seafood T-Shirt for a $20 donation and help support our outreach efforts.