Advocacy Training and Opportunities Coming in January 2017
As we prepare to welcome 2017, the New Jersey Council on Developmental Disabilities invites family and self-advocates to join us as we shape our developmental disability advocacy goals for the New Year! The NJCDD will be hosting several free events in January to help New Jersey residents with developmental disabilities and their families focus in on their advocacy goals and build skills in working toward positive changes in our communities.

More information about these events is listed below. We hope you'll join us!
---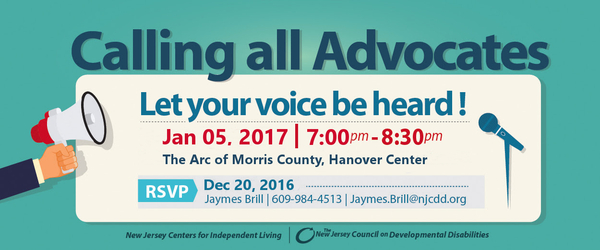 People First New Jersey – Advocate's Forums
Next Forum
Thursday, January 5, 2017
7:00pm to 8:30pm
The Arc of Morris County, Hanover Center
150 Algonquin Parkway
Whippany, NJ 07981

Food and drink provided for all attendees

In partnership with NJ People First Advocates, the NJCDD is hosting a number of forums to hear from New Jersey residents with developmental disabilities about the areas they think we should focus our efforts in advocating for people with disabilities across our state.

So, what do you think? Is transportation an important issue for you? Employment? Housing? Accessibility? Disability Awareness? We want to hear from you!

Over the next few weeks, we'll be planning additional forums at locations around New Jersey. Keep an eye out on
www.njcdd.org
and the People First New Jersey
facebook page
for updates.
---

Advocacy Training Event for Individuals with Disabilities and Families
What's Your Advocacy?
Saturday, January 21, 2017
8:00am to 3:30pm
Crowne Plaza Monroe
390 Forsgate Drive
Monroe Township, NJ 08831

Are you a member of the NJCDD's Family Support or People First New Jersey programs? Are you a graduate of our Partners in Policymaking advocacy training program? Are you an individual with a developmental disability or a family member looking to learn more about becoming a better advocate? We hope you'll join us!

During this fun and engaging seminar, we hope to learn more about the issues most important to you as an advocate and to help you grow your skills to become a stronger advocate in working on this issues that matter most to you.

This day-long program is FREE to families and self-advocates and will feature:
Guest Speakers
Roundtable Discussions
Advocacy Training/Refresher Courses
Networking Opportunities

Complimentary continental breakfast and lunch will be provided for all attendees – Registration is Required

Guest Speakers
Liz Weintraub
Advocacy Specialist, Association of University Centers on Disabilities
Silver Springs, MD

Cathy Ficker Terrill
Senior Advisor, Council on Quality and Leadership
Chicago, Il

Available seating for this training event is available on a first-come-first-served basis, and space is filling up fast!

To find out more, and to reserve your spot for this event, please visit us online at
www.njcdd.org
or contact:

Dennie Todd
Disabilities Specialist
Dennie.todd@njcdd.org
609-984-4516
---
NJCDD Council Meeting

Please join the New Jersey Council on Developmental Disabilities for our next Council Meeting.

Thursday, January 26, 2017
10:30am to 2:00pm

The Hyatt Regency Princeton
102 Carnegie Center
Princeton, NJ 08540

Our new five-year plan for 2017-2021 has been approved by the federal Administration on Intellectual and Developmental Disabilities (AIDD), and we are beginning the process of implementing key goals and objectives.

Over the past several weeks, the NJCDD has been working to focus in on a number of advocacy areas in which we will be awarding grant funding for this fiscal year. Council staff, along with Council members, have developed Requests for Proposals (RFPs) in three advocacy areas, which will be discussed at our next Council Meeting.

These RFPs focus on New Jersey's Direct Support Professional workforce crisis, Special Education, and Family and Self-Advocate Training/Materials.

At our January Council Meeting, we hope to have final approval on these proposals, and to move forward with announcing grant opportunities to the public.

Although Council membership is limited to 30 individuals, all Council Meetings are open to the public, and we encourage advocates, families, service providers, and other developmental disability stakeholders to attend. During public comment periods, members of the public have the opportunity to share their views and influence the discussion around topics important to our developmental disability community.

If accommodations are required, please contact the NJCDD offices at
609-292-3745
.

We hope to see you there!