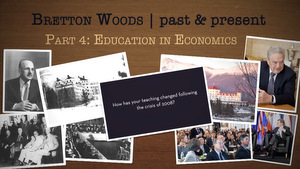 The kind of economics taught in graduate schools was
the main
contributor to the current crisis, claims Anatole Kaletsky - a statement that begs the question: Has economics teaching changed in response to the current crisis? "The Kids" asked a dozen economists in the halls of the Mount Washington Hotel in Bretton Woods, and we invite you to watch what they said.
Link to video
Brad DeLong admits that before the crisis he felt unease teaching models of irrational bubbles, simply because those models are not "clean" and "do not hang together." He and Anatole Kaletsky would like to see more behavioral economics in the curriculum, models with realistic psychology. Others, like Jean-Paul Fitoussi, Ha-Joon Chang, and Stephen Ziliak, explain why their teaching remained largely what it was before the crisis. But see yourself.
About The Kids:
The
History of Economics Playground
began life when a small group of young historians of economics created an independent blog. INET saw the opportunity to give their thoughtful ideas a wider audience, and the History of Economics Playground is now a featured blog on ineteconomics.org:
http://ineteconomics.org/blog/playground
We invited these young bloggers – self-styled as "The Kids" – to attend our annual conference in Bretton Woods last April and we provided them with a video team. The Kids were playing in the halls of the Mount Washington Hotel, chasing everyone from George Akerlof to Anatole Kaletsky to Brad DeLong to James Galbraith. They produced four videos, the first three of which deal with
Please do not reply to this message. This email was generated automatically and responses are not monitored.