STORE HOURS



Monday-Sunday
11 a.m. to 6 p.m.
LOCATION




214 North Lexington Street Pittsburgh, PA 15208

---
Upcoming Events
---









Pittsburgh Center for Creative Reuse promotes resource conservation, creativity, and community engagement through material reuse.
---
hi, creative reuse supporters.




TOMORROW'S THE DAY!


Back in 2010, Creative Reuse operated out of a dusty attic two days a week and drove a 17-year-old van to programs. Now, we are open 7 days a week, we accept 2 tons of reusable materials every month, and we have served over 12,000 people through our outreach programs in 2014. It's an amazing success story, and you, our loyal newsletter readers, have been a huge part of it all. You shop with us, you tell your friends, you bring us stuff. And many of you also donate money. Which is awesome, and really needed, because that van is now 21-years-old and ready to retire. If you can help support our programs with a financial contribution,
TOMORROW
would be a great day to do it. It's the city-wide ArtDOG -- Arts Day of Giving, and your donation on this day will go even further. Donations as low as $15 (and up to $1000) will be partially matched. Starting at
6:00 am on Thursday
, here's what to do:
Choose Pittsburgh Center for Creative Reuse

Enter your credit card information

Check back throughout the day to see how close we are to reaching our goal of $6,000

Watch your snail mail for an extra-special thank-you made just for you!
You have until

midnight

! It takes just 5 minutes, and it makes a world of difference for Creative Reuse.
North Side Project Sponsorships
Are you or do you know a North Side artist or educator with an amazing creative reuse project idea? With the support of the Alcoa Foundation, we will provide materials to support 8 creative reuse projects led by artists or educators on the North Side between now and the end of next year. To apply for one of these project sponsorships, please complete this here form. We can't wait to hear about your ideas and see them in action!
what we've been up to lately...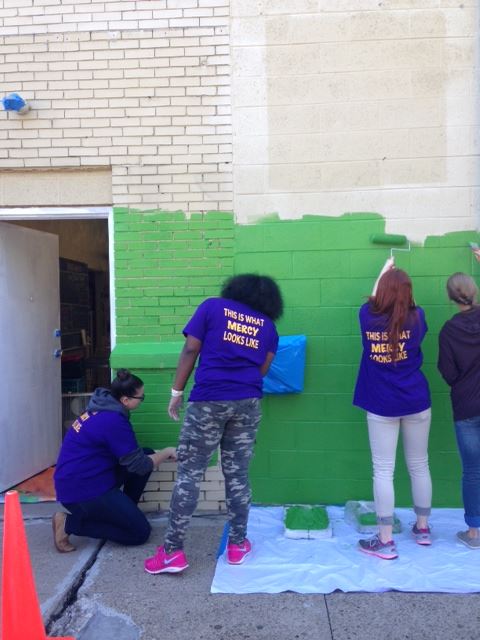 September was an especially bustling month here at Creative Reuse.

We started our facade makeover with the help of some Carlow University volunteers. If you haven't seen our new look in person yet, you must -- we are not to be missed! We had a super fun time at Bar Crafts, a lovely Open Studio Night, and a slew of successful Back-to-School themed library programs (binder beautification! locker magnets!). We also had an incredibly successful Extraordinary, Very Epic Fabric Bogo Sale.

An extra special highlight of September's outreach programs was teaming up with our CUSP (Climate & Urban Systems Partnership) pals in the Climate Change Playground at the Alcosan Open House and the Allegheny Green Innovation Festival. CUSP is "A network of informal educators, climate scientists, learning scientists and local community organizations across four cities, dedicated to improving local understanding of and engagement with climate change science." This project has been led in Pittsburgh by some of our wonderful friends at the Carnegie Museum of Natural History. We've learned so much from them and all of the other CUSP partners!
in the shop & around pittsburgh
Bar Crafts: October! is happening on

Sunday, October 5th from 6-9 pm at the

Allegheny Wine Mixer in Upper Lawrenceville. Make something. Drink something. Let loose with reuse! Check out the Facebook event page for more details and event updates.


October Open Studio Night: Print Your Own T-Shirt! will take place Thursday, October 9th from 6-8 pm. In honor of Dia de los Muertos, come on down to October's Open Studio Night and print your own sugar skull t-shirt (or onesie, poster, pillowcase, tote bag -- whatever you feel like bringing with you). We'll provide the beautifully carved linoleum block, designed by our own Cammie Brady and cut by Katy DeMent, as well as some inks and inking tools. You bring the T-shirt (or other fabric of your choice). If you have some extra textile ink that you'd like to share to add to the array of possible printing colors, please bring it along with you.

This is an 18+ pay-what-you-wish event, with donation jars in the event area. Please give what you can to sustain this event! Please bring a snack to share (vegetarian preferred so everyone can partake), and responsible adults are welcome to bring their own adult beverages. Check out the Facebook event for more details and invite your pals!


On Saturday October 11th, from 10 am-12 pm, we will join the folks at the Kelly Strayhorn Theatre to celebrate 100 years and counting by contributing to KST's TIME CAPSULE 15206: a collection of anything that best represents you and East Liberty today. More information about this event can be found here.


We are participating in a few Dia de los Muertos activities in late October and early November, supported by a generous contribution from the Tess Senay Raynovich Art and Earth Fund. These events will include a papel picado workshop with CMU's El Circulo Juvenil de Cultura, and hands-on arts activities at La Escuelita Arcoiris' Dia de los Muertos family fiesta. We will also be holding an Ofrenda Workshop at Creative Reuse on Wednesday, October 29th from 6:15-9:15 exploring the Mexican Dia de los Muertos tradition of ofrendas. Participation in the workshop is free, but seats are limited and registration is required. Click this link for more information.


In addition to all of this, we are also very excited to be presenters at PAEYC's Biennial Conference, and to be faciliating a very special creative reuse art workshop with middle and high schoolers from 27 school districts at the Midwestern Intermediate Unit in Grove City! Keep an eye on our Facebook page for photo updates of shop inventory and all these amazing happenings.
You're the best, Creative Reuse community.
We'll see you soon!

Contact Us: 412-473-0100 | info@pccr.org | Forward this message to a friend