STORE HOURS



Monday-Sunday
11 a.m. to 6 p.m.
LOCATION




214 North Lexington Street Pittsburgh, PA 15208

---
Upcoming Events
Bar Crafts: January!




When

: Sun, Jan. 4
6:00-9:00 pm
Where: Allegheny Wine Mixer,

5326 Butler St., Pittsburgh, PA 15201





January Open Studio: Pop des Fleurs


When: Thu, Jan. 8
6:00-8:00 pm
Where: Pittsburgh Center for Creative Reuse
Board of Directors
Kyle Winkler, President
Pennsylvania Resources Council
Linda Ehrlich, Vice President
Early Childhood Education
Brian Daubenspeck, Treasurer
FedEx
Ashley Andrykovitch, Secretary
Carnegie Museum of Art, Pittsburgh
Erika Johnson, Executive Director
Pittsburgh Center for Creative Reuse
Kristin Boehne
United Way
Danae Clark
Greater Pittsburgh Community Food Bank
Sara Innamorato
GTech Strategies
Molly Mehling
Chatham University
Pierina Morelli
WQED
Keven Tucker Darren K. Parr Law Firm




Pittsburgh Center for Creative Reuse promotes resource conservation, creativity, and community engagement through material reuse.
---
we had an awesome 2014!



Here are some of the year's stats:


We'd like to thank you ALL for supporting and inspiring us. You make it possible for us to do what we do.
Special thanks are due to the dear people who interned with us last year; their contributions and impact have been immense. THANK YOU to Erika Renee Cox, Megan Novak, Maddie Moyta, Joe McMahon, Quinn Tshudy, Kyle Gryta, and Evelyn Mann.

We'd like to extend our thanks to the businesses that choose to reuse by donating their discards to Creative Reuse. Check out the list below! A note of apology to those we may have forgotten to include, and a note of recognition and thanks to those who prefer to go incognito. A gratitude-filled shout-out goes to Allegheny Wine Mixer, Bar Marco, Bistro to Go, East End Food Coop, Franktuary, and Wigle Whiskey for hosting (and contributing to) some of our additional fundraising efforts. We also received in-kind support from Fit Associates, XFactory, Pair Networks, the Bayer Center for Nonprofit Management, and GPAC's Business Volunteers for the Arts. If your business is interested in making donations to Creative Reuse, please contact our Materials Coordinator, Barbara Moore.

Allegheny Wine Mixer

Alpha Aromatics​

Artemis Environmental

Babcor Packaging

Bandy Woodworking

BE Gallery

​Caldwell Windoware​

CMoA

​Coca Cafe​

Computer Reach

Construction Junction

Cook MyoSite Inc

​Dinette​

Discover Organizing

East End Brewery

Eyetique

Franktuary
Free Ride Pittsburgh

Frick Art & Historical Center​

Gran Canal Caffe​

M. Mallinger Company​

Massaro

Pittsburgh Public Theatre

​Pittsburgh Institute of Aeronautics​

RiverQuest

Safety Sling​

Savoy Interior Design

​Ten Thousand Villages

The Urban Gardener​

Whole Foods

WW Patterson Co

Urban Tree​
While most of our support comes from you, our community, through shop sales, outreach programs, and small contributions, we could not made it this far without critical capacity building grants from SVP Partners, The Forbes Funds and The Sprout Fund. We are especially grateful for multi-year support of our creative reuse programs from the Alcoa Foundation.
reusemobile matching gift challenge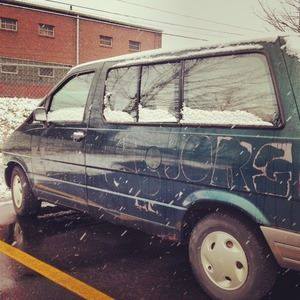 THIS IS HUGE. Just before Christmas, the 21-year PCCR van sputtered to a final stop, leaving us without a vehicle to take creative programs to our community. When we posted our dilemma on Facebook, an amazing anonymous supporter offered to MATCH all donations we can raise up to $5,000 to help us buy a new van. The match will apply to all donations, including online gifts, checks, donation jar receipts, and credit card donations at the register. You will be hearing more about this, trust us. Please take a moment NOW to help build momentum for this challenge. The clock is ticking, and every dollar counts. Twice!
upcoming events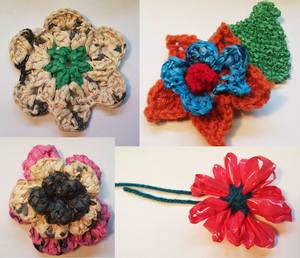 Bar Crafts: Celebrating 2014 is TOMORROW, Sunday, January 4th from 6-9pm. January's Bar Crafts at the Allegheny Wine Mixer celebrates 2014 with a mix of the best and worst crafts from yesteryear. Remember Poofy Felt Face? Or Bill Murray on a Barrette? Yep, that's the stuff. $5 gets you a kit to work on while you enjoy the pleasures of the Allegheny Wine Mixer.
Pop des Fleurs Open Studio is on Thursday, January 8th from 6-8pm. January's Open Studio Night is dedicated to celebrating and supporting Pop des Fleurs. Pop des Fleurs-ers will be on hand to show Open Studio participants how to craft flowers (and more!) out of plastic bags and other reclaimed materials.
You can also work on anything your little heart desires at Open Studio. Bring a half-completed project from home or start something new! Open Studio Night is co-sponsored by our dear friends at the East End Food Co-op. We love them!
it was a busy holiday season!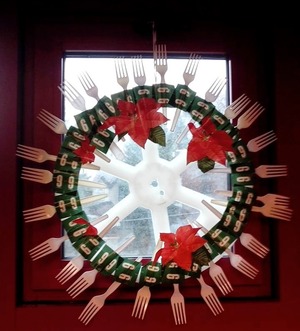 Bill Murray Bar Crafts was a smash hit, as was our Handmade Holiday Open Studio Night. Staff and volunteers transformed into elves for a day and assembled hundreds of craft kits in an effort to support the Emergency Toy Drive: #PghSavesChristmas. Our programs staff brought joy and reuse to over 200 kids and parents at the Providence Family Support Santa Brunch, had a grand time getting creative with Dusquesne's Education Department at their faculty retreat, and had a very Scrappy New Year with nearly 500 First Night participants downtown.

If you haven't seen it yet, come by and check out the new shop configuration. We've undergone a bit of a magical transformation, including a new checkout desk and expanded donation processing area! We now have lots more room to serve you better.
Keep an eye on our Facebook page for fun links, photos from our adventures, and our weekly shop highlights photo tour!
Happy New Year and many thanks
for your continued love and support.

Contact Us: 412-473-0100 | info@pccr.org | Forward this message to a friend